CEO Eldar Sætre has worked for 38 years for Statoil:
"Why I think it was right to change our name."
Oil has been removed from our name. But Equinor will continue to invest in oil and gas—while transforming into a broad energy company.
In this story you can read about: ** What Equinor means. Why we're investing in renewable energy. Join us on the offshore hotel which will be Norway's third largest hotel. **
The General Assembly has just adopted the announcement that was made two months ago: Statoil will be renamed Equinor — a decision that awakens feelings in many of us. Some are positive, while others are more sceptical to the change.
We meet CEO Eldar Sætre at what is now Equinor's guesthouse at Solastranden, the picturesque sand dunes at Sola near Stavanger—to discover more about what the change means and why he is changing a brand that matters so much to so many Norwegians.
"I think it will take some time before it becomes natural for me to say Equinor," laughs Sætre.
He grew up in Vartdal in Sunnmøre, and has worked in Statoil for his entire career. Now he's in his fourth year as CEO and 38th in total for the company.
"I have great respect and sympathy for the differing opinions out there. Statoil has almost become a separate term, a concept in its own right. But I have to think of future generations who don't necessarily have the same relationship to the 'concept' of Statoil," he says.
Although Sætre acknowledges that it may take time to get used to using Equinor on a daily basis, he's very clear that the change is for the better.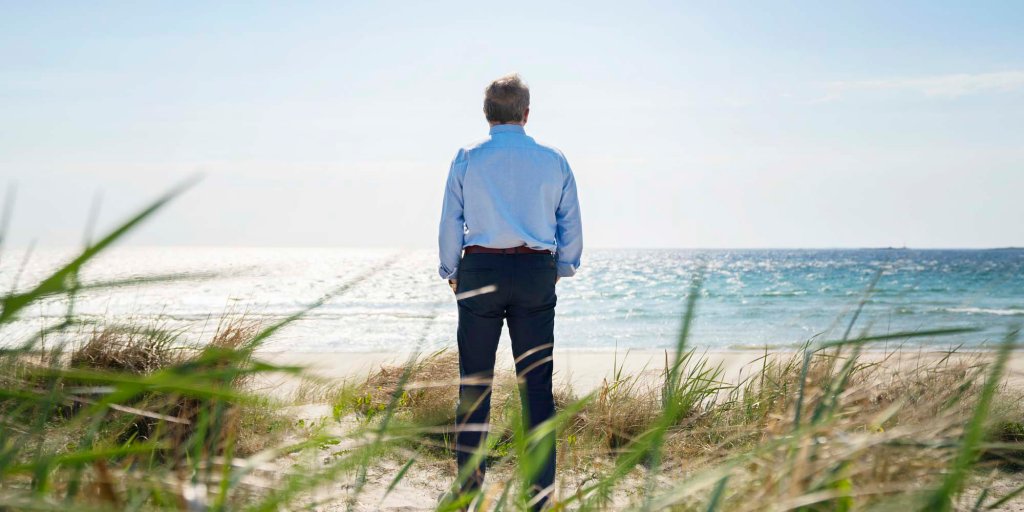 LOOKING BEYOND THE HORIZON: Eldar Sætre is convinced that a new name was needed to prepare the company for the future.
Photo: VG PARTNERSTUDIO
Some might claim that the new name is merely an attempt to greenwash Statoil?
"We're becoming a broad energy company and need a name that's relevant for our entire business, not just oil, especially if you bear in mind the future, with new energy forms and greater demands on carbon efficiency in production. That's why it's important for me as CEO to make sure we are as well equipped for the future as possible."
The name Equinor is derived from "equi", the Latin root of words like equality and equilibrium, and "nor," which signifies a company proud of its Norwegian origins.
"The name says something about our views on people, and on energy," says Sætre.
But only 15-20 percent of your investments will be going into renewable energy – even in 12 years' time?
"Changing the world's energy mix will take time. And the fact is that the world will need oil and gas for many decades to come. For example, oil is used to make your clothes, your shoes and your mobile phone," says Sætre, before adding:
"That's why I think our focus should be on making oil and gas production as environmentally-friendly as possible while investing in renewable energy.
Sætre says that he could have focused on pumping up as much oil as possible, with complete disregard for the environment.
"But that would have been a cynical and short-term way of going about our business. It would have been a bad strategy. Because I believe there will be increasingly stringent regulations and taxes on carbon emissions in the future – so it's an advantage for Equinor to have the cleanest production in the world." 
So, the Paris agreement is something you follow and support — even while building the Johan Sverdrup field, 160 kilometres out to sea from where we are sitting now?
"Absolutely. When you can't flip a switch to turn off world oil demand overnight, Johan Sverdrup is one of the best arguments for how we are following the Paris agreement."
"One of the most important things we can do, as a company concerned with balance and the climate, is to produce oil and gas in a sustainable way," says Eldar Sætre in this interview filmed at the time of the name change. 
Johan Sverdrup is one of the five largest oil fields on the Norwegian continental shelf. With expected resources of 2.1 to 3.1 billion barrels of oil, the field will be one of the most important industrial projects in Norway in the next 50 years. The development and operation of this elephant field will generate revenue and employment for coming generations.
The world average for CO2 emissions in oil production is 17 kg per barrel produced. At Johan Sverdrup that figure will be 0.5 kg. Equinor's new giant field is therefore more than 30 times cleaner than the global average, and 18 times cleaner than Equinor's remaining Norwegian production, where emissions per barrel oil produced is around 9 kilos of CO2).
Located on Utsirahøyden in the North Sea, 160 kilometres west of Stavanger
The oil from the field is to the Mongstad terminal in Hordaland. The gas is sent to Statpipe and onwards to the Kårstø processing plant in northern Rogaland
Investments for the first phase are estimated to be NOK 88 billion (investment estimates in nominal kroner based on fixed exchange rate)
Total production income over 50 years of NOK 1,350 billion
Company tax to the Norwegian state is estimated at NOK 670 billion
Daily production phase 1 estimated at 470,000 barrels
At plateau, production is expected to be 690,000 barrels per day
The water depth is 110-120 meters, while the reservoir is approximately 1,900 meters below the seabed
The field will be powered from shore
Production Phase 1 began in October 2019



PLATFORM MANAGER: Ann-Cathrine Holmen is one of three platform managers on Johan Sverdrup. 
Photo: VG PARTNERSTUDIO


One of the biggest finds on the Norwegian continental shelf
140 kilometres north of Solastranden, across the Boknafjord and along the beautiful western countryside, at Stord, the living quarters for the Johan Sverdrup field are under construction. Soon, they will be home to one of the three platform managers, Ann-Cathrine Holmen.
"I'm looking forward to seeing how far they have progressed," says Ann-Cathrine, as we meet her in the parking lot of Kværner's shipyard at Stord.
Johan Sverdrup is one of the largest oil discoveries on the Norwegian continental shelf ever, and, when production is at its peak, it will make up 25 percent of all Norwegian oil and gas production. The field has an expected life of more than 50 years and will provide a total production income of over NOK 1,350 billion. Or close to NOK 10 million per hour, if you prefer.
"I think most people who work on projects like Johan Sverdrup feel a great sense of responsibility and awe. This project makes a lot of difference to the welfare state of Norway and the prosperity we have in this country.  When production is at its peak, the field will generate income to the Norwegian state of almost ten percent of gross national product," says Holmen.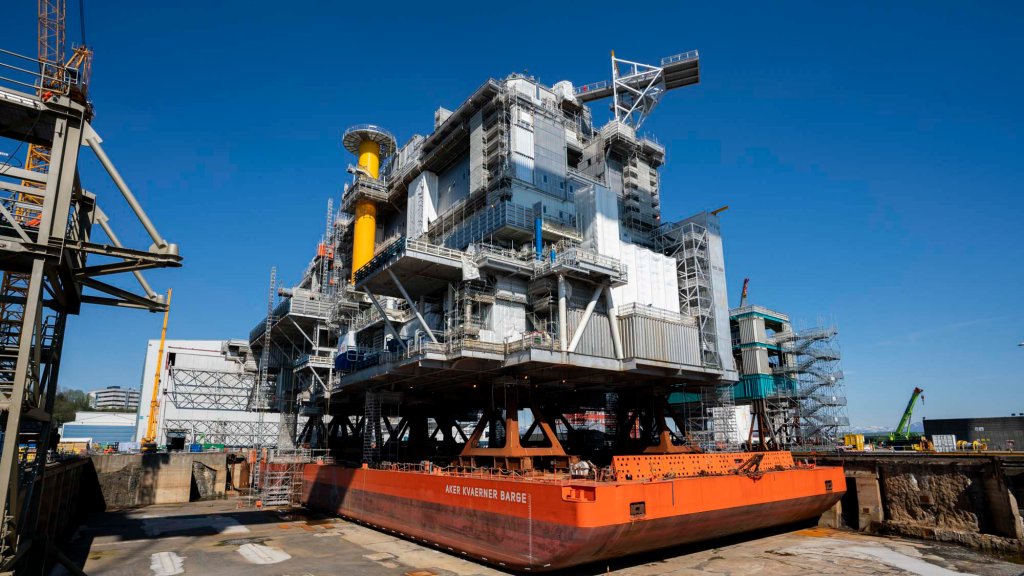 ACCOMMODATION MODULE: The living quarters for Johan Sverdrup atop a barge at the Aker Kværner yard.
Photo: VG PARTNERSTUDIO
What's your view on pumping a lot of non-renewable energy into a world that's increasingly affected by pollution?
"It's a dilemma, of course. But I think it gives us a will and a drive to do it in as environmentally-friendly manner as possible. The world needs energy, oil included, and we have to make sure that we provide it in a good way."
And that's certainly the case with Equinor's oil production at the Johan Sverdrup field. After 2019, its annual production will reduce CO2 emissions by the equivalent of 200,000 cars—or 400,000 tonnes of CO2.
That's because the average emissions from producing a barrel of oil are around 17 kg of CO2 per barrel, worldwide. At Johan Sverdrup, that figure is a mere 0.5kg. Oil and gas from Equinor's giant new field will therefore be more than 30 times cleaner than the global average, and 18 times cleaner than the rest of the company's production in Norway. (Equinor's average emissions per barrel in Norway are currently around 9 kg of CO2).
"That's due to the fact that the field will be powered by electricity from shore — reducing offshore emissions by 80-90 percent compared to a conventional development with gas turbines on the Norwegian shelf," explains Holmen.
Johan Sverdrup is therefore absolutely essential to Equinor's plan to reach its climate target emissions cuts from the Norwegian continental shelf by 2 million tonnes of CO2 by 2030.
We walk out to the enormous accommodation platform. There's still a lot to do before everything is finished, but it's fascinating to see how big everything is.
"The building we are standing in now will be able to accommodate no fewer than 560 people, making it Norway's third largest hotel — far out in the North Sea. It's just incredibly impressive that it's possible. And the view is amazing, there's probably no hotel where so many of the rooms have sea views!" she says.
After a couple of hours touring the facility, in which the visit to the aerial tower 100 meters above sea level was the high point—quite literally—we are back on solid ground. The construction of the accommodation platform will be completed early next year and will be one of four connected buildings in the first phase. Production start for the Johan Sverdrup field is set to start late in 2019.
So what do you think of Equinor?
"It will take some time to get used to saying it. And it was a bit sudden, to be honest. But I'm proud to work in a company that dares to change and who wants to be part of future solutions," she says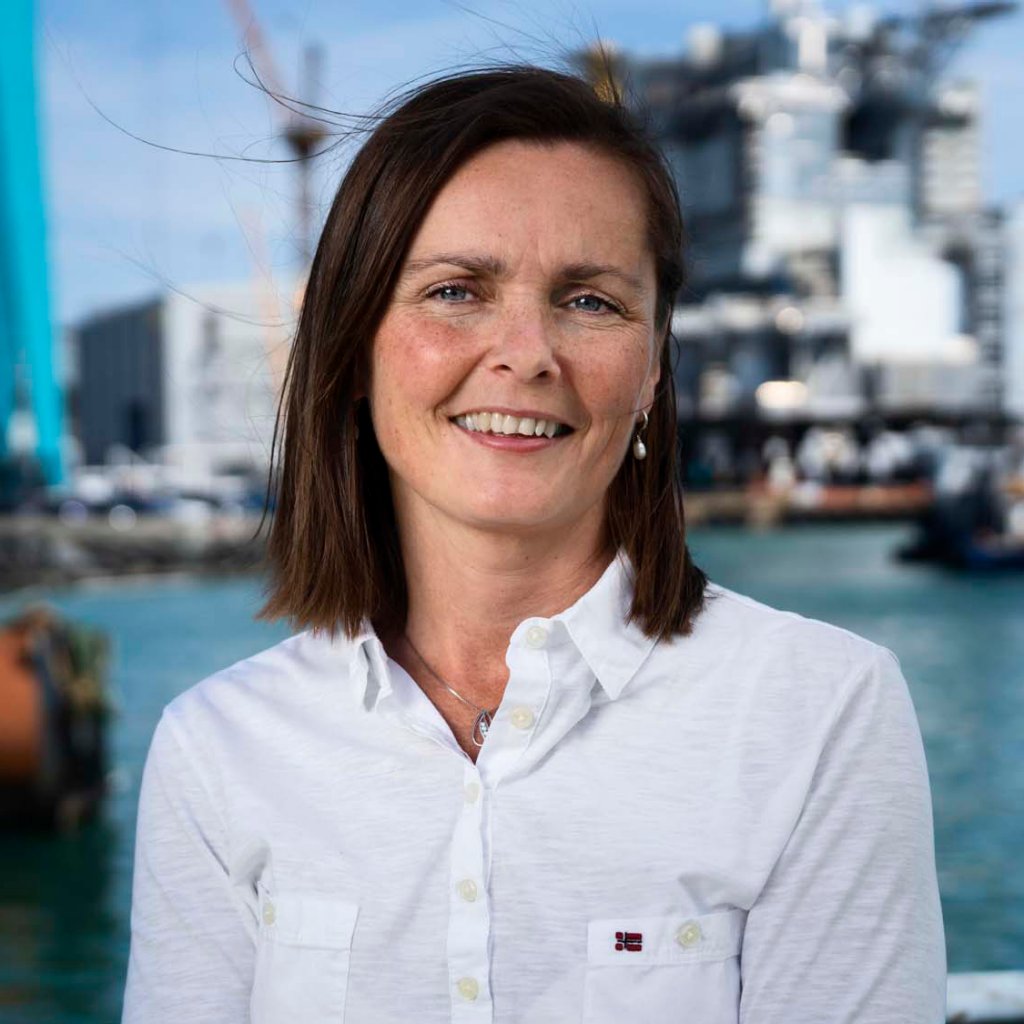 PLATFORM MANAGER: Ann-Cathrine Holmen is platform manager for Johan Sverdrup, seen here in the background. Photo: VG PARTNERSTUDIO