From designer's dream to production reality:
Spare parts on the fly
When our offshore facilities are in full production, time is money. Previously, when a part broke or had to be replaced, the downtime costs could run into millions. Now, thanks to 3D printing, we can make high-quality metal parts on demand.
It's been the dream of engineers for years: imagine making spare parts on the go, delivering them by drone, and eliminating the need for stockpiles of parts. But it's no longer science fiction, it's happening right now — and it's poised to transform the supply chain as we know it.

"Our ambition is rather bold: we want to change the current linear supply chain into a network-based approach. That's not something we can do alone; it's not something Equinor can do alone. It's not something that anyone can do alone."


Christian Duun Norberg, founder of Fieldmade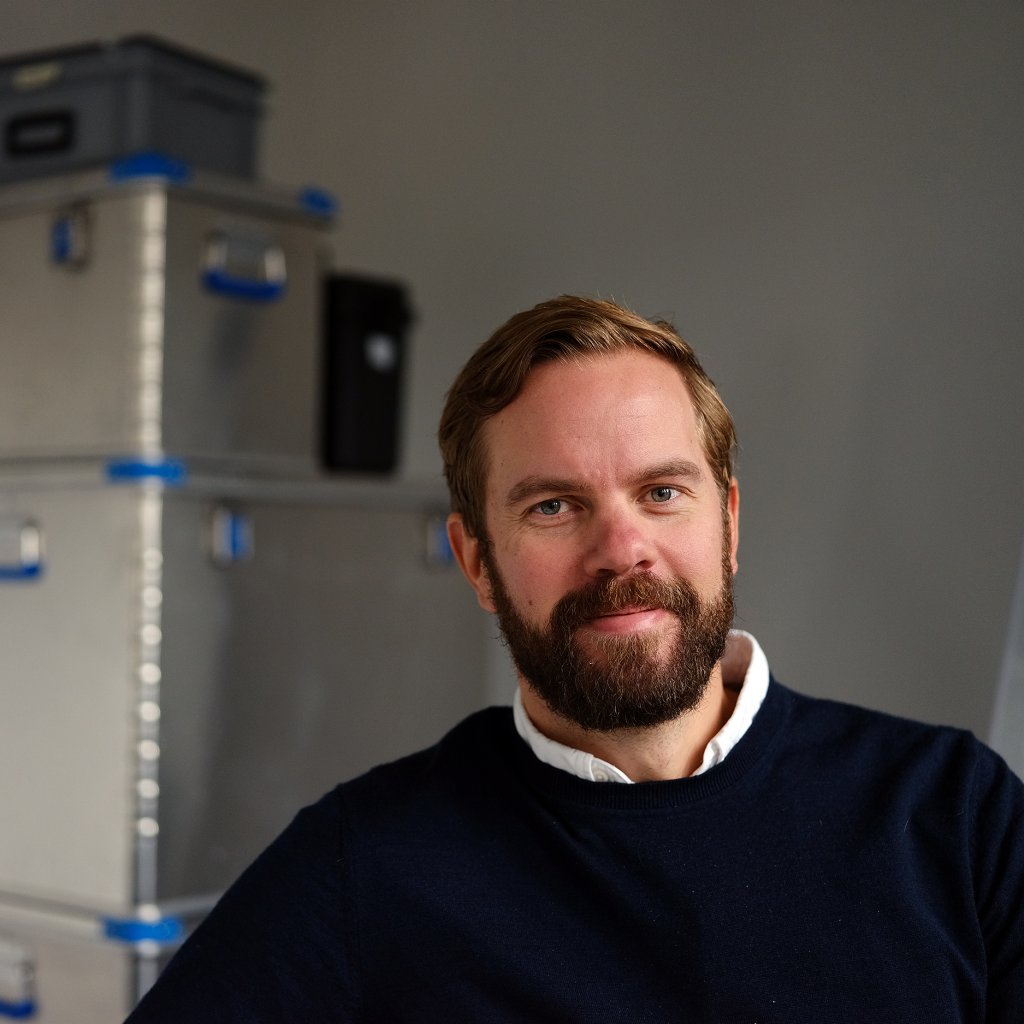 Philip Hansteen, right, leader of Equinor & Techstars Energy Accelerator, together with Christian Duun Norberg of Fieldmade. (Photo: Ole Jørgen Bratland)
Christian Duun Norberg is talking about how 3D-printing is changing how we work, or as he prefers to call it:
"Additive manufacturing. A term used with industrial processes, while 3D printing is related to what you can buy at your local electronic store. In essence, it is a technology that adds material instead of using subtractive methods to take materials away. Hence, the term additive manufacturing."
So how does it change how we work? In 2018, when an electrical motor fan at Tjeldbergodden broke down, there were no spare parts available. Instead of applying a new motor, Fieldmade printed the fan at an onsite facility in Værnes. A new motor was estimated to cost NOK 500.000, while the cost of the additive manufactured fan is estimated to NOK 12.000.
This is just one example showing how additive manufacturing can transform the energy industry in the future, reducing cost, reducing waste and delivering products faster.
See more in the video below:
See how Fieldmade additive manufacturing can produce new spare parts on the go in the video above. This fan is printed, not made by traditional methods of cutting and adjusting, and thereby removing a lot of material. instead just the amount of raw material needed is used. The process is called additive manufacturing. 
Founding Fieldmade

Norberg was working for the Norwegian Institute of Defense Research back in 2016 when he founded Fieldmade. He saw the logistical challenges the industry was facing, with military forces were often being immobile, and the costs of storage and logistics being huge. However, it was not an option to get rid of spare parts, as the costs of not having them could be critical. Not so different from the energy industry, in other words.
Equinor + Techstars = Fieldmade

"Fieldmade not only checked the box on good technology, but also their authentic interest in understanding Equinor's pain points resulted in a truly transformative innovation for both companies," says Philip Hansteen, leader of the Equinor & Techstars Energy accelerator (see factbox below).
"I was very impressed with how Fieldmade came into the programme with one angle for their business model and was able to pivot. When we look at companies, it's all about team, team, team. And that team was willing to listen. We were able to work with them and collaborate for a better end result that was helpful for both parties," says Philip.
FIELDMADE
Fieldmade is a deep tech company with expert knowledge within the full spectrum of the applied additive manufacturing domain. 
Future supply chains will be supported by digital warehouses and on-demand production on site, in or near real time.
See their website here:
www.fieldmade.no
EQUINOR AND TECHSTARS ENERGY ACCELERATOR
 
13-week intensive start up accelerator
disruptive solutions within oil and gas, renewables, new business models and digitalisation
collaboration with Kongsberg Gruppen and Capgemini
hundreds of applicants every year
ten companies selected to get access to resources and a global network of expertise to fast track their business
 


In the autumn of 2020, a 3D-printed part was transported offshore by a drone for the first time. Normally such equipment would have to be transported by supply ship or by helicopter. By producing the part on demand and transporting it by drone the whole supply chain becomes more flexible, reducing emissions and costs.
Digital inventory, drones and flexibility

3D-printing, or additive manufacturing, is just one of the puzzle pieces that are coming together to disrupt the supply chain in Equinor. There are completely digital solutions for physical inventory on the way, a fully digital inventory (see fact box) and much of the equipment can be transported by drones for flexibility and with significantly less emissions and resources spent.
Brede Lærum, head of 3D printing in Equinor and Chairman of the Digital Inventory project, is excited about what the project can bring:
"Additive manufacturing is an exciting digital technology that has been available for many years, but now when most metal alloys can be 3D printed, and 3D printing is available at an industrial scale, it gives us fantastic possibilities. It can save costs, reduce CO2 emissions, drastically reduce the lead time, ensure supply of otherwise obsolete spare parts and provide improved design opportunities. The short lead time of Additive Manufacturing is key to succeed with the digital inventory", says Lærum.
 A typical scenario would be that a spare part is needed at one of the offshore installations, they could find the part in the digital inventory, Fieldmade or another supplier can print it, and it can be packed and shipped by drone in a matter of hours or days. If a spare part is needed at the Peregrino field in Brazil, the same digital part can be purchased and produced locally with 3D printing.
And additive manufacturing doesn't have to be only high tech — everyday equipment or stuff could also be produced this way. This is only the beginning.
DIGITAL INVENTORY PROJECT
Fieldmade, Equinor and Siemens Energy collaboration
The project is financed by Equinor Ventures, Innovation Norway, the Johan Castberg project and Johan Sverdrup, and is a cooperation between Equinor, Fieldmade and Siemens.
The main function of the Digital Inventory is to make all digital spare parts in a digital supply network, to ensure 'Just-In-Time' production of spare parts.
If you'd like to receive an email whenever we publish Equinor magazine stories like this one, please sign up below: