Statfjord A celebrating 40 years:
The field that gave us legs to stand on
Statfjord A was one of our very first operatorships: a giant field we took over from Mobil in 1987 at the behest of Norwegian authorities, after production began on November 24, 1979. Now that we're passing the baton on to our next giant, Johan Sverdrup, we look back at 40 years of successful operation of the huge Condeep platform that quite literally gave us legs to stand on.
By Morten Henriksrud, Equinor. 24th November, 2019
"When I look back on the significance Statfjord has had for our industry and our country, I am humble and proud to be part of this," says Hege Flatheim, director of Statfjord.
"Statfjord actually taught the Norwegian oil industry to stand on its own legs and has been key to the development of gas transport solutions in the North Sea. The field has produced more than two billion barrels of oil more than we ever thought possible when we began. That's largely due to all the talented people who have worked on this great field for 40 years," she says.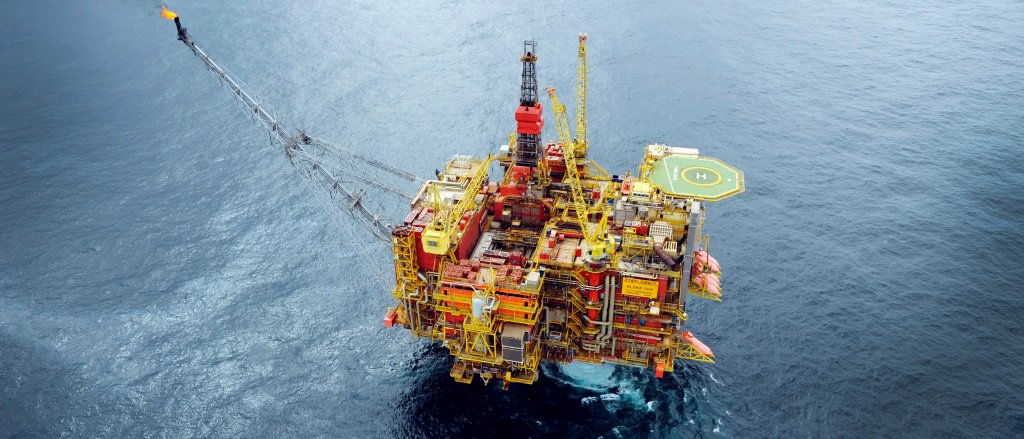 Photo: Harald Pettersen, Equinor
Since production began at Statfjord A in the North Sea on November 24, 1979, the field has produced 5.1 billion barrels of oil equivalent. Statfjord's gross revenues are well over NOK 1675 billion (1 675 000 000 000) during those 40 years of production.
That's equivalent to NOK 4.5 million per hour — or USD 500,000 at today's exchange rate — every hour for 40 years.
Facts about Statfjord:
Statfjord was discovered by Mobil in 1974, and on 1 January 1987, Equinor, then Statoil, took over responsibility as operator.
On November 24, 1979, production began from the Statfjord A platform.
The Norwegian gas pipeline runs to the Kårstø gas plant and on to the Continent. The UK share of the gas (14.53 per cent) goes by pipeline via the Brent field to Scotland. The gas is distributed to the field's licencees according to the same distribution as the ownership shares.
The storage cells on Statfjord A can contain 206,000 standard cubic metres of oil, i.e. 1.3 million barrels
The layers containing oil and gas in the Statfjord field are between 2500 and 3000 metres below the sea floor. The rock is sandstone, and the oil and gas are trapped in the voids between the individual grains of sand.
Statfjord's single-day production record was set on January 16, 1987, when 850,204 barrels of oil were produced.
Economic spin-offs for society
The Statfjord field has created great value for Equinor, our partners, suppliers and society. The economic benefits for the supplier industry and communities throughout Norway have been enormous.
Each year, 4000-5000 man-years can be directly or indirectly linked to Statfjord — more than 200,000 since it began. This year, we are investing about NOK 3.6 billion on the operation of the field and buying goods and services for NOK 0.7 billion from 380 suppliers to operate the field.
5.1 billion barrels of oil is equivalent to more than 8140 TWh, or 60 years of total Norwegian electricity production.
Originally, the plan was to shut down Statfjord many years ago. However, through upgrading and developing, we have managed to extend its life several times.
Throughout these 40 years, thousands of Equinor employees and people in the Statfjord organisation have helped provide value creation and welfare for an entire nation — and one of the true 'veterans' is Liv Berit Axe. She was first employed in the Statfjord organisation in 1985 while Mobil was still the operator, two years before Equinor took on responsibility as operator. She spent many years in operational planning and is still affiliated with the Statfjord organisation.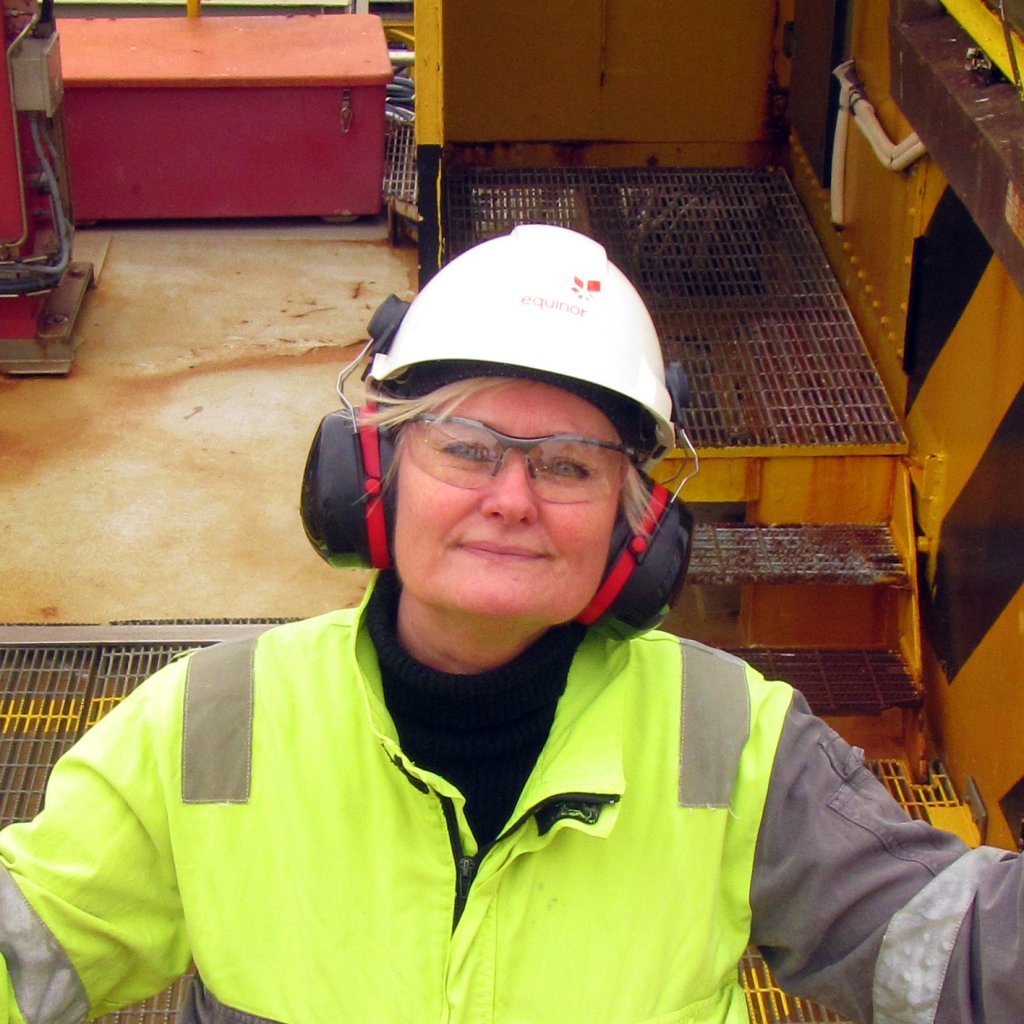 "Statfjord has been characterised by strong unity, a lot of humour and the ability to pull together"
Liv Berit Axe, who has worked in the Statfjord organisation since 1985
"I immediately noticed the good working atmosphere at Statfjord A. There was a lot of humour and a unique will and ability to pull together when we encountered challenges. We were proud to contribute to this Norwegian oil adventure," says Liv Berit Axe.
She came to Statfjord A aged just 21. Although there were some women working in catering and administration, the workforce was largely male-dominated. 
"They could have a rough tone offshore, and sometimes it was challenging to be the new girl. But we became hardened, and most of the men were very decent to us," she says.
Axe says it is difficult to comprehend that this offshore money maker has contributed to over one trillion and six hundred billion kroner in income. Their everyday focus has been on safe operation, maintenance and financial awareness.
"I believe value creation from each employee has focused on being cost conscious and increasing earnings through improvements, modifications and technological innovations all the way to where we are today. We have challenged established truths, for example through the "Stand Alone" project earlier this year when we became independent of Snorre A and were able to ensure continued operations.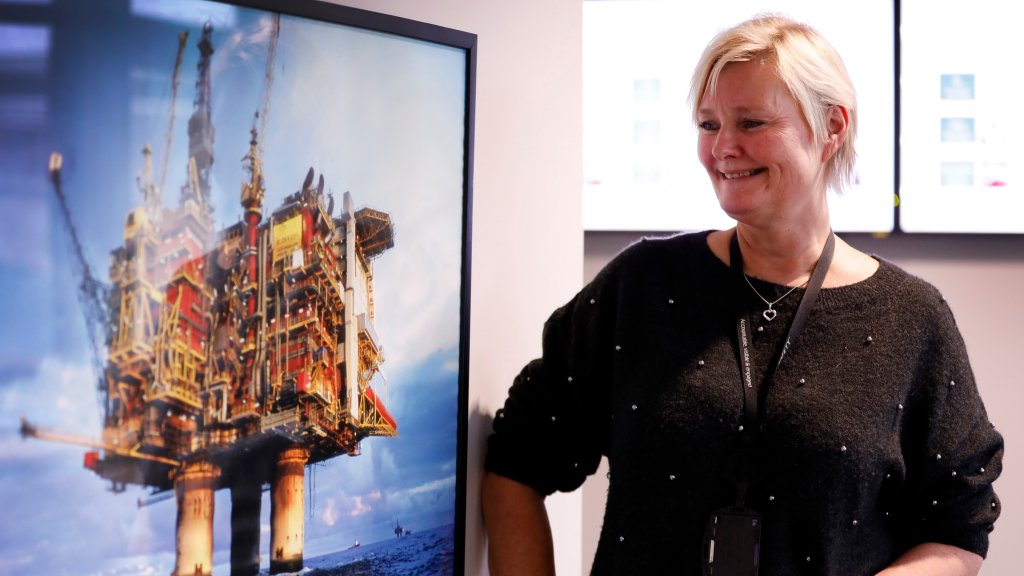 Statfjord was initially planned to have a far shorter production lifespan than it actually had. There was often talk of closing down Statfjord A, for instance in 1999. At that time, Liv Berit Axe applied to move from the A to C platform, but after eight years there she returned to Statfjord A.
She has always felt safe at Statfjord, although it can feel dramatic if the alarm goes off in the middle of the night and no one knows the reason. But developments in safety thinking, equipment and compliance with procedures have been enormous during these 40 years, and health and safety always come first.
"For the last 10 years, I have worked on land as operations planner for Statfjord A, and we have a planner for each of the three platforms. Now I want to be part of the late phase of the A platform for the next few years, says Liv Berit.
With the Statfjord and Statpipe development, the Norskerenna was crossed for the first time, a feat that laid the foundation for the development of a comprehensive infrastructure for Norwegian gas exports to Europe.
Today, there is a strong symbolism in the fact that Statfjord, the mainstay of Norwegian oil production for the past 40 years, is celebrating its anniversary while the giant field Johan Sverdrup is starting production. Johan Sverdrup is taking over the baton as the "oil engine" of the North Sea and is also to predicted to have a 40-year production lifespan.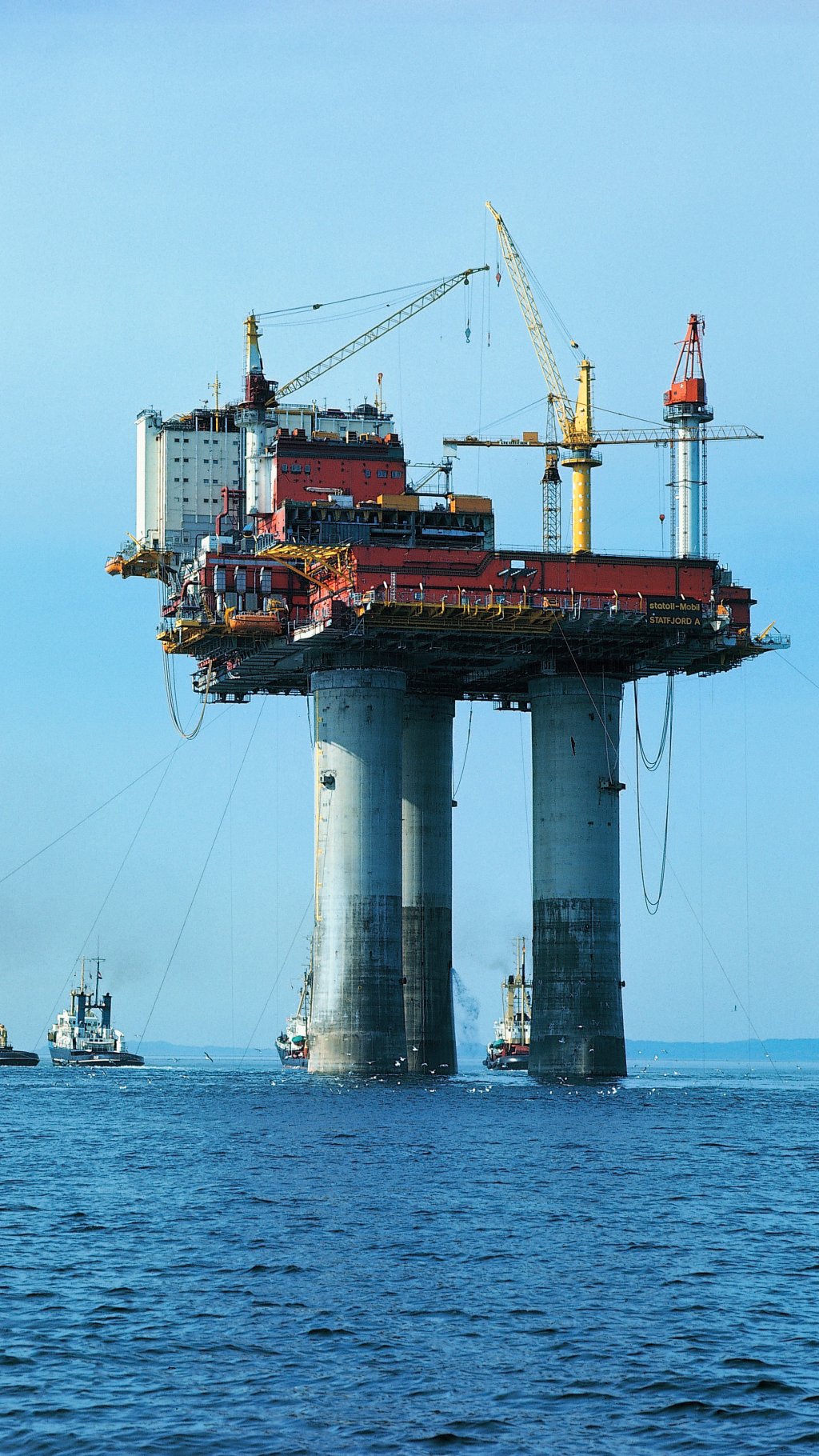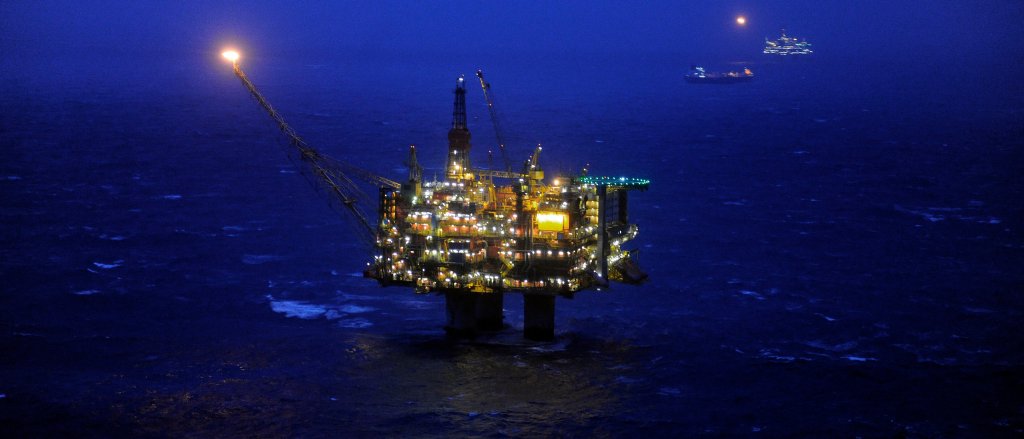 Photo: Harald Pettersen, Equinor
At the newly-opened Johan Sverdrup field in the North Sea, we find platform manager Elin Marie Halvorsen. She is looking further into the future than colleague Liv Berit Axe, with whom she has worked at Statfjord.
This giant new Norwegian oil field is now in full production and can look forward to operating for almost 50 years. The field has already passed 300,000 barrels per day production. Over the course of a couple of years, the field will produce 660,000 barrels of oil every single day — a third of Norway's total oil production. Johan Sverdrup is taking on the legacy of Statfjord as the figurehead of the Norwegian oil industry. 
Elin Marie Halvorsen joined Equinor in 2006 as a corporate trainee, 26 years old. After a stay at Snorre, she found that she enjoyed life offshore, and later joined Statfjord B as a maintenance engineer.
"Statfjord is a beautiful mix of old and new, both equipment and people. It has been a fantastic learning platform for me and many others. The learning you get from older platforms is invaluable. We have a lot to thank our predecessors for; standing as we do on the shoulders of the Statfjord pioneers," says Halvorsen.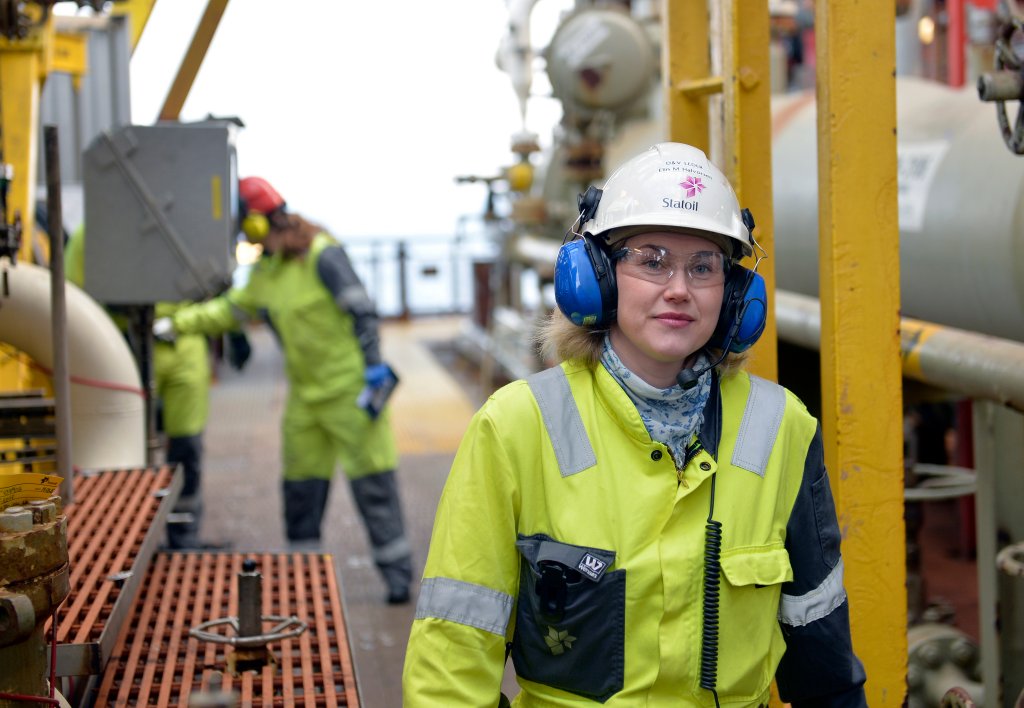 "We have a lot to thank our predecessors for; standing as we do on the shoulders of the Statfjord pioneers."
Elin Marie Halvorsen is one of the three platform managers at Johan Sverdrup. She has previously worked on Statfjord (B) and been a colleague of Liv Berit Axe. She joined Equinor in 2006 as a corporate trainee, 26 years old.
"The total value creation from Johan Sverdrup alone is estimated at NOK 1,400 billion, and direct revenues to the Norwegian Treasury are estimated at NOK 900 billion," says Elin Marie Halvorsen.
Johan Sverdrup also stands out in terms of the environment and climate. For every barrel of oil produced elsewhere in the world, an average of 18 kilos of CO2 is emitted. On the Norwegian shelf, the average is nine kilos. At Johan Sverdrup, the record is 0.67 kilos.
"This matters a lot to me personally. I have three children who are concerned about the world and the climate and ask me how I can work with oil nowadays. I also visited a third-grade class in elementary school and talked about the topic, says Elin Marie. She likes to encourage children to think visually about energy. Where does the heat in your shower come from, and where does the material in your new soccer shoes come from? 
"The Statfjord pioneers probably deserve a little more kudos. Had our platforms been on shore, I think people's interest in oil and gas production would have been greater"
"We have become dependent on hydrocarbons in the world. In many countries, people are lifted out of poverty and the world needs energy, and very few are blessed with the hydropower that Norway enjoys," she says.

In the big picture, Halvorsen believes that oil and gas production is too important for it to be left to a few nations with dictatorships or where individuals have too much power. Access to oil and gas means power.
"If we are to achieve the green energy transition, we must create and maintain stability in Europe and the world. Against this backdrop, a secure and predictable supply of oil and gas plays a key role, and Norway must contribute here. 
"Here in Norway we have had strict regulations on hazardous emissions since the 1980s. And as a company, we are at the forefront of efforts to reduce our footprint on climate and the environment.
We realise that this will place stringent demands on us in the future, and we are prepared to meet them," she says. 
In Stavanger, 140 kilometres from the Johan Sverdrup field, Liv Berit Axe is continuing operations planning for Statfjord.
The "Statfjord Late Phase" project has helped to extend the life of the field. In the 2000s, oil production was declining rapidly. The field had large remaining reserves, but the problem was to finding drilling targets that provided good returns. The solution turned out to be to produce more gas and less oil, with gas production increasing by 20 percent and field's lifespan being extended by at least 10 years.
Statfjord was discovered by Mobil in 1974. Statfjord A came into production in November 1979. Statfjord B was launched in 1982, while the C platform began to deliver a year and a half later.
All the concrete jackets for the Statfjord platforms were built in Jåttavågen in Stavanger. The platform deck for Statfjord A was built at Aker Stord, while the decks for sister platforms B and C were built at Rosenberg in Stavanger.