PROJECT IMAGINATION
Young minds take on the challenges of tomorrow
The challenges of tomorrow need solutions. What better way of exploring the possibilities than challenging the heroes of tomorrow? We invited children and youth to think outside the box, and the results were not only useful, some of them will make you laugh!
We talk a lot of emissions and ambitious climate goals, but often the solutions to our problems could be small and specific ideas that appear when we least expect them. Young minds are arguably more creative — and that's where we might find the next big thing: a good solution to one of the challenges of tomorrow..
"There's something even more important to Norway than oil, gas, fish and hydropower. Namely people," said President and CEO of Statoil, Eldar Sætre, when he opened the exhibition "Project Imagination" at the Science Factory in Sandnes.

He was unable to conceal his delight when he was shown around the interactive exhibition that brings good—and weird—ideas to life. Here you could experience Jacob's Fartinator, a machine that converts methane gas from cows to electricity, Henning's Sound Cane for the blind, and Tyra's Energy Swing. 
.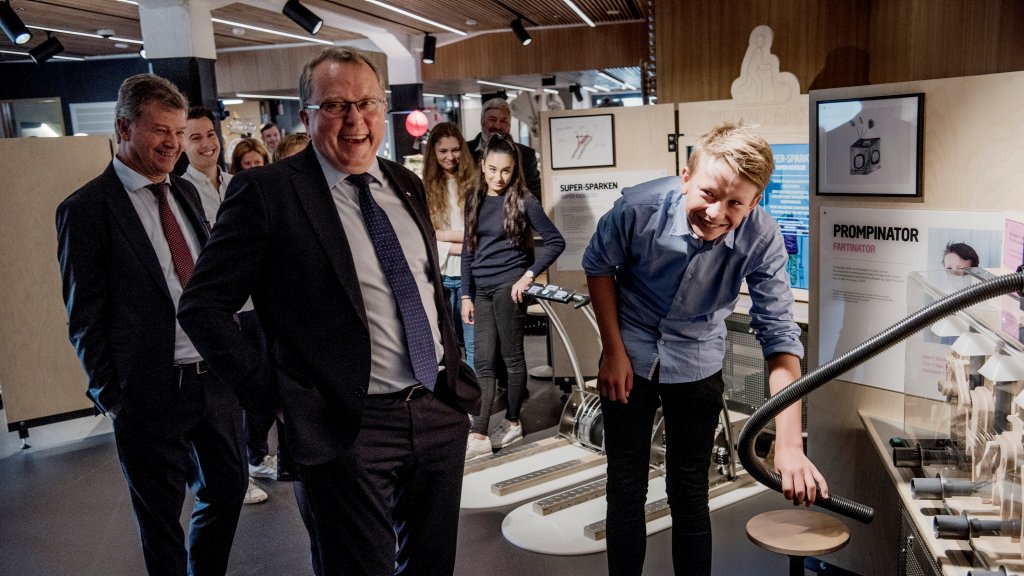 Cooperation across Norway
Creativity and imagination are probably the most important resources we have, and our youth probably have most of it. That's why Statoil challenged young minds to enter their ideas in Project Imagination, and as part of Statoil's Heroes of Tomorrow the competition started the summer of 2015, with children and youth being invited to send in their ideas.
Eleven of the ideas were chosen, and prototypes of the inventions have been built. These eleven inventions can now be experienced at the Science Factory in Sandnes.
Project Imagination is a collaborative effort between Statoil and five science centres in Norway. The aim of the project is to contribute to greater enthusiasm about maths and sciences and to illustrate the importance of creativity and imagination as key components of maths and sciences subjects. 
The exhibition opened at VilVite in Bergen in August 2016, and since then has visited the Technical Museum / Oslo Science Centre in Oslo, the Science Centre in Trondheim and the Science Centre in Tromsø. The exhibition has generated considerable enthusiasm, and all the centres have experienced a significant increase in the number of visitors.
minds make the world go round 
Now it is finally the county of Rogaland's turn, and Tuesday, 15 August marked the official opening at the Science Factory in Sandnes, in a ceremony led by President and CEO Eldar Sætre and the Mayor of Sandnes, Stanley Wirak. 
In his opening speech, Sætre stressed that it is our minds, our thoughts and our ideas that will enable Norway and the world to progress. That's why it's entirely natural for Statoil to promote and support talent in maths and sciences, as well as research and innovation, through our Heroes of Tomorrow programme. 
And the visitors' reactions have been extremely positive, with the Science Factory reporting great interest and increased numbers of visitors. A Project Imagination workshop will also be arranged in which children and young people can come up with their own inventions. 
The Project Imagination exhibition continues at the Science Factory in Sandnes until 31 October, 2017. We guarantee an enjoyable experience for both young and old!