In the forefront within the testing of new technology
August 28, 2008, 11:47 CEST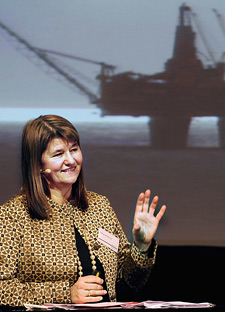 "We want to collaborate with companies that are global leaders in their field," says Margareth Øvrum. (Photo: Helge Hansen)
More than 40 companies are involved in 55 pilot projects in 2008, and more are planned in the years ahead.
Systematic technology development has made the NCS a laboratory for the testing of new technology. This helps make the Norwegian supply industry operating on the NCS a global leader in this field.
"Extensive testing of new technology is important for optimal petroleum recovery on the NCS. An ambitious test programme makes the road from idea to technology commercialisation shorter both StatoilHydro and the suppliers. This also allows us to pioneer the use of this technology," says Margareth Øvrum., executive vice president, Technology & New Energy.
Improved recovery
75 percent of the pilot projects represent technology designed to enhance the recovery on existing fields. This is a focus area for the company on the NCS and may contribute to increased value capture also internationally.
One of the areas where extensive testing shows promising results is within drilling. Methods aimed at making drilling process safer, cheaper and more effective are being tested. A successful pilot related to this was recently successfully completed on Statfjord C.
"This is an important step on the road to drastically reduce our drilling costs and will make it profitable to drill for far smaller oil deposits than now," Øvrum says.
StatoilHydro has signed five strategic technology agreements. This week the company will renew three strategic collaboration agreements with the supply companies Halliburton, Baker and Schlumberger. Solidly rooted in Norway, these companies are involved in research and technology development here.
"We want to collaborate with companies that are global leaders in their field. In addition we aim to be in the leading edge within technology development. We will challenge the best suppliers," Øvrum says.