Shaping the future of energy—digitally

0
Devices will be connected online by 2020
0
Increase in global data volume expected by 2025
0
Global investments in artificial intelligence
Digitalisation is on everyone's lips these days—but at Statoil, it's already part of our DNA. Our story is one of innovation and technological development. Now we're putting our industrial strength behind digitalisation, investing 1–2 billion NOK by 2020—on top of existing investments in IT. 
At Statoil, we're investing to secure a global leadership position within digitalisation. Not because digitalisation and innovation are goals in themselves, but because digitalisation is a key enabler for our strategy.
We will produce oil and gas more effectively with lower greenhouse gas emissions, be a leader within carbon capture and storage, and invest substantially in renewable energy.
For almost 50 years we've been developing technology to extract resources from some of the most challenging environments in the world—and it has given us the mind-set, experience and enthusiasm for implementing innovative technologies. 
Statoil has already embarked on our digital journey. Our digital roadmap and our Digital Centre of Excellence will help us exploit the opportunities of the future. 
What is digitalisation in practice? And what opportunities does it provide for Statoil?
We're embracing digitalisation first and foremost because it enables us to work smarter and more efficiently. It will make it possible to provide a safer workplace for our employees, continue to create value for society, and find new solutions to address climate change.
We will do this by:
Utilising sensor technologies, cloud solutions and large volumes of data
Using digital technologies to improve the efficiency of our work processes
Analysing our data using machine learning to make better exploration decisions
Digitalisation will enable improvements in safety, security, sustainability, productivity and cost efficiency.
Real-life examples of innovations taking place in Statoil today are:
Automated drilling control
Batwind, our innovative battery storage solution for Hywind Scotland
Data analytics to optimise our drilling operations
The remotely-operated Valemon platform controlled from Bergen
Our integrated operations centres for onshore and offshore operations, in the US and on the NCS
This digital shift will change our industry forever—and we are positioned to seize the opportunities it presents.
Integrated operations
New fields will integrated gradually over time, to allow us to learn and adapt to new work processes. We will gain superior situational awareness, thanks to data from all our installations. And with predictive analytics, we can make sure that we run our assets and wells in an optimal way.
It all sounds quite technical, but it can improve safety, increase production, reduce costs, and reduce CO2-emissions. Our ambition is that our integrated operations centre for the NCS alone will be able to deliver increased production and production efficiency worth in the order of 10 billion kroner before tax every year in a decade's time. 

That is real money, real value creation. For Statoil, for our partners, and for society as a whole.
Related news
7. mars 2018

Joint offshore digitalisation

An integrated operations support centre and a drilling operations centre will help reach Statoil's ambition of increasing value creation from operated fields in Norway by more than 2 billion USD from 2020 to 2025 before tax.

22. mai 2017

Digitalisation driving value creation

Statoil is establishing a digital centre of excellence and launching a roadmap with seven specific programmes for digitalisation in the company towards 2020.
We have established a Digital Centre of Excellence that will coordinate and manage our digitalisation efforts across the company.
Digitalisation is not just about new technologies, but also about radically changing the way we work.
And that's because our most important resource isn't oil, gas, or even renewables—it's people. And in Statoil, we're already well prepared with competent employees. No matter how advanced artificial intelligence gets, it will always be the people who define our success. To succeed, we must attract world-class talent, invest in competence building internally, and be open to collaboration and learning from others.
The Centre of Excellence will collaborate with external specialist communities, have dedicated units for data analytics, machine learning and artificial intelligence, and leaders for digital programmes.
Statoil will recruit candidates for the centre of excellence internally and externally, and the leader of the Centre reports to Statoil's chief operating officer (COO). 
Excited about digitalisation and innovation? See job opportunities in Statoil here.

 Digitalisation is the use of digital technologies to change a business model
and provide new revenue and value-producing opportunities.
Our digital roadmap includes six specific programmes:
We will focus on:
Digital safety, security and sustainability
Using data to reduce safety risks, improve learning from historical incidents, strengthen security, and reduce the carbon footprint of our operations.
Subsurface analytics
Improving data accessibility and analytical tools for subsurface data, enabling better decision-making.
Next generation well delivery
Enhancing utilisation of well and subsurface data for planning, real-time analytics and increased automation.
Field of the future
Smart design and concept selection by maximising the use of available data, and integrating digital technologies in future fields.
Data-driven operations
Using data to maximise asset value through production optimisation and maintenance improvements.
Process digitalisation and insight
Streamlining of work processes and reduction of manual input across the value chain. Improving analytical tools and data accessibility within our commercial areas to enable better decision-making.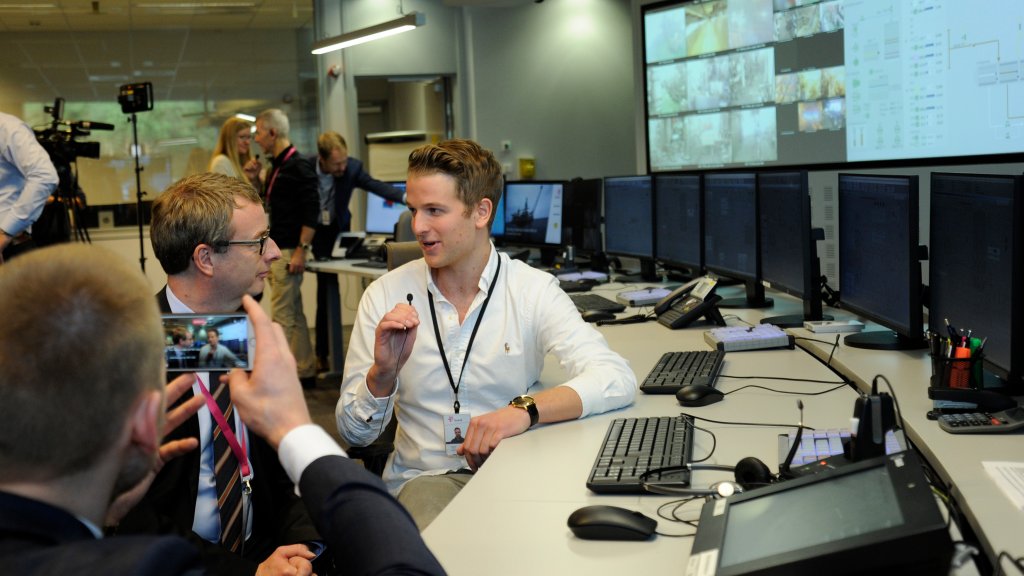 Since launching our digital roadmap, we have used software robots — hired our first digital employees, if you like — and automated more than 30 processes, making our workday more efficient.

Process digitalisation
Reduced process lead time and manual human input for non-physical processes
Advanced analytics
Improved understanding of large, complex and diverse data to enable more informed decision-making 
Robotics and remote control
Improved reliability, reduced cost and increased safety by limiting human intervention in physically intensive activities
To fully exploit the opportunities latent in this digital future, there are three technological enablers we see as key to Statoil's development:
Digitalisation of work processes
Within many of our areas there are manually repetitive tasks. Digital solutions enable us to reduce time spent on non-value creating tasks such as looking for data or moving information from one system to another.
Advanced analytics
The oil and gas industry generates large volumes of data. And in August 2017, our data centres were storing 28 PB—50 times the volume of the American DNA database. By utilising data analytics and machine learning, we can improve our insights from complex data sets.
Robotics and remote control
We apply robotics and remotely-controlled solutions to our physical and mechanical processes. Automated drilling, use of drones for inspection, and unmanned fields are just some of the examples of how we apply digital solutions that help keep our employees safe, creates value, and reduces our carbon footprint. 
How will Statoil utilise all this data?
Of course, digital technology is nothing new to Statoil. Technology has been used for several decades in our industry, automating and simplifying processes.  Sophisticated sensors on drilling equipment and fibre optic cables for information sharing are already standard tools.
Sensor technology has developed quickly at the same time as costs have declined. This enables us to collect more data, which in turn can be used for new purposes, for example helping to predict the need for maintenance on our equipment.
 Data can be made much more accessible through cloud solutions, allowing us to share data more efficiently internally in Statoil and externally with our partners.
 There is an exponential increase in processing capacity and artificial intelligence development. This is driving accelerated development within machine learning and artificial intelligence area.