Sustainability is at the heart of our operations and strategy. We empower our employees to implement our business strategy through sustainable performance. Here are some of our many stories on how we work across the company. 
Pick a category from the buttons below, or just scroll down. 
Safeguarding people, communities and assets
Intelligent hearing protection
Our smart ear plugs are being made mandatory in noisy operating environments. They don't only protect workers but help us save costs by using time more efficiently.
Eirik Bjerkebæk, Manager Health and Working Environment, Safety and Security 
Under Norwegian regulations, personal protection equipment is the final piece of risk control when all other measures have been put in place – it's never sufficient on its own. But we are currently implementing smart ear plugs that could prompt a change in this perspective. Rather than just blocking noise, we have developed ear plugs with a noise cancelling system that reduces noise significantly while filtering out vocal sound to allow communication. More importantly, they measure noise accurately inside the ear and calculate cumulative exposure over time, with an alarm that goes off when the limit is reached. 
Our tests have been so successful that the earplugs are now mandatory in all our operations on the Norwegian Continental Shelf in environments with a noise level of over 95 db, and implementation across the rest of Equinor will continue. This advance in digital technology and personal protective equipment allows us to plan operations in a more predictable way and use time more efficiently – which means we reduce costs. We are now developing the system one step further by introducing an audiogram to measure noise levels before and after each shift. We can then look at the dynamic risk picture and target specific areas that we need to focus on. 
Climate change and environmental impact
Protecting marine mammals
Equinor has built up considerable expertise on how we monitor and model the behaviour of protected species, which we use to help quantify and then minimise impacts our developments may have.
Martin Goff, Empire Wind, NY 
When Equinor starts work on an offshore project – whether in wind or oil and gas – we can sometimes spend several years trying to understand environmental and seabed conditions, technical concepts, stakeholder concerns and our potential impact on the environment. One key area we focus on, particularly in offshore wind, is marine mammals and birds. We collaborate with other developers and research institutions on novel ways to inform our assessments; for example, tagging birds with GPS loggers, detecting marine mammals with acoustic receivers, or developing habitat and agent based models to understand their movement patterns. As a result, we have built up considerable expertise and tools which we use to quantify and responsibly manage our impacts.
I am currently collaborating with experienced colleagues as we study the Empire Wind New York offshore wind lease area, which is close to the migratory route for the protected North Atlantic Right Whale as they travel between breeding grounds in the south and feeding grounds in the north. It is estimated that there are less than 450 of these whales left in the NW Atlantic and they are already under pressure from shipping, fisheries bycatch and the depletion of prey resources. Our aim is to ensure that we don't add to these pressures, for example by managing noise producing activities such as piling during construction. So, we need to better understand when they are in the area, the routes they take and where they stop to refuel, so we can time our construction activities responsibly.
Creating value and respecting human rights
Busy in the Barents – attracting local suppliers
The North is not as bleak as you may think. There's a lot going on and local communities want to see our projects bring more jobs and business for the region
Ørjan Birkeland, Project Manager, Northern Area Project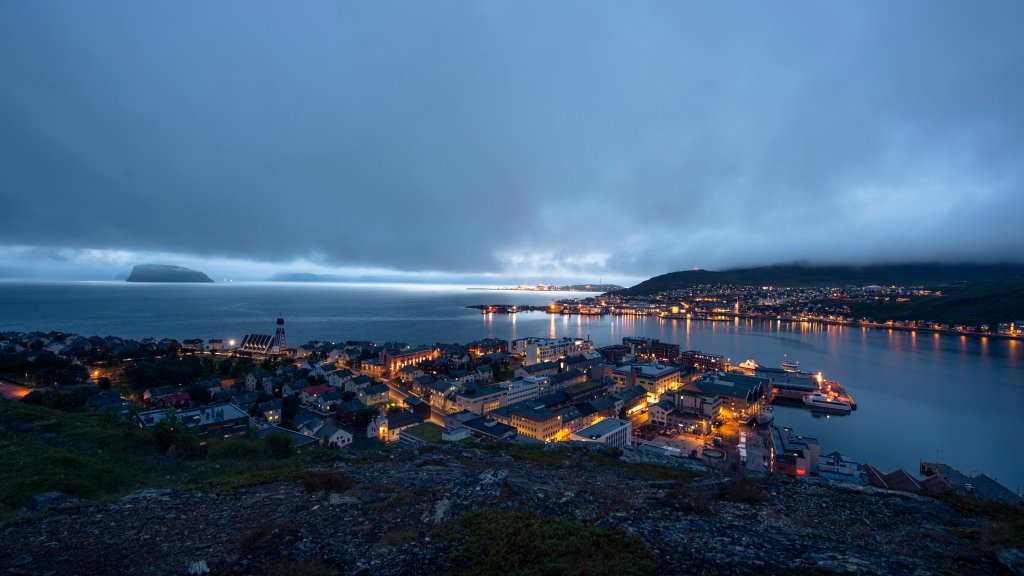 Local communities in Northern Norway are as concerned as anyone about climate change and environmental impact – but they don't want us to stay away from the Barents Sea on principle. Our projects here may be Arctic by definition, but they are no different from other projects on the Norwegian Continental Shelf. They are not more expensive, not close to ice and the weather conditions are less challenging than the North Sea. We have a long history of co-existence with other industries such as fishery and tourism, and managing our environmental impact carefully. Our projects have a positive impact on jobs, education and business in the area. We will continue to work closely with communities in the North to ensure local value creation in the region.
As we start operations on Aasta Hansen and launch installation work at Johan Castberg, the work on supplier development performed over years by the Northern Area Project have been vital to ensure we bring local suppliers into the core of our contracts. We help them to connect to our larger suppliers. In 2017, we held several supplier days around the Northern region, inviting both large and small suppliers to attend. This enabled them all to get a better feel for the projects and the type of suppliers we need and when. Most importantly, we provided an arena for all suppliers to connect and create co-operations. In dialogue with the larger suppliers, we are highlighting the importance of including smaller suppliers to deliver on projects – that is a contractual requirement which helps to achieve the desired rippled effect within the local value chain. 
Investments for a more sustainable future

By seeking out partnerships and investments that tick both the social and commercial boxes we see inclusive economic growth in Nigeria and trust in us as a sustainable company.

Finding local talents worldwide

An organisation that is made up of people from different backgrounds, interests and capabilities will only make us more resilient. The diversity that this offers will ensure a business environment that is able to thrive on fresh ideas that can be developed into concrete projects and actions.
From the very beginning, Equinor Brazil has invested lots of time in building a common compliance culture for employees, contractors and suppliers. We make it clear from the start that we have zero tolerance for corruption
Leticia Andrade, compliance officer in Brazil
In Brazil and other parts of the world where Equinor operates, we rely heavily on contractors – and many of these are used to working in corrupt environments. That is why Equinor Brazil's anti-corruption training programme is so important. Every second year, all our employees and contractors go through a one-day anti-bribery and compliance workshop or a half-day refresher course.
Transparent, safe and secure operations are crucial to our licence to operate and reputation. The robustness of Equinor's compliance programme gave the company the confidence to expand in the country at a delicate time, when business and government were being implicated in the Lava Jato scandal.
In situations where employees are uncertain on how to proceed on issues like corruption or inappropriate gifts we have a 24-hour hotline. This ethics hotline could be especially helpful in those cases where it is challenging to go through normal channels.
The General Manager of OSM Maritime group in Brazil, who Equinor work closely with, recently said: "It's encouraging to see that OSM Brasil and Equinor Brasil work in the same way on the anti- corruption aspects. We understand that the best way to achieve success is always to ensure ethical practices and transparency of our business". 
Transparency in tax payments is the only way to go

Being open is crucial to how we do our business and we are committed to being a responsible corporate company. We pay taxes where economic value is generated and transparency in our payments enables citizens to hold governments accountable for the payments they receive.