This electric "Viking ship" turned out even better than expected.
This battery-hybrid ship was designed to cut emissions. It exceeded their wildest expectations.
This battery-hybrid supply vessel was supposed to cut emissions—but in the process, its owners achieved something more. Now the captain feels safer, the crew are delighted, and they have lowered costs and emissions. Welcome aboard Viking Energy.
It was born out of Equinor's desire to reduce fuel consumption and emissions from our fleet of contracted supply vessels. We started to introduce new requirements into our contracts with shipowners—and shipowner Eidesvik Offshore responded by converting their 5073-tonne supply vessel, Viking Energy, into a sea-going plug-in battery hybrid. 

And the results were impressive: a massive 30% reduction in consumption and emissions when operating in dynamic positioning (DP) mode. 
All photos by Helge Hansen AP  /Equinor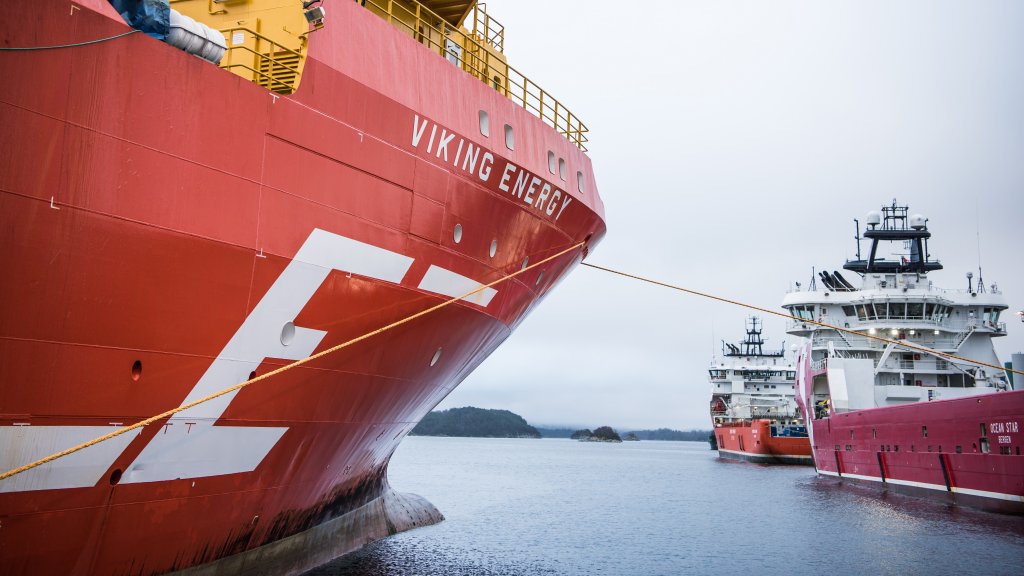 Supply vessels are the workhorses of the North Sea, carry everything from bacon to bedding, drilling bits and drilling mud to platforms offshore. Now plug-in battery hybrid technology has come to the supply ship fleet. 
Ground-breaking ship
It was already a ground-breaking vessel: built in 2003, Viking Energy was the world's first dual-fuelled LNG and diesel platform supply vessel. 
In 2015, with a grant from Enova and aided by their technology suppliers Westcon and Kongsberg Maritime, Eidesvik were the first shipowners to install a 653 kWh/1600 kW battery on a supply vessel for propulsion. 
In principle, it's very similar to the plug-in hybrid car that may be parked in your drive.
The battery pack is used during transit to absorb peak power loads, so-called "peak shaving", contributing additional power when needed quickly during demanding operations. 
But the big news is that the battery pack on board also replaces one of the main engines as a so-called "spinning reserve" when the vessel is operating in DP-operations. That means when the ship is positioned dynamically using satellite GPS and computers, and held in position by constantly rotating variable propellers, instead of anchors. This is when energy savings really add up.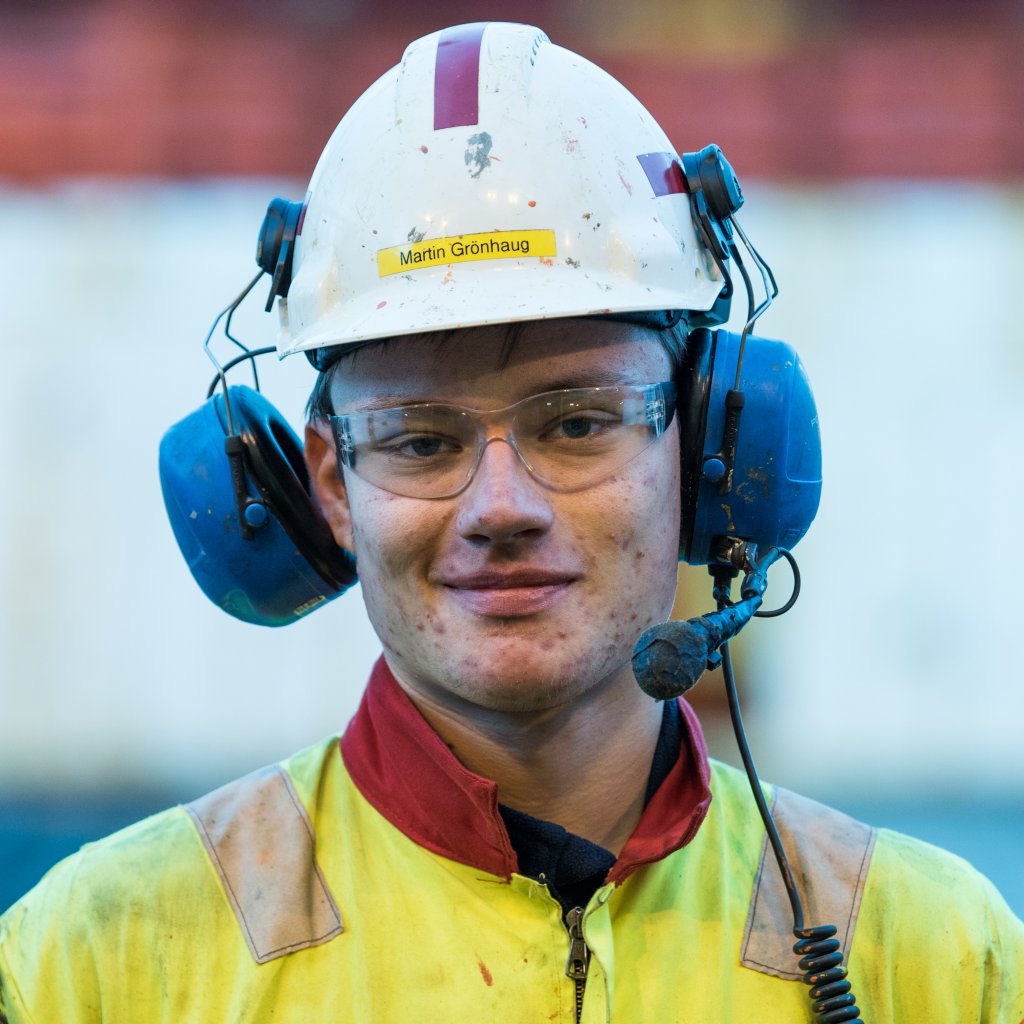 Although apprentice Morten Grønhaug doesn't have many North Sea voyages under his belt yet, it's clear that he's enjoying his choice of career
Welcome aboard Viking Energy
The rain has been pouring down for many hours, but the clouds crack open ever so slightly as we prepare to board Viking Energy, moored at Mongstad base on Norway's west coast. Apprentice Martin Grønhaug welcomes us in his bright red and yellow overalls with the Eidesvik logo on the back. 
He's on his third voyage with this latter-day Viking ship, whose task it is to ensure that people working offshore in the North Sea are supplied with everything they need, from bacon to bedding and drill bits to drilling mud. And it's easy to see why this is an attractive vessel for an apprentice to work on.
Running on batteries

"It's incredibly nice here," he says, as he guides us around the ship. 
It's almost completely silent on board—not eerie like a ghost ship—just quiet, because the engines aren't running. One of the only audible sounds is the coffee percolator. 
"It's so quiet because we're running on batteries most of the time we're in port," the crew explain to us enthusiastically. They're enjoying a coffee break before heading out to sea again.
Cutting emissions, and feeling safer
"The manoeuvrability of this ship is incredible," says senior first officer, Thomas Brandal. He's on a short-term assignment as a stand-in on board—but it means that it's easy for him to compare with other, more conventional ships—and he explains enthusiastically. 
For a landlubber like me who has barely been aboard other ships than cross-channel ferries, it's hard to see why this vessel is so different—but Brandal explains that you can compare it to a hybrid car. The generator does most of the work, but the battery absorbs the variations up and down, resulting in even sailing, without needing great surges of engine power to cope with waves. 
"If I'd known what I was getting into when I stepped in as a temporary officer, I'm not sure I'd have said yes—because it will be so hard to leave!" says Brandal.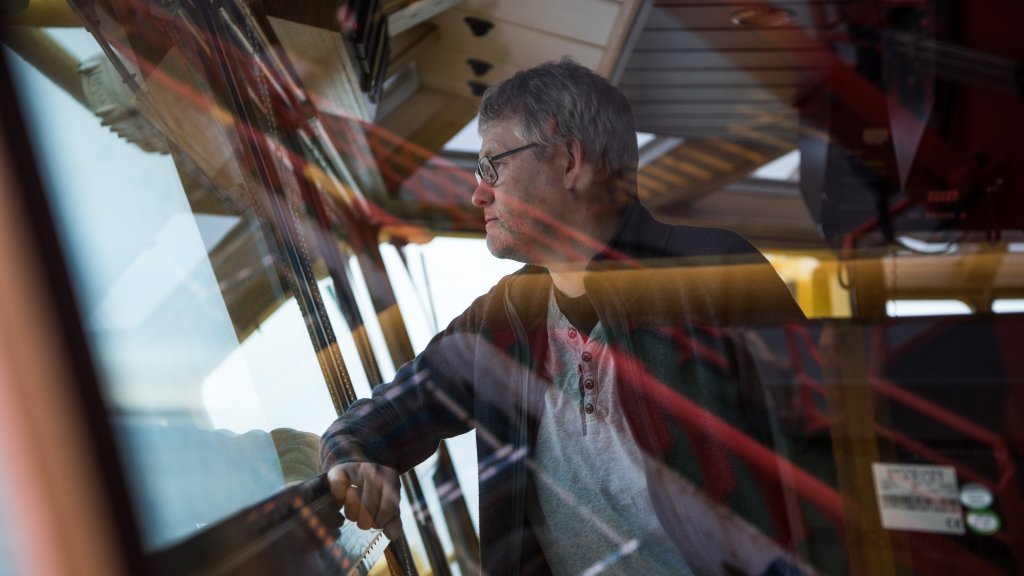 I can't praise the battery pack highly enough. I feel our everyday lives have become much safer
Captain Svein Kallevåg.
Equinor requirements
But it wasn't a desire to improve manoeuvrability or reduce noise that led Eidesvik to install the giant battery in the summer of 2016. It was driven by a need to reduce fuel consumption and cut emissions in the industry, and the fact that Equinor, then Statoil, had started to introduce concrete requirements in contractual negotiations. 
Eidesvik were the first to deploy a hybrid solution in a supply vessel—and the results have been convincing. On average, Viking Energy's fuel consumption has been reduced by 16-17%, and in dynamic positioning mode, the fuel consumption reduction has been as high as 28%. 
"I can't praise the battery pack highly enough. I feel our everyday lives have become much safer," says captain Svein Kallevåg. 
More stable operations
Naturally, he's delighted that they are reducing fuel consumption and emissions, but his primary concern is that he feels that everyday operations have been made safer—thanks to the even supply of power from the batteries, and the fact that the batteries take over much of the load from the generators, reducing the need for maintenance and giving more stable operations. 
Set requirements—and suppliers delivered
On a given day, between 40 and 50 ships are at work for Equinor on the Norwegian continental shelf. Frida Eklöf Monstad in Equinor is responsible for making sure that at any point in time there are enough ships available to carry out the jobs that need to be done. She also knows that supply vessels, anchor handling vessels and standby vessels account for some 85% of the carbon dioxide emissions from Equinor's logistical operations. But what can you do to start cutting 284,000 tonnes of CO2-emissions? You set requirements and ensure that good incentives are in place. 
When Equinor enters into new contracts, emissions and energy efficiency are evaluated, and ships with technology for reducing consumption are prioritised. 
"There's a long list of things that have contributed to a significant reduction in fuel consumption and emissions of carbon dioxide. Battery operation and power from shore have also been very effective in reducing emissions, and ships that exploit these opportunities are therefore prioritised when contracts are awarded," says Monstad.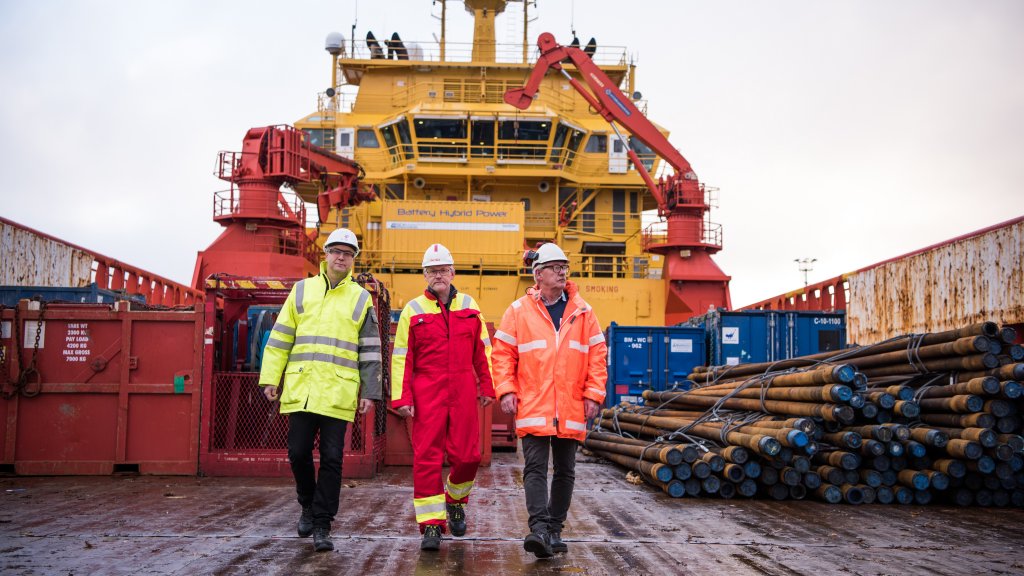 Knut Idar Haugland in Equinor, captain Svein Kallevåg and Jan Lodden of Eidesvik on deck with the battery pack in the background. The fact that a battery pack of this kind can be installed at any time makes this technology a little more flexible than many other "green" solutions. 
Seven vessels awarded contracts
In June 2017, seven vessels were awarded contracts by Equinor, and all of them are to install hybrid solutions with battery operations and power from shore. Florø is the first base that will have shore-to-ship power solutions, while base operator NorSea Group has received grants from Enova to ensure power supplies at all the other bases along the coast. 
"We're also working on improving the efficiency of loading capacity at the ports, and adapting the speed of the vessels to reduce fuel consumption and emissions," says Eklöf.  
Fuel saved is money in the bank—and positive for the environment
Back on Viking Energy, Chief Operating Officer (COO) of Eidesvik, Jan Lodden, is visiting the ship together with Equinor's Knut Idar Haugland. And they have good news: the money saved on fuel will be shared between Equinor and the shipowner. And for the crew, that means some extra kroner in their welfare kitty, and a boost in motivation. 
"The fuel consumption makes us competitive, and we see a huge environmental effect. It's been an exciting journey, and we've learned a lot," says Lodden. 
Time to charge the battery
The sun hangs lower in the sky, and soon the last container will have been hoisted on board the ship. Throughout the time in port, the batteries have provided heat and light, and everything else that needs electricity. Now, the engine starts, and charges the battery at the same time. It's time for another trip to sea, loaded not only with supplies, but with batteries and motivation. 
"Quite honestly, I didn't think we would save so much as we did. But for me, the most important thing is that the job is as safe as possible, and if we can cut fuel consumption and emissions at the same time, that's a useful bonus," says captain Kallevåg as he sets sail to the west. 


First officer Thomas Brandal is enthusiastic about the ship's seakeeping qualities
In 2016, the emissions from Equinor's logistics operations where 30% lower than in 2011. 5% of this reduction was due to lower levels of activity.
The reduction of 266,000 tonnes is equivalent to the annual emissions of 133,000 private cars.
Shore power, battery operation, use of LNG as fuel, lower speeds and better planning of routes are the main initiatives that have been carried out to reduce emissions.
Equinor's Marine Operations department for the Norwegian continental shelf set a target of reducing CO2 emissions by 32% by 2020. This goal was nearly achieved in 2016, and we are now working to set a new, ambitious target.
If you'd like to receive an email whenever we publish Equinor stories, please sign up below: