Halvor Hansen in Aibel (left) and Espen Eliassen in Equinor may look as though they are grasping thin air, but this is how they carry out checks and controls during the construction of Johan Sverdrup Phase 2. In front of them they can see a dynamic 3D model that is superimposed on their view of the actual platform, to see what is missing or correct.
Photo: Ole Jørgen Bratland, Equinor.
With a little help from my digital twin
How can we improve safety and efficiency, reduce rework and ensure tighter collaboration between offshore and onshore workers? Digital tools are transforming the way we work—and one of the most exciting is Echo, our digital twin solution.
 "Walking round with tablets and HoloLens cameras on our heads might look like a gimmick, but these technologies really do work," says senior engineer Espen Eliassen in Equinor, who specialises in digitalisation on Johan Sverdrup Phase 2. He's at work in Aibel's huge construction yard in Haugesund, Norway, where Equinor's digital twin solution, Echo, is already part of his working day.
2020 is the year Equinor will scale-up digital solutions across the company to make our operations even safer, more profitable and deliver on our ambition to lower emissions. Echo is just one of a range of digital tools that are ready for the mainstream and transforming the way we work.
"Follow me, and I'll show you what I did yesterday," says Eliassen. 
What is a digital twin?
Imagine not having to walk many miles every day back and forth in the office to print and check drawings when you're building something big. Or imagine avoiding spending a week pointlessly sandblasting paint from a deck which you painted by mistake because the drawings you had were out of date. This is where the digital twin comes in, accompanying you on the job wherever you go, either in your pocket or on your headband.
HoloLens mixed reality
"Yesterday, I walked around here wearing HoloLens," says Eliassen. HoloLens is Microsoft's augmented reality solution, which they call 'mixed reality'. It's a head-mounted display that melds real-world and 3D images seamlessly for the user.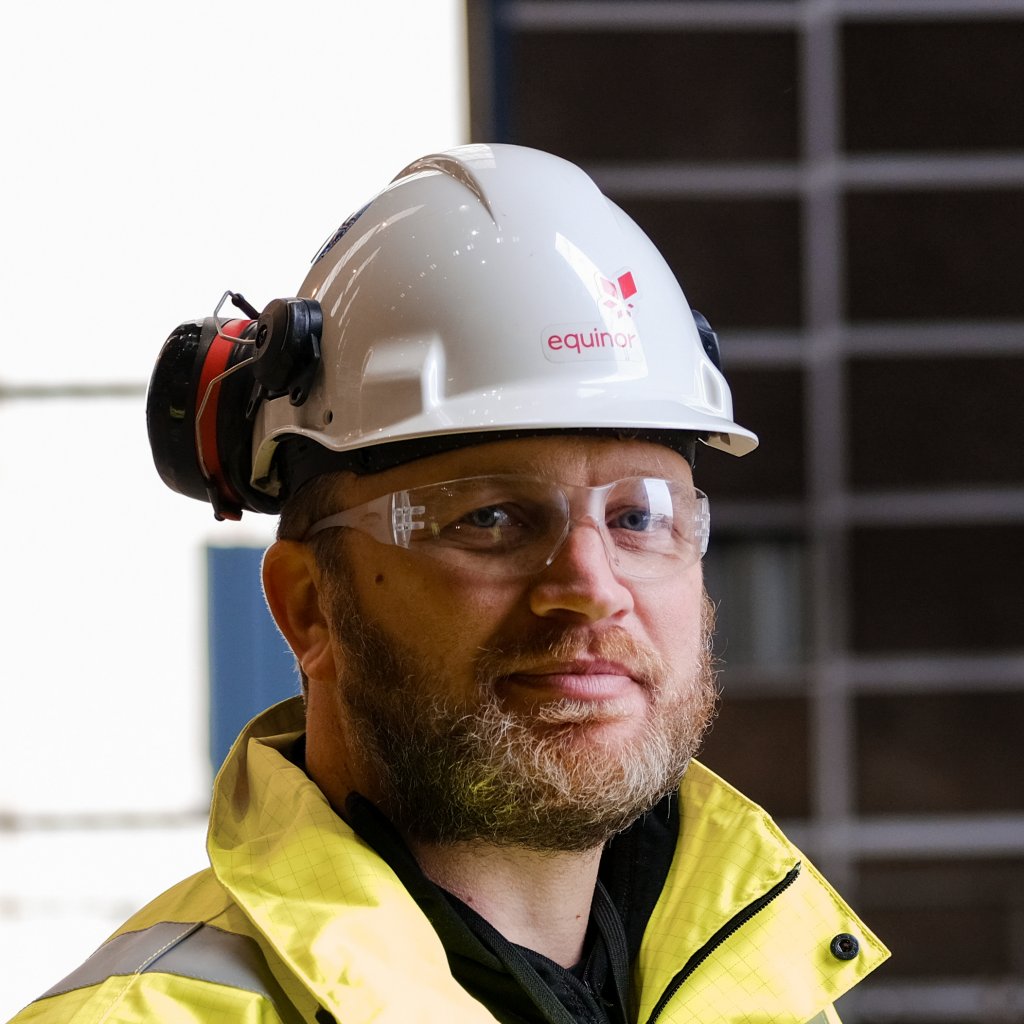 What is HoloLens?
Hololens is Microsoft's augmented reality solution, which they call "mixed reality"
It's a head-mounted display with multiple sensors, advanced optics, and holographic processing that blends real-world and 3D images seamlessly for the user
HoloLens was the first head-mounted display running the Windows Mixed Reality platform under Windows 10.
Saves time
"I spent about half an hour checking that everything looked right. I'd probably spend four times that just going to the office, printing out the right drawings and then taking them out to compare them against the steel. And that's if the printer works first time!" he says.
Everyone laughs sympathetically, because we've all experienced printers that don't work. But for someone like me who doesn't work on steelwork construction drawings on a daily basis, it's hard to comprehend how you could possibly check every last detail on such an enormous construction project just with the help of a few printouts.
We walk under an unfinished, unpainted deck for what will become the process platform for Johan Sverdrup phase 2. Although the platform is inside a huge hall at Aibel's yard in Haugesund, it's freezing. They tell me the steelwork attracts the cold, but it does nothing to help my freezing toes. 



Comparing conventional 3D images (left) with HoloLens VR (right). Seen here on the Åsgard pilot.
Photo: Equinor
What is Echo?
Echo is Equinor's digital twin solution, a visualisation tool used to access and visualise data stored in Omnia
Omnia is Equinor's cloud solution, containing data from a number of Equinor's databases, not just data that is useful in construction
Echo has been developed in Equinor to improve safety and efficiency in project development and operations — across our business areas
Echo allows the field worker to bring the "office" with them to the work site
Echo digital twin is already in place ast ten assets, including Aasta Hansteen, Johan Sverdrup, Johan Castberg, Mariner and Hammerfest LNG
During 2020, over 6,000 Equinor employees will adopt advanced digital solutions such as Echo
Many employees have become digital field workers, which means that tasks that previously had to be resolved in the office, with physical signatures and many trips back and forth between fields and offices, are carried out in the fields with digital tools.
Digital as soon as possible
Halvor Hansen is a supervisor for Aibel, and he puts on the HoloLens glasses to demonstrate for us. He looks a bit like he's taking part in a science fiction movie. Simultaneously, Eliassen picks up his mobile phone, opens an app and shows us exactly what Hansen is seeing through his glasses. And I quickly understand why this is more effective.
Whereas before, you had to hold the drawings up to the construction, search for which lines meant what—all in two dimensions—now, the 3D drawings elegantly super-impose themselves over reality. And suddenly the whole procedure takes only a very short time.
"I was really happy when they came up with this solution, and that I got to try it out! It has been enjoyable," says Hansen. And unlike previous projects where digital twins have been tried, this time the timing of the trial has made a big difference.
"We have tried elements of this technology on Johan Sverdrup phase 1, Aasta Hansteen and Johan Castberg. But what really helps this time is that we come in very early, long before the paint is applied," says Eliassen.
"On Johan Sverdrup we have been using Echo for more than 18 months and we experience higher value and quality in our daily offshore activity. We have examples of up to 50% manhour reductions"
Paal Frode Larsen, Head of digitalisation, Johan Sverdrup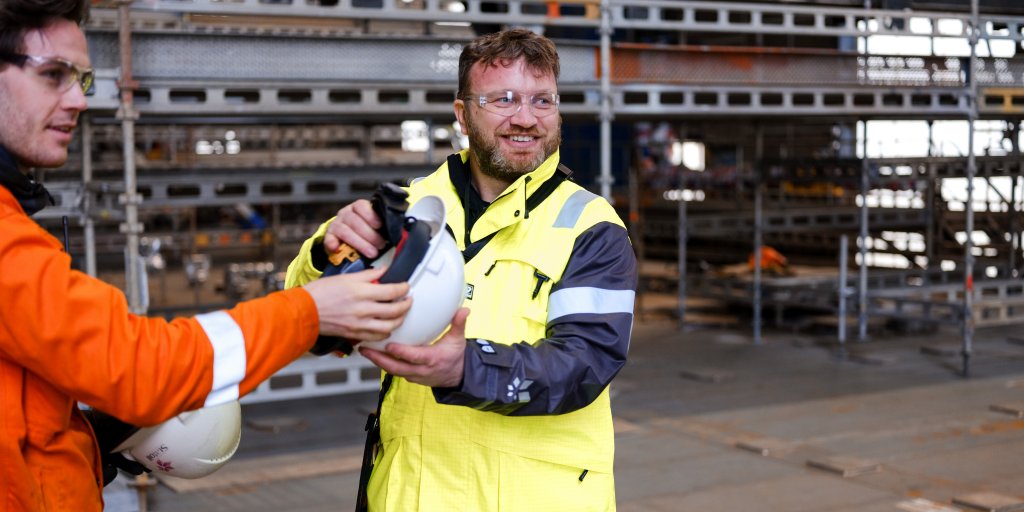 In the design phase, drawings frequently undergo changes and adjustments, but by pushing the "Update" button in the digital twin, you can see the changes almost at once, and tasks are carried out correctly first time round. So, if a valve is mounted the wrong way, or a pipe has to be moved to make room for something else or quite simply someone has made a mistake, you can see it straight away.
"I will never go back to the way it was. It just saves us so much time," says Halvor Hansen. "And we see that the people who maybe are a bit sceptical are realising that we're not always running back and forth to check drawings, but that we can fix things on the spot right away. I see that they're coming around to our way of thinking," he says.
"We have invested in digital solutions, and these new ways of working are already saving months in the execution stage."
Anders Opedal, EVP for Technology, Projects & Drilling in Equinor
Avoidance of unnecessary work
We move into the paint hall next door, where there's another part of a deck under construction. There's masking tape and plastic covering the construction. Below the plastic sheeting we see parts that have been painted with a thick, sandy form of paint that will make it safer to walk on the deck, even when it's wet.
But just where we're standing there is an area of a few square metres without paint. Eliassen explains that there has been a change to the drawings, because they will need to cut through the steel to fit some equipment here.
 "If we had painted this in the traditional way, without checking the digital twin, this area would already have been painted. Then someone would have had to spend time chipping away the thick sandy paint before we could cut the steel. That's a lot of work," he says. 
Costly mistakes
This kind of mistake is difficult to avoid completely when working traditionally. Masking and marking of which parts to paint can change along the way, and it's hard to see what lines on a drawing mean when checking many square kilometres of platform decks. Some suppliers reckon that every square meter that is painted incorrectly costs an average of NOK 20,000 to fix. That soon adds up if changes are made or someone makes a mistake when painting many thousands of square metres on a platform.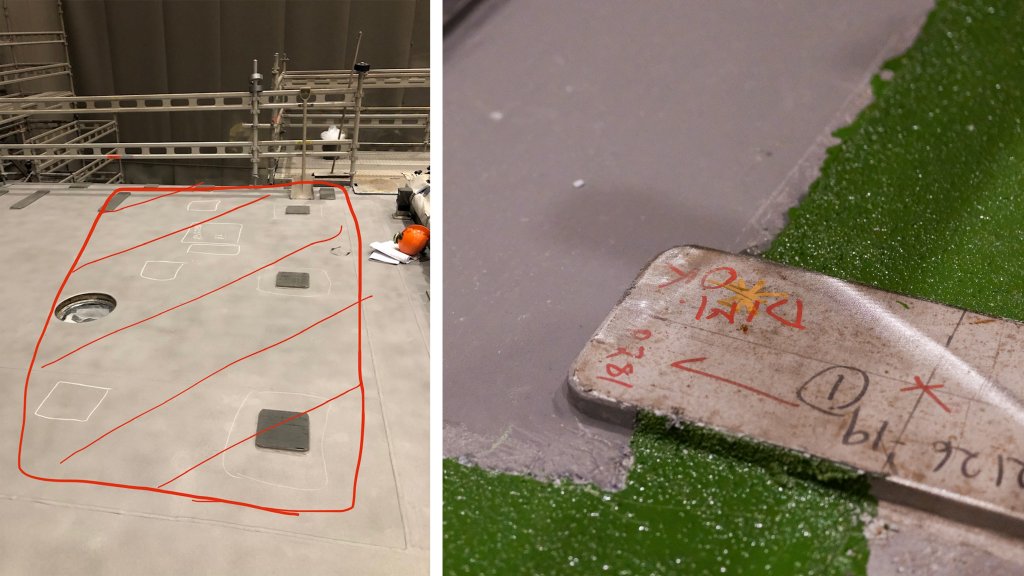 Smart platform
"But this is more than just paint. Look to Tesla for another example," says Espen Eliassen.
"Every single one of their cars has a digital twin that has current information on the health of the car. Maintenance can be done before wear and tear occur, and operational efficiency is therefore assured. Then imagine dozens, maybe hundreds of Teslas with digital twins. In total, as many devices as we have on a platform. It's a bit like that. Like a smart home or a smartphone that gives you opportunities you had no idea you had," he says.
Everyone with access to the digital twin can enter the digital twin at any time to check its condition, irrespective of whether they are onshore at the office, or offshore on the installation. But it's not only in the operational phase or when the installation is complete—it's just as important in the initial phase.
"We had two people here the other day carrying out an inspection, and they found almost nothing that needed to be rectified. That's because we've already found all the large and small things along the way and made sure that they get done right first time round," says Eliassen.


Espen Eliassen checks the underside of the platform deck with a portable floodlight. Using the digital twin, he carried out the inspection in just half an hour. Normally he would have spent four times as long just going back and forth to the office, printing out drawings and taking them back to be checked.
Photos: Ole Jørgen Bratland
"It can be anything from paint in the wrong place to steel elements that are placed incorrectly. Sometimes what you think is wrong is just an adjustment that doesn't have major consequences, but you can't be sure until you've checked. And checking takes time."
"There's no going back," is the unanimous verdict from the Aibel and Equinor workers building Johan Sverdrup phase 2 and who have tried the technology. 
Bringing people and technologies together with Omnia
That's why over 6,000 employees in Equinor, and a whole range of suppliers, will be adopting advanced digital solutions over the coming year. Because this technology works.
HoloLens and the digital twin on mobile devices are the two most visible parts of the solution—but there's a lot more to it than that. Behind it all lies Omnia, Equinor's own cloud computing concept.
Omnia ties everything together, and is the platform that makes Echo, the digital twin, possible. Echo is the project that has got furthest and demonstrates how it is possible to retrieve and combine construction data (engineering data) from one database, logistics and maintenance days from SAP, and project implementation data from yet another system (ProCoSys).
In this way, the users, whether they are in the construction phase in Haugesund, at an office in Thailand or at Fornebu, Oslo, do not have to look for everything they need in different places.
It's bringing people and disciplines together over the whole company, improving safety and efficiency, cutting down on rework and ensuring tighter collaboration between offshore and onshore workers. What's more, it's bringing platform construction into the digital age—and the end result is what you could probably call a smart platform. 
Ready for the mainstream
Now, digital tools are ready for the mainstream and are transforming the way we work in Equinor. This year, six thousand employees and many of our suppliers will be adopting digital technologies such as Hololens, Omnia cloud and Echo.
We will be scaling up the use of digital solutions both in Norway and internationally. Many of our employees at onshore facilities and on offshore installations will notice that portable devices and customised applications in the field will become part of their daily work, as we scale-up digital solutions across the company to make our operations even safer, more profitable and deliver on our ambition to lower emissions.