When Vidar (48) suffered a cardiac arrest, he was in the best possible place. The middle of the North Sea.
It's everyone's worst nightmare to have a heart attack. But when Vidar Førde (48) suddenly collapsed one day at work in May 2017, he was 60 km offshore. It sounds like the worst place to be, but in fact, it may have saved his life. Read his story—and see the film below.
Far out at sea, miles from the Norwegian coast, lie dozens of small communities where men and women live and work for weeks at a time, providing stable and reliable energy supplies for the world. In the black of night, twinkling lights betray the presence of platforms surrounded by rough North Sea.
But what happens if you become seriously ill when working so far offshore? Surely that's the worst possible place to be?
As it turns out, being on a platform is almost an advantage if you are unfortunate enough to be taken seriously ill—since help can be closer to hand than when you're at home in your own living room. Here's the true story of assistant driller Vidar Førde—who survived a cardiac arrest offshore—and the professionality of his colleagues who saved his life. 
Drilling wells for EQUINOR
In May 2017, it was a day just like any other at work for Vidar, at work on board Saipem's Scarabeo 5 drilling rig, one of our many suppliers, working in the Byrding area in the North Sea. After he and his colleagues had finished their morning coffee break, he put on his work gloves as normal and went back to work.
Vidar collapses
On this particular day, Vidar had agreed to help a colleague with a task that was hard to do alone, and it was a tight squeeze for him to get to into the corner where the job was being done. He sat back and waited for the go-ahead from his colleague. But when his co-worker turned around to ask for help, he found Vidar lying unconscious on the deck.
At first, his colleague thought he had fainted. But after a few moments he realised that this was far more serious: Vidar's heart had stopped, without any prior warning.


Alarm sounds at Oseberg
The phone rings at the main control room at Oseberg Field Centre, an array of three platforms connected by bridges about 80 km southwest of the Byrding area. This is where the search and rescue (SAR) helicopter for this area of the North Sea is located. Equinor's nurse Peter Stark is on duty, and he quickly realises this is serious—there is no time to lose. 

See Peter Stark's recollection of the incident in the film below. 
On board the Saipem rig, Vidar is hovering between life and death.
The helicopter crew at Oseberg quickly check that they have all the equipment they need. In the air on the way to rig, Peter Stark rehearses the routines and procedures to make sure he's maximally prepared to give the best possible help.
He has trained for this many times before—but today, it's no exercise.
"The closer I got to the patient, the clearer it became that this was going to be tough," says Stark.  
A recent review of SAR evacuations on the Norwegian continental shelf has shown that the chance of surviving a cardiac arrest offshore is great than 75%. Thanks to good emergency preparedness and training on all levels—colleagues, medics, SAR nurses, this is far better than onshore.
But right now, Vidar's life is at stake. 
The closer I got to the patient, the more I realised this was going to be tough.
Equinor Search and rescue nurse, Peter Stark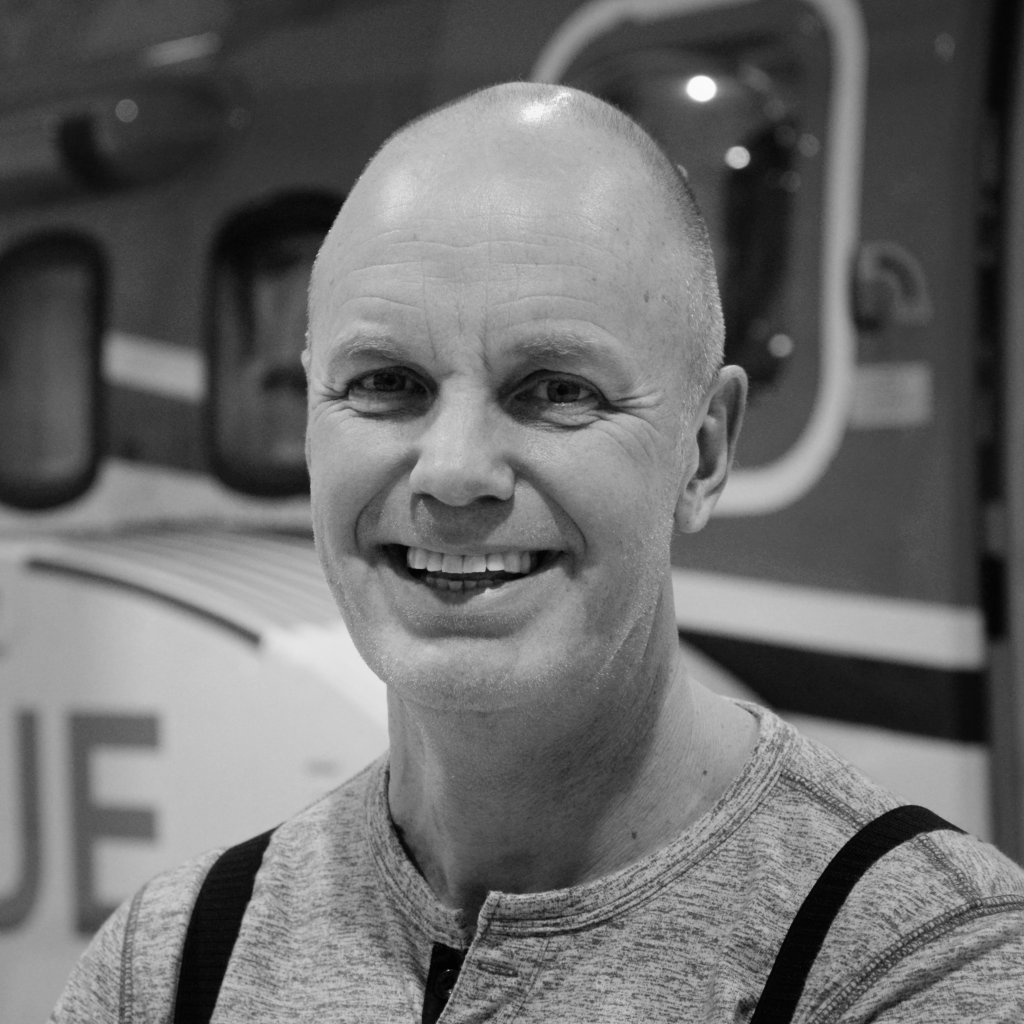 Colleagues trained in cardiac compression
On board Scarabeo 5, all the focus is on getting Vidar's heart to beat again. His colleagues are doing everything they can to resuscitate their co-worker. On the platform they have a nurse and first-aiders who have trained extensively in handling accidents and illness that can happen on board.
Even though they realise this is serious, they stay calm and focus on what they have to do.
Many of Vidar's ribs are broken as they carry out the life-saving heart compression—but that's not unusual. You have to push that hard to effectively compress someone's heart. After two attempts with the defibrillator, Vidar's heart starts to beat again. There is hope.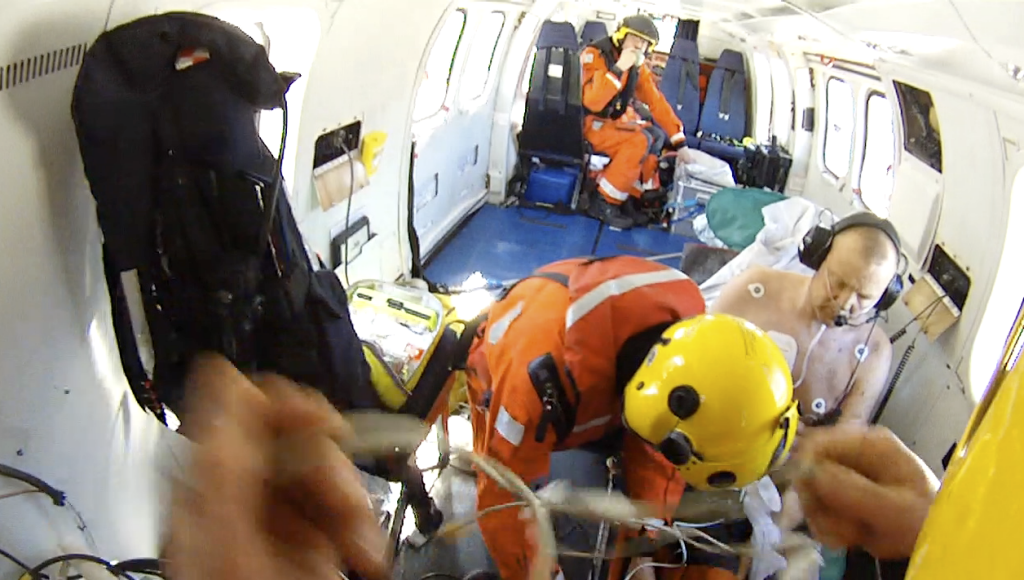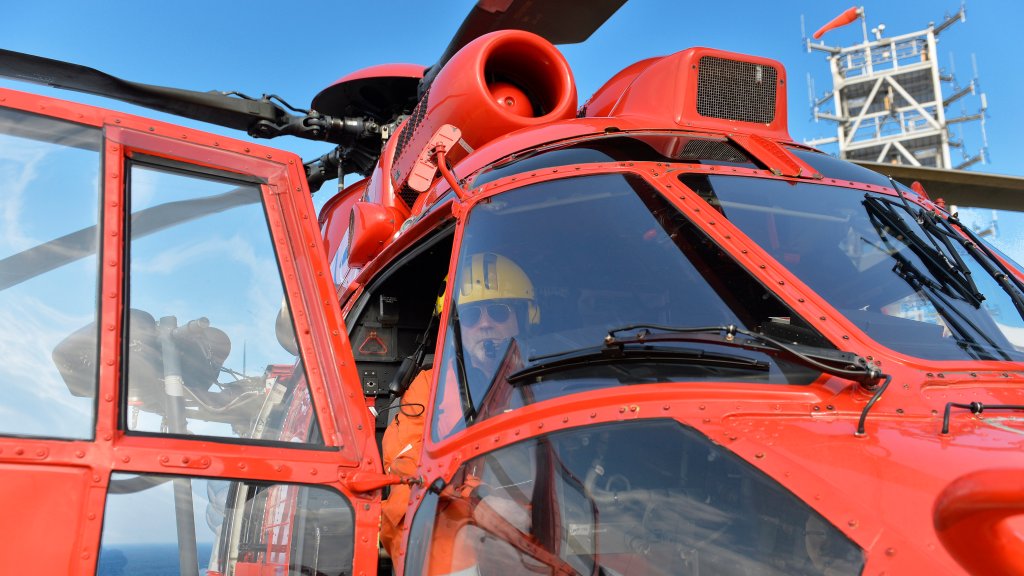 And Vidar's heart is still beating when Peter Stark and the SAR-helicopter arrive at Byrding. But it's still touch and go: Vidar is semi-conscious and in great pain. While some of his colleagues have carried out life-saving first aid, others have made a stretcher ready and made a clear path to carry him to the helicopter.

Once onboard, he is connected to heart monitors and is given painkillers before the journey to the mainland. As soon as the helicopter touches down at Haukeland hospital in Bergen, 130 kilometres flight from the rig, Vidar is taken to the operating theatre.
It takes only two hours from the moment his heart stopped beating, to the completion of his operation at Haukeland.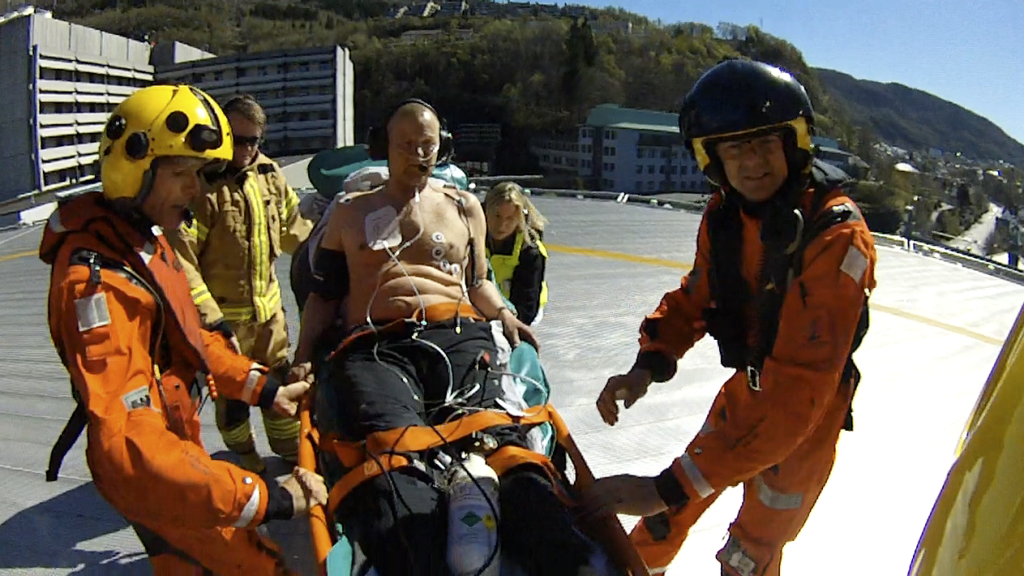 At home in Bodø it took 11 hours to get help

Vidar remembers nothing of what happened in those dramatic minutes after his heart stopped in May 2017—but he often thinks how lucky he was to have received quick and effective help. His doctors have given him a clean bill of health now, and say that the rapid response was crucial to his making a full recovery.
"Many years ago, I also had a heart attack, at home in Bodø," he says. "On that occasion, it took 11 hours to get help. So I've realised that if you're unlucky enough to have a heart attack, offshore is one of the best places it can happen. The emergency preparedness is good, the equipment is all there, and people know what to do in a situation like that," he says.
After the incident, he saw the film from Peter Stark's helmet camera. Peter had been him throughout the nerve-wracking minutes it took to retrieve him from the confined space on board the rig, stretcher him to the helicopter, and fly him to hospital in Bergen.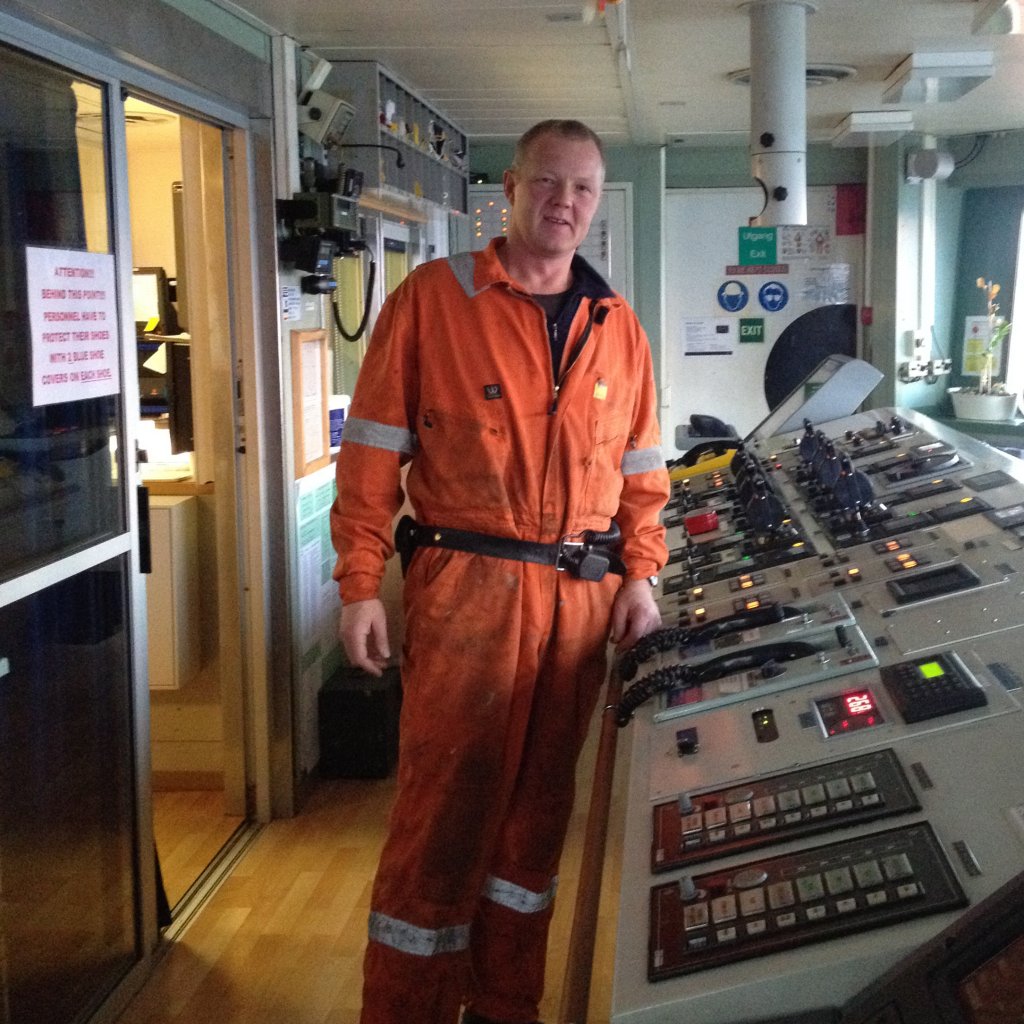 Many helping hands
"It was good for me to see what happened, and very reassuring to have Peter and the nurse onboard with me when I watched it. They explained to me what was done, and why. It was very emotional for me to see the two of them supporting each other and saying — "He's going to make it, we can do it, we're a great team!"
Emergency preparedness and safety are teamwork. And in the team round Vidar, there are many people who contributed to saving his life. The colleague who was with Vidar when his heart stopped, the nurse and first-aiders on board, the colleagues who had to solve the problem of how to get Vidar's stretcher out of the area and into the helicopter, the SAR nurse and crew of the helicopter—and the surgeons at Haukeland.
A chain of people who all knew what to do, who discussed the best solutions and contributed to saving Vidar's life.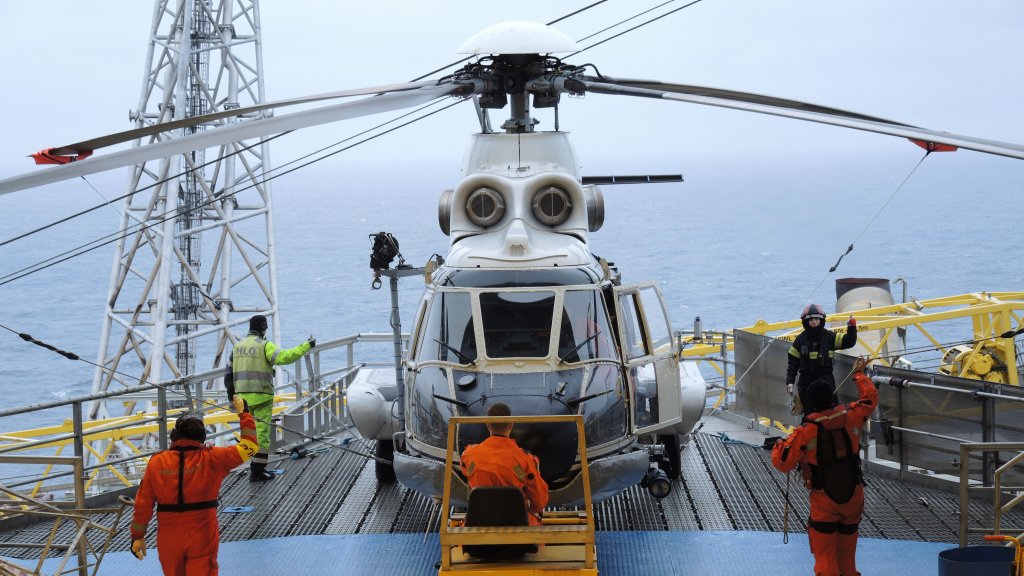 Work life on the NCs becoming safer
Teamwork saves lives—and that reduces the number of injuries at sea. For nurses like Peter Stark, illness is now more common than injuries when it comes to emergencies and rescue operations. Ten years ago, over 30 percent of consultations were due to injuries, while the rest were medical emergencies (illness). Today, the percentage of injuries has fallen to 15 percent.
For the over 100 Equinor-employed offshore nurses, it makes no difference whether it's illness or injury—it's all about getting people safely home. If you're an offshore employee in Norway, you are supposed to be safe.
Vidar says that both he and his partner have been well looked-after by his employer Saipem, both during the incident, and afterwards.
"We both experienced professional and caring follow-up, which was very important to making this difficult situation easier for us both," he says.
Equinor has over 100 offshore nurses. Each platform has a nurse who works as an HSE coordinator / HSE manager offshore. Equinor's SAR-service also supports the Norwegian Joint Rescue Coordination Centres on search and rescue missions offshore.
On land, the public health service takes over. At sea, the oil companies and operators are responsible for providing medical services to everyone working offshore. Offshore nurses can use advanced telemedical equipment with a connection to shore if they need to consult a doctor.
The percentage of injuries offshore has declined in recent years. Ten years ago, over 30 percent of consultations were due to injuries, while the rest were medical emergencies (illness). Today, the percentage of injuries is around 15 percent.
A recent review of SAR evacuations on the NCS has shown that the chance of surviving an observed cardiac arrest offshore is greater than 75%. 
 In 2017, Equinor's four SAR helicopters had a total of 200 callouts, of which 53 were emergencies.
 To work as an HSE coordinator/manager offshore, you need specialised training in an anaesthesia, intensive care, and emergency medical care.