Driven by advances in digitalisation, robotisation is taking the energy industry by storm. Although the first automation appeared back in the 1980s, today we're seeing a new pace of innovation. Here, we take a look at some of the most exciting robots working for us today — and in the future!
Eelume — the snake robot that's a caretaker on the seabed
Eelume changes everything. It's a new type of underwater intervention vehicle with a snake-like body and underwater thrusters that can swim around subsea installations. After extensive development and testing, it's being piloted offshore at the Åsgard field in the Norwegian Sea.

The snake-like robot Eelume is designed to live permanently underwater and carry out tasks that would normally require the use of a remote-controlled robot from the surface.

Eelume is a disruptive technology for subsea inspection, maintenance and repair (IMR). Eelume vehicles are basically self-propelled robotic arms whose slender and flexible body can transit over long distances and carry out operations in confined spaces not accessible by conventional underwater vehicles.
The vehicle is able to access places previous machines could not reach and is a cost-effective way to conduct maintenance and inspection. With the snake robots lying ready on the seabed, it is easier to send them to a pipeline than to send a remote-controlled robot down from the surface.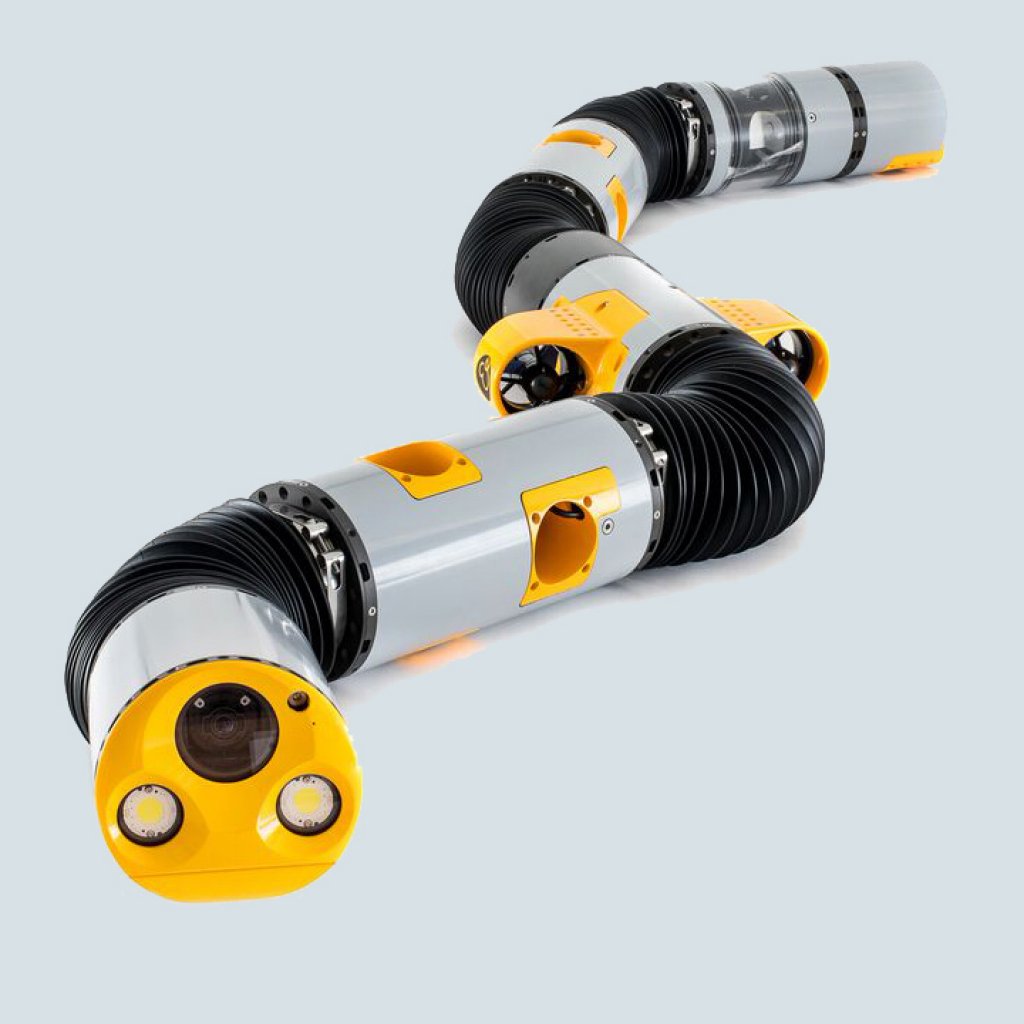 Copyright: Eelume Subsea Intervention
SeekOps — a sniffing superhero
Originally developed to search for life on Mars, SeekOps is equipped with laser sensors to help us detect methane leaks.
This drone may look like any other flying drone, but this one can "sniff" out methane leaks using laser sensors to detect methane emissions on our production sites. 
It has proven extremely useful in United States where the gas industry faces a challenge with methane leaks from production. Applying innovative technologies like infrared cameras and this "sniffing" drone has reduced our emissions by 80% from 2014 to 2018.  
Equinor Ventures has invested in methane detection startup SeekOps Inc. The investment in this NASA Jet Propulsion Lab (JPL) spin-off follows a successful pilot of SeekOps' drones equipped with methane detection sensors in Eagle Ford and Bakken assets.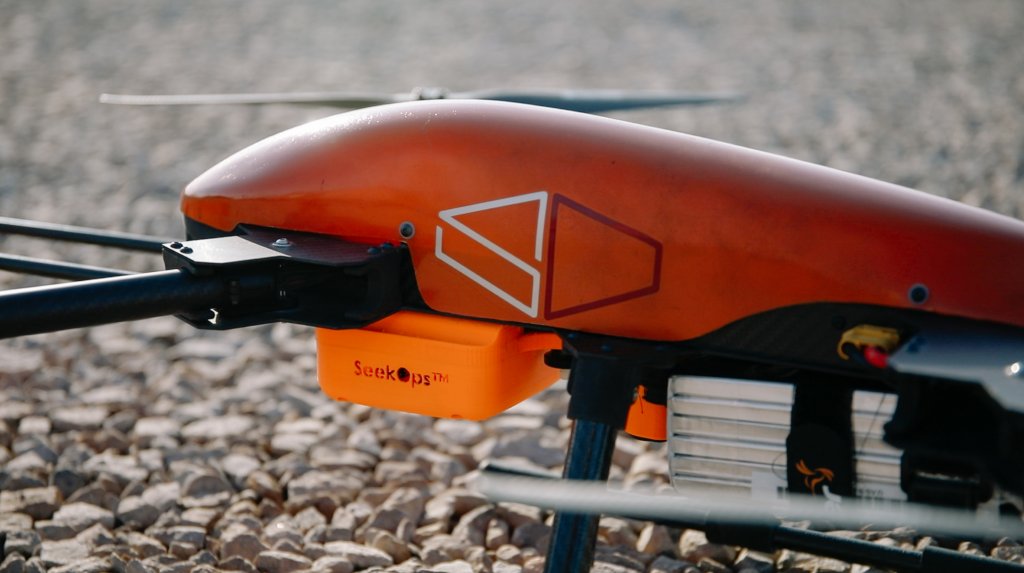 Meet BIKE, the inspector. Making inspections safer, easier and more cost-effective
Meet BIKE, the inspection robot with magnetic wheels, high quality visual cameras and an ultra-sound probe that measures thickness. 
Developed and implemented at Kårstø processing plant together with Gassco, this little guy can easily access the inside of narrow pipes and other confined spaces, whether high or low. 
Thanks to robotic inspections, we reduce the need for scaffolding, protective gear and equipment, and save significantly on preparation. We can also upload a 3D-model of the equipment the robot is intended to inspect, enabling us to have all information ready throughout the inspection, and making it easier to spot errors or changes that need to be dealt with.
See the whole story of BIKE in the video above.
Subsea Shuttle: the world's first drone to transport CO2
Our huge 135-metre shuttle concept was developed by a multidisciplinary team in Equinor and can be adapted for a variety of uses, including transporting CO2 back to reservoirs. Just for fun, we created an image of it moored in Stavanger harbour, just to show how big it really is.

We usually think of underwater drones as neat little robots with cameras. But what if we combined this with existing submarine technology to create an behemoth of the deep that could transport large volumes undisturbed under the sea?
Our Subsea Shuttle is a concept for an autonomous 135-metre drone that could transport CO2 back to the reservoirs, supplementing the pipeline carrying CO2 from Kollsnes outside Bergen to the reservoir, in a safe, cost-effective way, without emissions. With a range of 300 km, it could also be used to transport CO2 to reservoirs where it is not financially viable to build a pipeline. The Equinor Subsea Shuttle could also be used to transport oil from offshore fields and to land or to the nearest oil pipeline, enabling even quite small fields some distance away from established infrastructure to be developed in the future.
See the video below to find out more. 
Blueye: the mini drone that saves us time and money
On our Kristin platform in the North Sea, we're using a simple portable robot to carry out underwater inspections of the seawater intake, and saving millions of kroner in the process.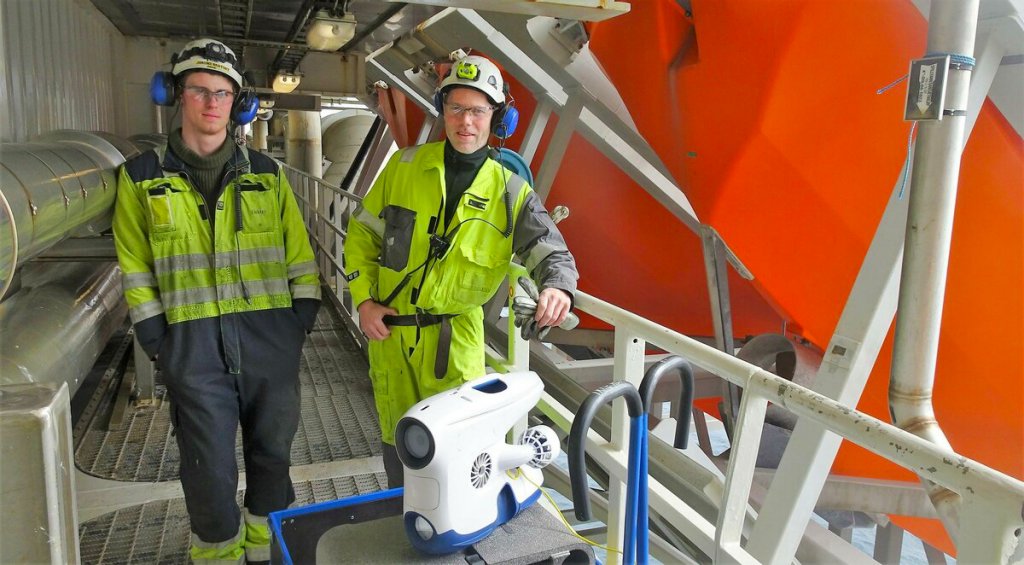 The crew on our semi-submersible Kristin platform need to inspect their seawater intake three to four times a year. But with daily rates of around 250,000 kroner for an offshore vessel, the cost of such inspections can be upwards of a million kroner per year. But the Blueye Pioneer drone costs less than 100,000 kroner to buy, potentially saving us large sums of money. 
Previously, a ship was needed several times a year, to inspect the growth of vegetation (algae, shells and mussels) that threaten to block the seawater intakes on the platform's fire extinguishing system. But a small portable robot developed in Trondheim by Blueye Robotics has changed everything.
The Blueye drone can easily be sent down by the workers on the platform, without having to wait for ROV operators or divers. Once back on the platform, the pictures can be shared with anyone who has internet access. 
Blueye Pioneer is lowered 30 metres straight down from the platform to the sea surface, and is then controlled with a tablet or mobile phone down to the seawater intakes 21 meters further down, inside one of the pontoons. The drone can dive to a depth of 150 metres and be operated via a cable for control signals and transmission of HD images.
Charge it up! Rapid chargers for robots
For underwater robots to be permanently stationed on the seabed and always be ready for use, they're dependent on being able to charge. We're developing a universal docking and charging station that will give us greater flexibility to choose the best robots for subsea operations. 


Sending robots below the surface takes time, resources and a lot of planning. Traditionally, supply ships and their crews have brought remotely operated vehicles, or ROVs, with them out to sea. But if the robots are to have a permanent home on the seabed and always be ready for work, they need somewhere to charge their batteries. 
That's why we have designed a docking station that makes it possible for many types of ROVs to charge and exchange information. We follow the 'universal petrol station principle' when developing underwater charging stations. Just as one type of pump fits all petrol-driven cars, one type of charging station will fit all electric underwater drones — unlike the conflicting standards and technology wars we see in chargers for electric cars and mobile phones!
Now our new universal charging station is undergoing trials in the Trondheimsfjord, and as more drones are being developed, we hope that they also will adapt to this solution, giving us more freedom to choose the best robots and equipment for subsea work.
Hugin: an autonomous underwater vehicle
Hugin excels with its ability to map everything from water quality to conducting surveys of the seabed.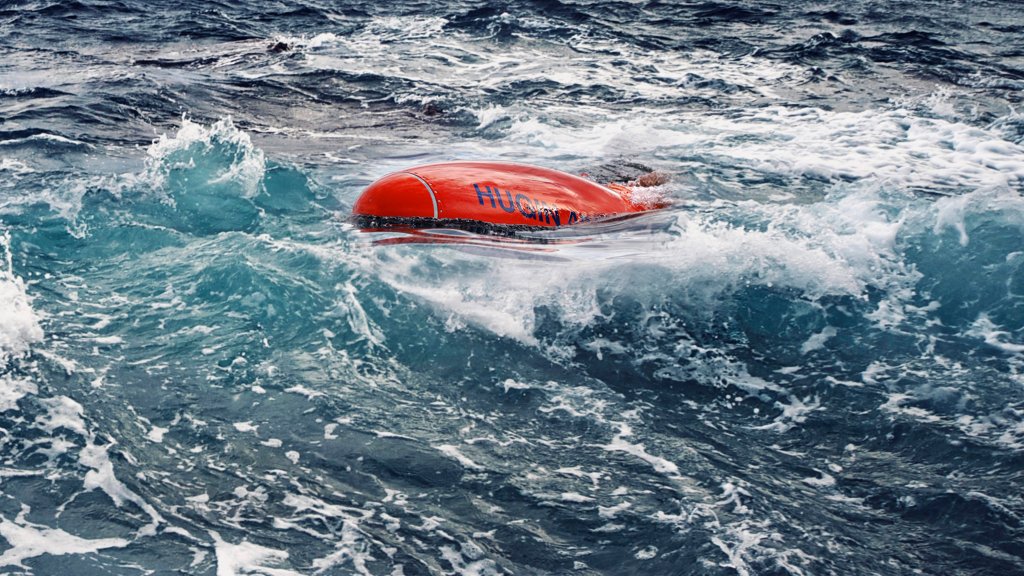 Hugin is a free-swimming autonomous underwater vehicle characterised by great manoeuvrability and a high accuracy of stabilisation. Its hydrodynamic shape, accurate instruments and excellent battery capacity makes it an ideal autonomous underwater vehicle (AUV). 
Kongsberg Maritime began developing Hugin in the 1980s. Ten years later, the robot was commercialised for the oil and aquaculture industry in a joint venture between Equinor, Norwegian Defence Research Establishment (FFI), Norsk Undervannsintervensjon (NUI) and the Kongsberg Group. Today, Hugin is a world leader – it is the fastest and most accurate at mapping the seabed and is used prior to development of major oil fields on the Norwegian continental shelf. 

The robot is completely autonomous without the need for cables or remote control. So far, the robot has mapped more than 120,000 km of seabed, which is the equivalent of sailing round the world at the equator, down to a depth of 4,500 m. Its on-board technology includes a gyroscope, axelrometer, Doppler logs, echo sounder and sonar systems.  It is effective at locating small objects underwater, and has also been used for mine hunting. A true underwater drone, 20 years before flying drones became commonplace.
The E-ROV drone – our battery-powered "Tesla-submarine"
Our E-ROV (Empowered Remotely Operated Vehicle) operates remotely using coverage that will be familiar to most mobile phone users: a 4G cellular connection. Except this 4G connection is at the bottom of the sea. 


Developed in-house, Our E-ROV (Empowered Remotely Operated Vehicle) operates remotely via a fast Ethernet connection, making it possible to operate the E-ROV from a control room anywhere in the world, not just from a ship offshore. How is that possible? 
Well, Equinor has also been installing a fast 4G network on the Norwegian  Continental Shelf—and the control signals and video are transmitted via a buoy on the surface that is equipped with a 4G transmitter and receiver.
With its on-board battery and subsea charging station, the E-ROV will be self-sufficient with energy and therefore independent of a mother ship—much like a robot lawn-mower. This gives considerable cost savings, environmental advantages, and the ability to respond in time-critical operations such as valve operations, startup activities, and monitoring.
Oceaneering has been awarded the contract to build E-ROV in accordance with Equinor's specifications and have started operating at Statfjord B in the North Sea.