The future is autonomous, but robotisation in the oil industry is nothing new. Although the first automation appeared in the 80s and 90s, today we're at the dawn of a new age of digitalisation. Here, we take a look at six of the coolest offshore robots working for Equinor.
1. Eelume—the snake robot that's a caretaker on the seabed
Eelume changes everything. It's a new type of underwater intervention vehicle with a snake-like body and underwater thrusters that can swim around subsea installations. After extensive development and testing, it is now to be piloted offshore at the Åsgard field in the Norwegian Sea.

The snake-like robot Eelume is designed to live permanently underwater and carry out tasks that would normally require the use of a remote-controlled robot from the surface.

Eelume is a disruptive technology for subsea inspection, maintenance and repair (IMR). Eelume vehicles are basically self-propelled robotic arms whose slender and flexible body can transit over long distances and carry out operations in confined spaces not accessible by conventional underwater vehicles.
The vehicle is able to access places previous machines could not reach, and is a cost-effective way to conduct maintenance and inspection. With the snake robots lying ready on the seabed, it is easier to send them to a pipeline than to send a remote-controlled robot down from the surface.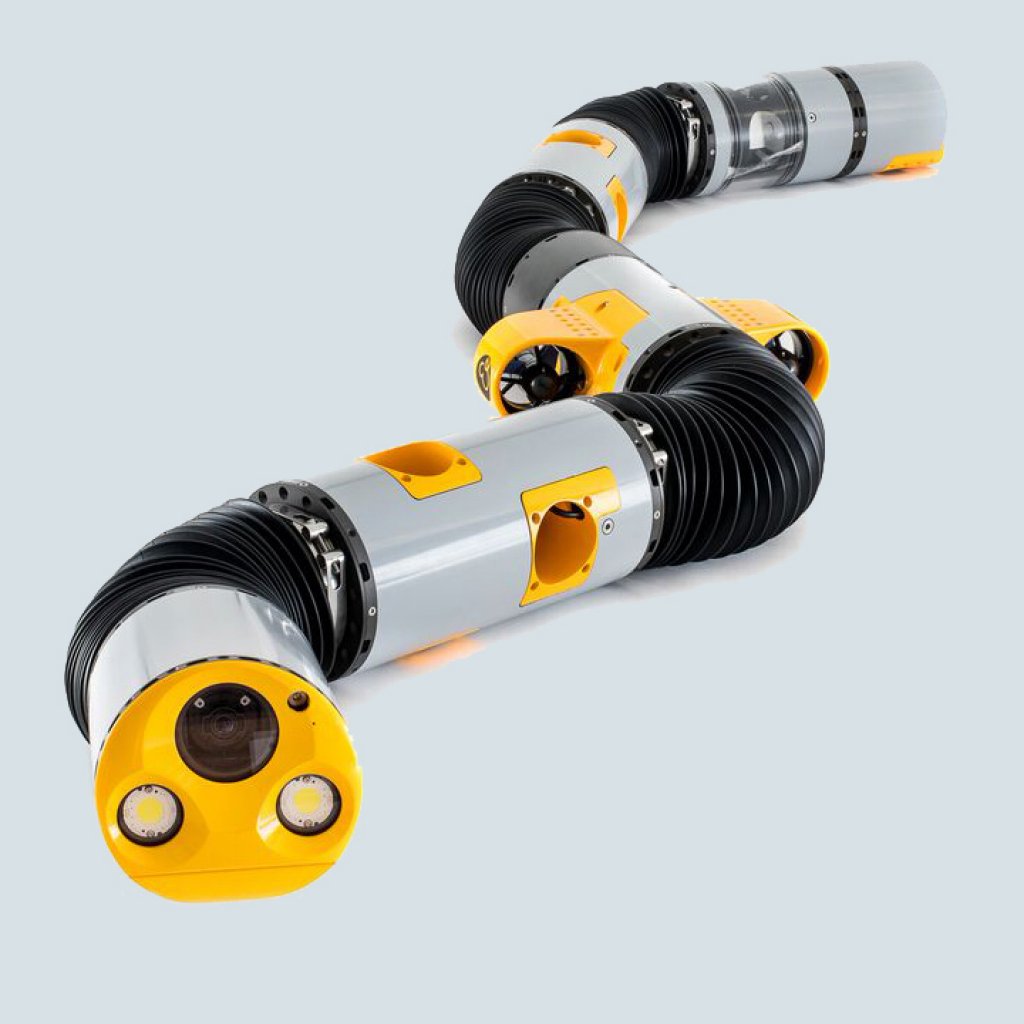 2. Hugin—a small, autonomous underwater vehicle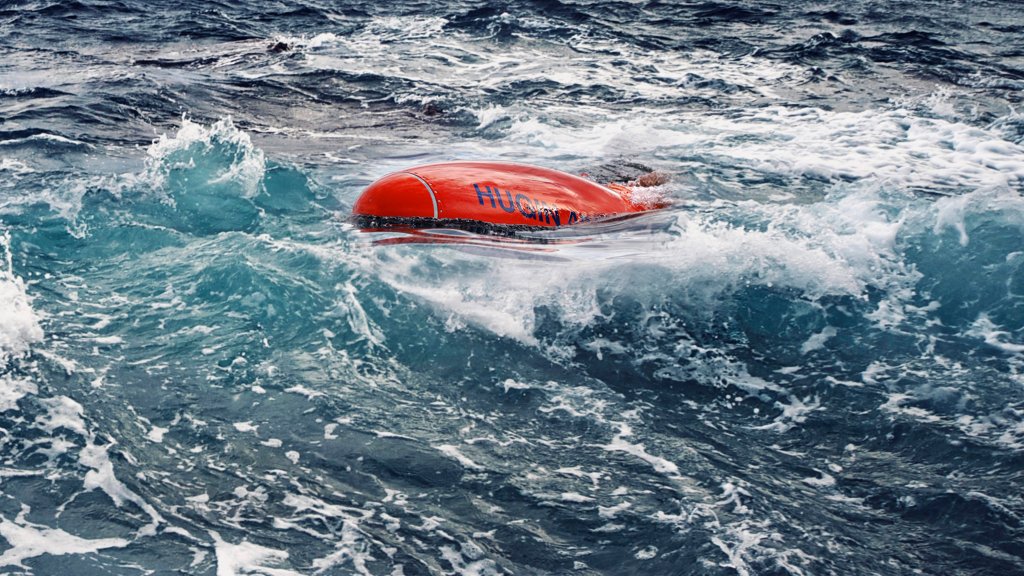 Hugin is a free-swimming autonomous underwater vehicle characterised by great manoeuvrability and a high accuracy of stabilisation. Its hydrodynamic shape, accurate instruments and excellent battery capacity makes it an ideal autonomous underwater vehicle (AUV). 
Kongsberg Maritime began developing Hugin in the 1980s. Ten years later, the robot was commercialised for the oil and aquaculture industry in a joint venture between Equinor, Norwegian Defence Research Establishment (FFI), Norsk Undervannsintervensjon (NUI) and the Kongsberg Group. Today, Hugin is a world leader – it is the fastest and most accurate at mapping the seabed and is used prior to development of major oil fields on the Norwegian continental shelf. 

The robot is completely autonomous without the need for cables or remote control. So far, the robot has mapped more than 120,000 km of seabed, which is the equivalent of sailing round the world at the equator, down to a depth of 4,500 m. Its on-board technology includes a gyroscope, axelrometer, Doppler logs, echo sounder and sonar systems.  It is effective at locating small objects underwater, and has also been used for mine hunting. A true underwater drone, 20 years before flying drones became commonplace.
3. The E-ROV drone – our battery-powered "Tesla-submarine"
Developed in-house, Our E-ROV (Empowered Remotely Operated Vehicle) operates remotely via a fast Ethernet connection, making it possible to operate the E-ROV from a control room anywhere in the world, not just from a ship offshore. How is that possible? Well, Equinor has also been installing a fast 4G network on the Norwegian  Continental Shelf—and the control signals and video are transmitted via a buoy on the surface that is equipped with a 4G transmitter and receiver.
With its on-board battery and subsea charging station, the E-ROV will be self-sufficient with energy and therefore independent of a mother ship—much like a robot lawn-mower. This gives considerable cost savings, environmental advantages, and the ability to respond in time-critical operations such as valve operations, startup activities, and monitoring.
Oceaneering has been awarded the contract to build E-ROV in accordance with Equinor's specifications, and the pilot has been qualified carrying out valve operations on the Troll field. 

4. Iron roughnecks do the dirty work

In the 1990s, some of the human roughnecks were replaced by robots called iron roughnecks. Initially, the main task of these hydraulic machines was to screw drill pipes together, with two parts that screwed and fastened the pipes. Today, this technology has evolved into an electric robot, giving greater efficiency.
This has altered the need for expertise on the platform, and today, a human roughneck controls the iron roughnecks from a control room rather than working on the drill floor, manually assembling the pipes. This has resulted in much lower risk to the workers and has reduced the number of accidents offshore.
The HydraTong ARN models from National Oilwell Varco are among the most advanced iron roughnecks on the market today, with the possibility of full drilling process automation. This is possible thanks to high resolution cameras with fast image processing that monitor the operation and streamline the drilling process. The robot has integrated tools such as automatic bouncers and mud buckets, and tackles complete drilling tasks that would otherwise have required a manual operator. 

5. Versatile helpers on the drill deck: RDS robots

Four robots developed by Robotic Drilling Systems (with financing from Equinor and Odfjell Drilling and others) will replace all manual and remotely controlled operations that are currently performed on the drill floor. They are dynamic in their task execution, which essentially means that they know what to do and do not do without needing to be micromanaged. This reduces the need for crew and the risk of accidents in the red zone on the oil platforms

The four robots carry out the jobs at about the same speed as a crew under perfect conditions. The difference is that the robots work equally efficiently under less than optimum conditions.

The HX clean & inspect robot was developed by Erling Lunde and Anders Røyrøy, who are both cybernetic graduates from the Norwegian University of Science and Technology (NTNU) and now work at Equinor. The new robot will clean and inspect tube heat exchangers on platforms or onshore installations without having to stop production. 

Today, such operations are done manually. Cleaning sometimes involves using chemicals, and in both cases, the heat exchangers are taken out of production. Now this job can be done without having to stop production, and with a significantly reduced risk of accidents while cleaning. The robot is a good example of how small helpers can do jobs more cheaply and with lower HSE risk than people.

The robot also makes the job more environmentally friendly as it only uses water to flush the system at high pressure, which would otherwise have required chlorine.