If you happened to be out sailing off the west coast of Norway in the late summer of 2017, you'd have witnessed a unique spectacle: five gigantic 250-meter-high Hywind turbines sailing out to sea. A new generation. Built by Equinor. So, why is an oil and gas company spearheading the floating wind power revolution?  
Here in Stord, in western Norway, assembly site manager Monica Pettersen has followed the assembly project from start to finish. She has overseen a construction site that went from empty to full and back again—all in the space of a few months. Five large wind turbines, a lifting rig, giant cranes and tons of equipment. Now they're all gone again, and the wind turbines are out at sea, doing their job: producing electricity.
"In March, there was virtually nothing here, and in June there were suddenly five wind turbines," she says.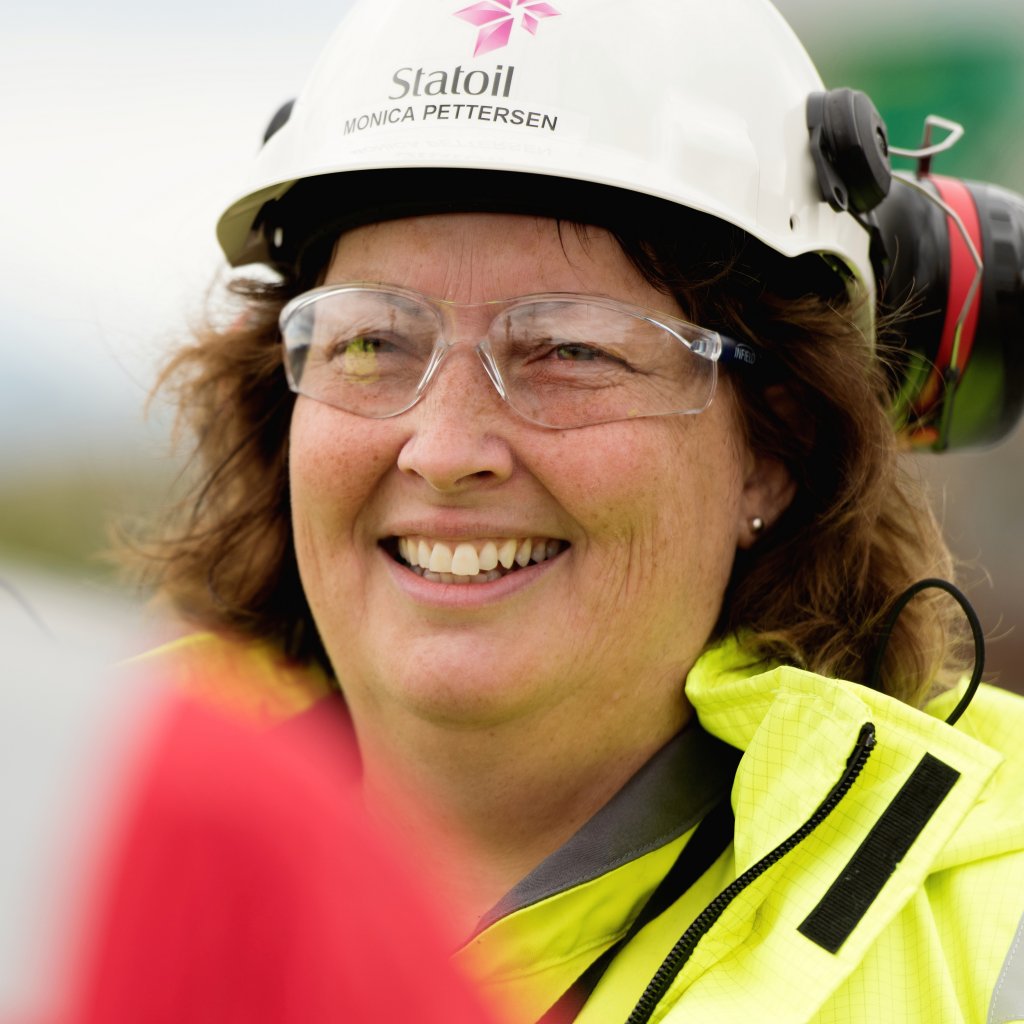 In late summer, they set sail one-by-one, towed by tug-boat, bound for Peterhead, north east of Scotland. 250 metres of steel floating vertically, with a wind turbine on top—all the way across the North Sea. Not any everyday event, by any means.

Monica Pettersen exchanged working on Equinor's Mariner development for working on the Hywind wind turbines. But that wasn't as big leap as it sounds, either for Monica—or for Equinor.
Hywind combines experience and technology from the oil and gas business with established wind power technology. And the people that did the heavy lifting and planning of the wind turbines are the same people who normally spend their days building oil and gas platforms.
Compared to the complex oil and gas projects that are the norm in Equinor, the Hywind turbines have been a much shorter—and sweeter—experience.
Because Hywind is new, and different. A mix of old and new suppliers contribute to the design: some have experience with wind; others with oil and gas, and some with marine operations. In just a few months, they built a team that delivered in just a few months, compared to oil and gas projects that often take many years. One of Monica's key ingredients in bringing people together in teams is as surprisingly simple as traditional Norwegian waffles.
"We have to care about each other, and that means waffles, and hugs," she laughs.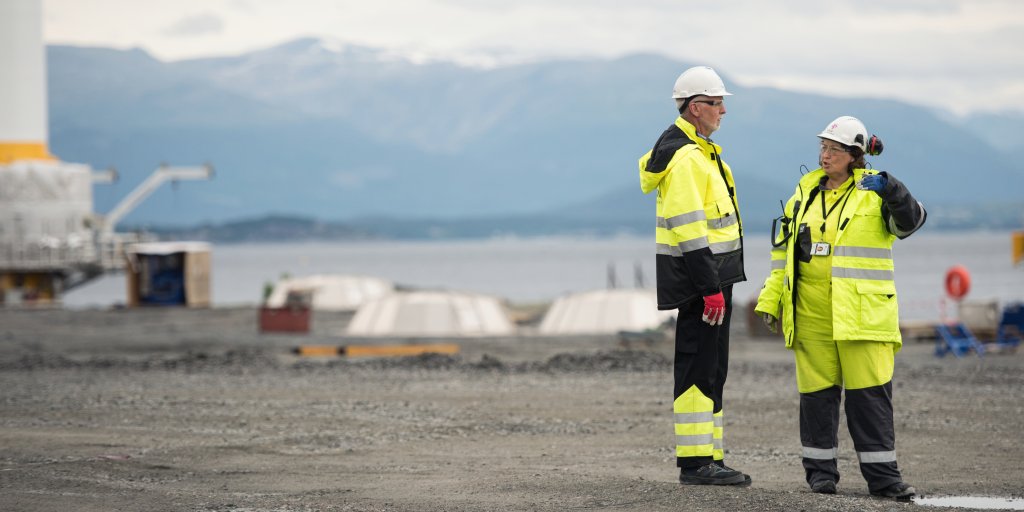 There's a huge difference from what I have done earlier, coming to a place where nothing is established and where we have to build everything from scratch.
Monica Pettersen — assembly manager
Toralf Ekrheim has worked alongside her in Stord, and he nods approvingly when Monica talks about waffles and hugs. He's the project manager for NorSeaGroup, but when we ask him what his job is, he says:
"I build windmills, or should I say; we build windmills."
He normally works with logistics and procurement on NorSeaGroup's contract with the Norwegian Armed Forces, but jumped at the chance when Hywind came up as an opportunity. It's quite clear from walking through the old-fashioned office building that he didn't choose this project for its luxurious facilities.
 "I like to say that there are two success factors in this project; one is that we sit very close to each other. The second one is Monica."
And there's clearly something in that, since she has friendly chats with everyone she meets on her walk around the site. The good atmosphere is infectious. 
 "It would be great to get another project sanctioned, now that we're really in the flow," says Monica.



Best of both worlds
In essence, Hywind Scotland is quite a simple concept. A floating wind turbine. One part experience from the oil business, one part existing windmill technology—and a pinch of curiousness and inventiveness thrown in for good measure.
And it really does connect the two worlds. For the people working on site, this is no different then doing something for the oil industry.
"The method is the same as with oil projects; how we think about the job is the same," says Jens Bjerrgaard who works as bas for Aibel on the project.

The blades and the nacelles—the hubs of the turbines—were the first pieces to arrive at Stord, pretty much straight from the shelves of Siemens in Denmark. Then came the came the towers from Navacel and the foundations from Navantia, both from Spain—together with all the equipment needed to put them together. The chains that hold the turbines in place at sea were shipped directly from Vicinay in Spain to Scotland before being taken offshore.

What really sets Hywind apart are the bright yellow floating "foundations." 78 metres of yellow tubular hull hidden beneath the waves that makes the whole assembly float upright—thanks to a whopping 5500 tonnes of ballast. And this is where Equinor's offshore industry experience really comes into its own: this spar buoy design, in many ways related to the much larger Aasta Hansteen gas platform base, is the secret to making these unique wind turbines float.
Seeing them on land, walking around the wingtips and tall white towers on site in Stord, it's hard to fathom how the giant turbine blades will be hoisted on top of the spar structures afloat in the water.
"That's the exciting bit, I must admit," says Monica Pettersen. Although she was confident that everything would go according to plan— "there's always that moment of anxiety when you cross your fingers as they let the hook go"—there was no reason to worry.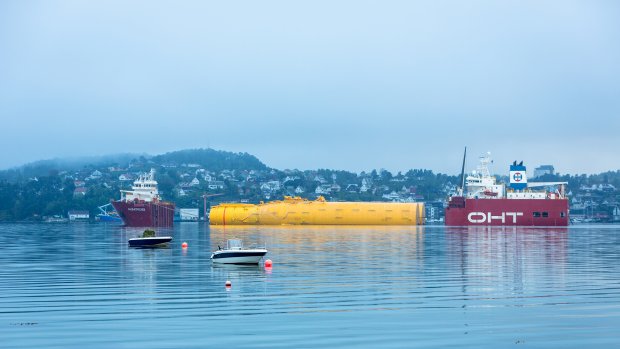 Photo: Olaf Nagelhus Woldcam

Photo: Roar Lindefjeld / Woldcam

Photo: Espen Rønnevik / Woldcom

Photo: Olaf Nagelhus Woldcam
Photo: Roar Lindefjeld / Woldcam
Photo: Espen Rønnevik / Woldcom
The wind turbines were lifted by the giant lifting vessel Saipem 7000 in the summer of 2017. Some of the work was done by night, after which they were towed one by one out to Peterhead, Scotland, where they were anchored.
Everything went according to plan, and she, her team and the Stordbase neighbours were witness to an unprecedented sight: a giant wind turbine with a diameter of 154 metres and a total height of 163 metres being lifted out over the fjord and on top of its floating yellow substructure.

Although impressive by day, the sight of the heavy lifting vessel Saipem 7000 lifting the enormous towers with wind turbines on top was truly spectacular by night. Lifting vessels, ships and wind turbines were suddenly the main attraction out on the fjord.
One by one, the turbines were prepared for their journey. For Monica Pettersen and her crew, there was no time for a summer holiday this year. They mobilised in July and relocated to Scotland to make sure everything went according to plan. This autumn the turbines underwent final testing before starting to supply electricity to the British Isles.
Looking back on the project, Monica is pleased, there are also so many learnings to take away a project so new and different.
 "We've never done anything quite like this before. And, of course, we see that there are things we could do better next time. You always learn more by actually do something, and we have gained so much experience by seeing this through."
Toralf Ekrheim agrees. "We have all learned so much, and we see potential in making this whole process even more streamlined, efficient and industrialised. As Monica said, can't we just get another order right away?"
The Hywind Scotland pilot park came on stream in October 2017, and is now delivering electricity to approximately 20,000 households.