Hooking up a giant:
800 people are hard at work offshore, installing the enormous Mariner field
Mariner is the largest field development on the UK continental shelf in recent years. 800 people are working offshore on the the huge hook-up operation to prepare the platform for production.
In the harsh North Sea north-east of Scotland, a blue-grey sea foaming with froth meets a grey sky in a damp haze. Drops of rain whip against the shiny steel. A lot of steel. Mariner A is huge, rising more than 250 meters from the seabed and weighing nearly 40,000 tonnes.
Eight large modules have been assembled like large Lego pieces. Now the technical Lego job remains. The large modules must be connected down to the finest detail so that everything is linked.
This is a job that will take around 2 million working hours. There are 500 tonnes of scaffolding on board, and 3,000 tonnes of loose parts will be transported from land to the platform so that they can be installed. Mariner A is like a colossal construction site with drums of cables, miles of pipes tonnes of steelwork temporary office space and hundreds of workers in yellow, orange, red and blue coveralls swarming around.

January 2018
The tannoy public-address system crackles into life. "Due to the weather, all helicopter departures have been cancelled for the rest of the day".
It's already raining sideways, and the announcer explains that the wind will intensify, and the waves will increase. The workers on board are familiar with the conditions: wet rain jackets, wet safety glasses, wool hoods under helmets and thick gloves. And it comes as no surprise to the them that their work schedule is affected by the harsh and severe weather in the North Sea.
Although offshore workers are accustomed to such adverse conditions, the weather has been even worse than the statistics had predicted. Bigger waves, stronger winds and deeper troughs than we would have liked. But statistics are only numbers, and the harsh waves and wind live a life of their own—and is something that the Mariner team have become used to.
0
Height of Mariner A from seabed
0
lunches served during the hook-up phase
Waiting on the weather
The time required to connect everything in detail on a platform is called a hook-up, and takes several months, and Mariner A is now in the middle of its hook-up phase. During this phase, over 800 people will be working daily on the Mariner field, and it's not uncommon with 5-6 full helicopter arrivals transporting workers to and from the platform in a day.
Since Mariner A doesn't have room to accommodate so many people, there is a floating hotel, a flotel, positioned alongside. The flotel Safe Boreas is connected to Mariner A by a gangway. However, if the weather gets too bad, the gangway must be disconnected — meaning that the workers staying on the Safe Boreas sometimes simply can't get to work. Instead, they have to remain on the flotel and wait for better weather, fraying their patience and delaying the operation. 
Neighbours at sea
Alongside the Mariner A platform, the Mariner B floating storage unit and the flotel with extra crew, there is a so-called jack-up rig, a drilling platform named the Noble Lloyd Noble, also part of the Mariner "neighbourhood" in the North Sea —  and the tallest of its kind in the world. The drilling rig is permanently connected to Mariner A. It will eventually commence drilling operations, but for the time being it is also used to house extra manpower for Mariner A. Manpower with different coloured coveralls, different languages and cultures. 
"The cultural differences were greater than I was expecting. I'm rather surprised that the cultures on the UK and Norwegian continental shelves are so different. Communication can be challenging when there are so many different companies, cultures and attitudes on board, but in general, we have managed to find good solutions together," says Ole Christian Øxnevad, Equinor's representative on the flotel Safe Boreas. "One Mariner" is an important slogan for us, he says, explaining how they learn from each other and find the best solutions together.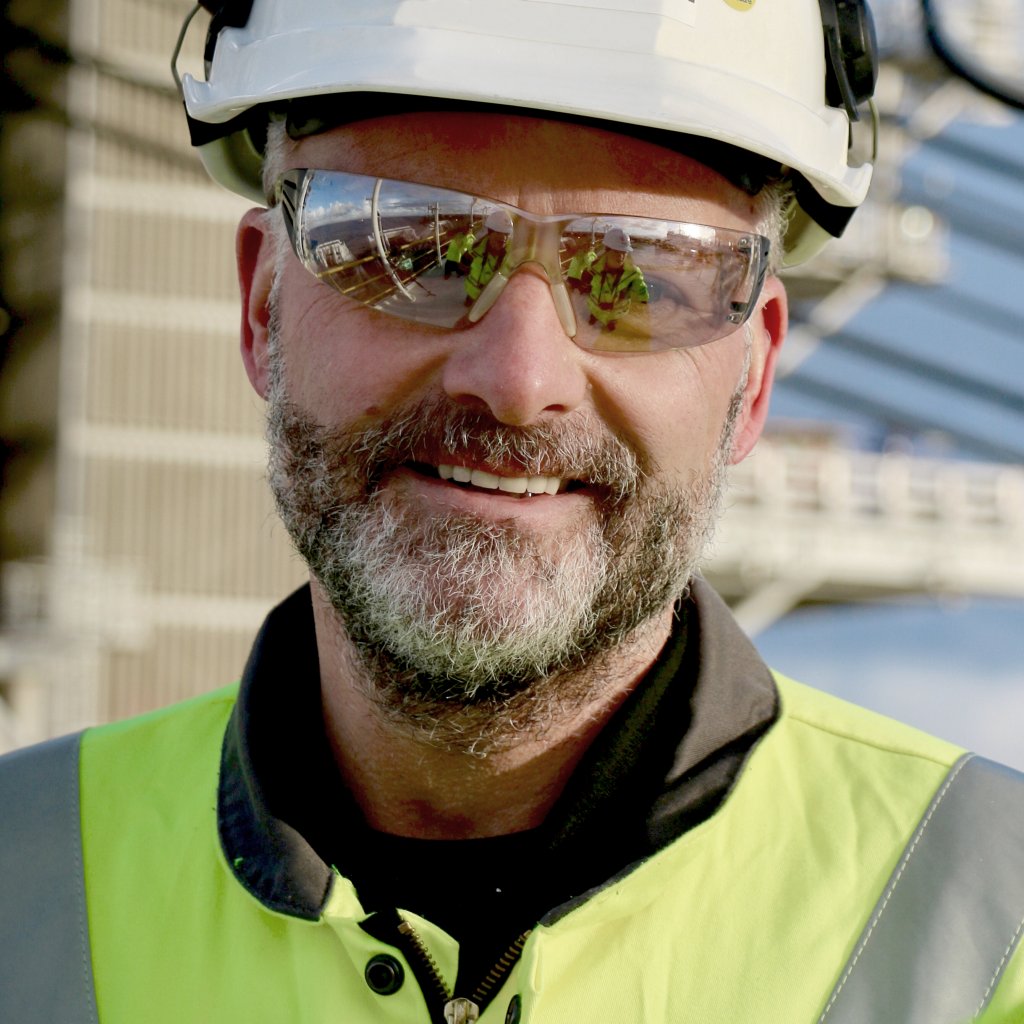 Ole Christian Øxnevad
Equinor rep. on Safe Boreas
"Mariner A is a nice new platform, the best I have been on, almost like a five-star hotel"
Claire Ellis, cleaner, aged 23
Facts about Mariner — its history and development
Again the tannoy crackles into life: "Due to stronger winds, everyone must go to the installation where they are staying."
Sun has replaced the rain, but heavy winds are slamming the platform harder. Equipment located on the platform is secured, and there are checks to ensure that everything is safe. Falling objects are one of the greatest risks on board. Mariner is huge with enormous dimensions and heights.
In addition to the fact that people must move between the three installations according to the weather and their work tasks, there is a huge logistics operation involving food, goods, cables and other equipment that must be transported to and from Mariner A. Thousands of containers of goods must be moved to or from Mariner A and supply vessels during the hook-up phase. Although Mariner A is huge, they also have to find space for large amounts of equipment. During the hook-up phase, the storage space logistics are especially challenging.
One solution that has been chosen to help meet the storage space challenge is high tool storage. A kind of rotating shelf system has been established for some types of tools. The cabinet is several metres high, but it uses limited floor space.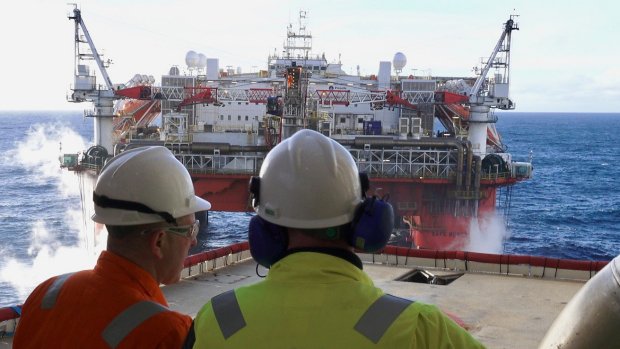 The flotel seen from Mariner A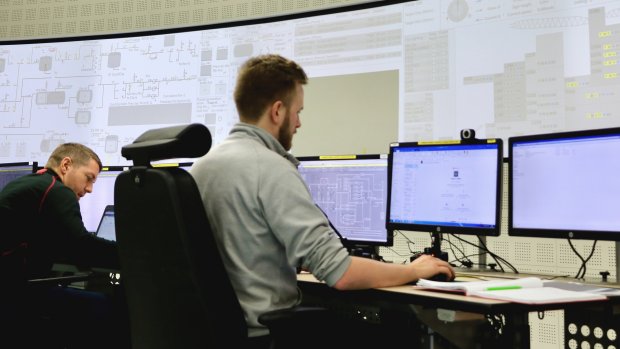 At work in the control room on Mariner A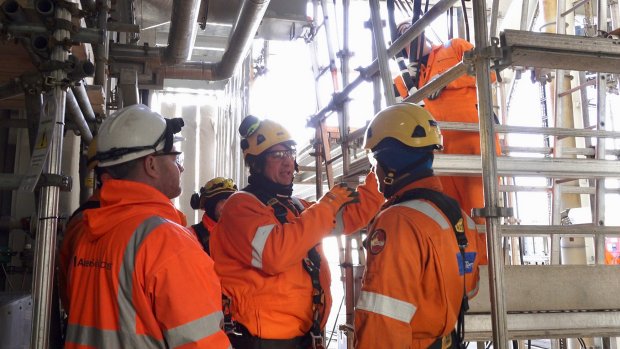 "One Mariner" is the mantra onboard as workers from many companies and cultures work together

The installations on the Mariner field. Photos: Jamie Baikie, Equinor
The flotel seen from Mariner A
At work in the control room on Mariner A
"One Mariner" is the mantra onboard as workers from many companies and cultures work together
The installations on the Mariner field. Photos: Jamie Baikie, Equinor
Salted lamb ribs and black pudding
A long queue of hungry souls winds from the food counter in the canteen at Mariner A. It's lunchtime, and many people feel that their body needs replenishment. The chatter is mainly in Scottish English and English, but Norwegian and some other languages are also heard. And Scottish English can prove challening to understand for some of the English workers onboard. 
There is a lot to be learned from working across national and cultural boundaries, but there are also challenges. For the cooks and canteen personnel, this means adapting so that the Scots, English, Norwegians and others can enjoy their familiar dishes. For instance, at Christmas, turkey, goose, Scottish haggis, black pudding and Norwegian salted lamb ribs were all on the menu. Catering manager Willie Calder says that they put a lot of effort into making good food, and that people are generally satisfied.
"Good food means satisfaction, and satisfaction means a good working environment. That is why food is so important. The meals are highlights and a chance to take a break during a long work day. With many people on board, there are many meals to prepare. It has been estimated that a total of 250,000 lunches will be prepared during the hook-up phase," he says. 
Using our eyes to clean
In the living quarters of Mariner A, 23-year-old Claire Ellis is cleaning the cabins. With so many people in activity, there will also be a lot of extra work for those who work in housekeeping.
"We find solutions and help each other. Most of us are positive, I myself think it is nice work, even if it is busy. Time flies by. Mariner A is a nice new platform, it is the nicest I have been on, like a five-star hotel," says Ellis, who has also worked on several other platforms on the UK continental shelf.
One thing Ellis points out that is different on Mariner A compared to other places she has worked in the past is the way they think about cleaning.
"At other places, I have been given a list of what to clean, and then you have to clean regardless of what it looks like. Here we are supposed to "use our eyes to clean", which means we must see what is dirty and prioritise our cleaning according to the need. I think it is a more sensible and efficient way of working. In addition, I have figured out that doing your job with a smile is the best way to enjoy your work. At least it works for me," Ellis laughs.
In the same sea
"The wind has died down, and we are preparing to connect Safe Boreas", is the announcement that is heard over the public-address system. Soon the various modules on Mariner A will be teeming with life again. Wandering coveralls in red, orange, blue and yellow on their way to and from work throughout the gigantic construction site. Efforts that will help Mariner produce oil for 30 years and provide 700 long-term jobs.
Darkness is descending over Mariner A. Eventually, the night shift will take over and make sure that there is still someone walking, carrying, discussing, planning and, lifting.
On the horizon, where the evening sky meets the horizon, there are glimpses of light from other platforms, both British and Norwegian, with their legs planted in the same sea.