The Thorolf Rafto Challenge 2019
CEO Eldar Sætre's lecture at the Norwegian School of Economics in Bergen, Norway.
October 16, 2019
NHH and the Rafto Foundation invited students to the fifth annual Thorolf Rafto Challenge – an event where business organizations are challenged to share information about human rights dilemmas they face in their value chains. This year's key note speaker was Eldar Sætre, CEO of Equinor.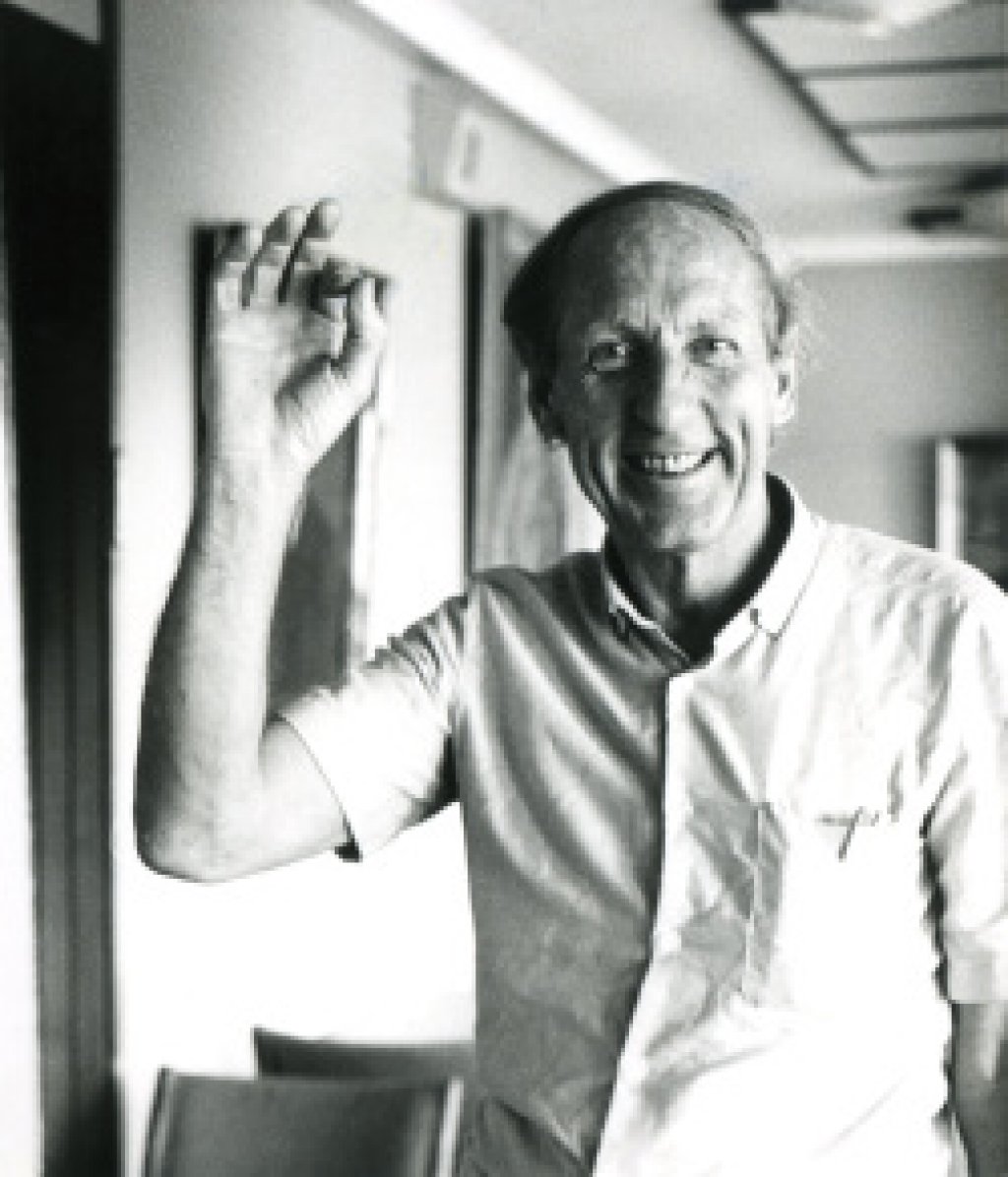 Thorolf Rafto
Thorolf Rafto was a human rights activist and professor in Economic History at the Norwegian School of Economics in Bergen, Norway. The Rafto Foundation for Human Rights was established in gratitude for his efforts and inspiration.
"Professors and students, dear friends. Thank you for the invitation, and it is a true honour to be here today. And although I don't do "lectures" very often, I must confess that I have really been looking forward to this event.
Returning to my own "alma mater" in a room full of young students is both meaningful and inspiring. But, I should also admit that addressing this impressive row of professors and teachers makes me feel quite humble.
Then it also makes me humble to give a speech in the name of Thorolf Rafto. You probably don't know this, but I attended quite a few lectures by Rafto! And, let's just say, that these events were always quite an experience. Almost impossible to forget.

I remember that we were in place at about 10.15 in the auditorium, ready for the lecture. But no Rafto. He always arrived a bit late – hasty from some other engagement, with books and papers under his arm.

And then he started, seemingly unprepared – but of course, he never was. He knew the topics, and conducted his lectures with great commitment and enthusiasm – combined with a pretty lively and colourful body language.
And for me, a slightly modest guy from a small village called Vartdal on the North-West coast of Norway, to experience Rafto's lectures was a true eye-opener.
So, to stand here – if not in the same auditorium where he held his lectures, but in the same location 40 years later, is both a great pleasure and a true honour. Therefore, thank you – again, for giving me this opportunity.
So, apart from the privileges I just mentioned, why did I say yes to come here today?
Well, I have at least three reasons.
Firstly, as the world has become "smaller", and companies more global, human rights are no longer just an issue for those that take a special interest in the subject.
It is both an ethical, and a practical question that global businesses must deal with, pretty much everywhere and every day.
Secondly, how we deal with these questions, has both a direct and an indirect impact, on financial results and value creation — they are truly business-related. But maybe even more importantly, how we deal with these types of issues, says a lot about who we are as companies – and who we want to be.
And thirdly (but not least), I would like to show gratitude towards the pioneer — Thorolf Rafto. He is — as this day and The Rafto Foundation shows, of even more significance and higher relevance today, than we — as young students back then, understood.
So, in hindsight, I hope that you – students of today — discuss human rights as an integrated part of doing business, far more intensively than we did — back in the seventies. I am convinced that this, will make you better future business leaders, and I will try to explain why, in my lecture today.
I will also talk about ethical challenges, and how we try to tackle them in Equinor. And in doing that, I will use some of our own experiences, including how we view the importance of leadership and culture in that regard.
So, let us get started.
I have been fortunate and privileged, having worked for our company for almost 40 years – and most of the time by leading others. And as a leader – in a pretty complex business, there is a lot you must relate to: there are strategies to be shaped, decisions to be made, and considerations to be balanced – constantly.
But, no doubt, my most significant experience, is about the critical importance of people, and how we treat, respect and depend on people.
Equinor is a pretty large international energy company, generating and delivering energy to almost 200 million people, every day.
We create significant value, secure jobs and contribute to the communities in which we operate all over the world. And it is all enabled by people.
The future of Equinor, relies and depends on many "things", some of which are even outside our control. But, mainly it depends on things we can control. And the most important dependency, is related to the quality of leadership, our insights, our engagement and our ambitions — as well as our ability to empower people.
Therefore, we must ask ourselves constantly:
Do we as leaders provide our people with equal opportunities?
Does each one of us refrain from biased comments to colleagues?
And do we uphold the same safety standards in everything we do?
And why, must we ask these questions? Well, obviously because they are highly relevant, from an ethical perspective, but also because people who feel respected and trusted perform better.
Diversity of thought, background and ideas ensures better decisions. And there will be no diversity, unless it is based on respect for and inclusion of people. It enhances innovation and inspires us to find better solutions to complex problems.
In addition, if you are recognised for placing your people at the core of your business you will also be in a better position to attract new talent and retain good people in the company.
And then, I would like to add that investors also increasingly expect companies to take a more purpose-driven approach. And that they can demonstrate that approach through their reputation, as well as their transparency, disclosures and "tone from the top".
So, doing business, it is not anymore only about the money you make — but also about your wider engagements, towards society and sustainability.
Equinor is a values-based company. And I am not hesitant to say that we believe in people.
Therefore, how we deliver is as important as what we deliver. This approach is deeply embedded into our Code of Conduct, as well as our Performance Management System — based on a 50/50 split consideration.
We have defined our purpose as "Turning natural resources into energy for people and progress for society". We have defined our vision as "Shaping the future of energy".
We have a strong set of values; "Open, courageous, collaborative and caring" – which I will revert to towards the end. And we have a crisp strategy – expressed in six powerful words: "Always safe, high value and low carbon".
But to deliver on all of these good intentions and directions, we also need a strong culture. And what is culture?
So, let me get a little bit philosophical – because I think this philosophy is also relevant for human rights. Culture is almost like the "invisible hand" that you may have learned about, in another context. It is there, among us, but we cannot see it – just like air.
And it is not written down anywhere. But maybe more importantly, is that culture — is something you get, anyhow – whether you ask for it or not, whether you are conscious about it, or not. It is shaped over time, not primarily through words and speeches, but, through consistent behaviour and action.
It is about the big decisions, but even more so, it is about all the small things we do – or don't do, in our daily work. And to have a robust and values-based culture, is essential for shaping the crucial "how" part, of our business leadership. So, what does culture have to do with human rights?
Well, pretty much everything. Because the nature of human rights issues, are so widespread and diverse that we simply need a solid culture to identify and engage with them all.
Let me try to explain why.
Equinor operates in some of the most harsh and challenging environments in the world. And we do business in many countries, with quite noticeable differences, when it comes to safety, security and overall human rights standards.
But wherever we operate, "Always safe" is our priority number one. And our commitment to human rights, is also deeply rooted in the same approach — because safety is about people. And it includes not only our own employees – but also all those working for Equinor.
Everyone associated with our activities, shall be met with the same respect and protected from any harm. How we treat and protect people, is therefore fundamental for our business – and a pre-condition for what we call "our licence to operate".
Still, and unfortunately, we do see examples of human rights being violated. And it happens in many ways. Sometimes it can also be very difficult to detect, even when it happens close to us.
As we become an increasingly global company, we must therefore be even more conscious, openminded and observant, including looking out for cases where we also unintentionally — can have a negative impact on people.
If this happens, we must act. But I want even more – on behalf of our company. I want a strong Equinor culture – supported by systems and competence, which consistently strives to prevent such things from happening — in the first place. Being proactive.
And then I feel pretty bold today, so I want to say this: respecting human rights is not only the right thing to do — from an ethical perspective, but it is also crucial to our long-term existence. Therefore, we must not only respect, we should also promote these rights — within the context of our operations.
Our code of conduct is therefore crystal clear: everyone working for Equinor, shall treat people we meet, with the same respect and dignity, that we expect to be met with ourselves. And everyone is expected to place respect and safety for people as their first priority.
In the year 2000 we were one of the first 30 companies to sign up for the UN Global Compact Principles.
Today, around 13,000 participants have signed. In 2011, we were also among the first companies to commit to the United Nations Guiding Principles on Business and Human Rights. And since then our board of directors have also established our human rights policy, which guides us in our daily work – and we are also translating this into more practical tools.
However, and despite all these good intentions and sound policies, we still have a lot to learn. And learning starts by acknowledging that we can do better – which sometimes can be a quite tough experience. Because, the more we look, the more we find.                                      
I am not quite sure how to say this (without being misunderstood) but maybe we also have been a bit naïve to the realities — because of our Norwegian heritage? While the world progresses in many areas, and is generally in a better state now than ever before — certain things are still under significant pressure. Many countries fail in protecting their people, and some of them even take rights away from them.
By way of example, modern slavery is a huge global challenge, also relevant for Europe and Norway. And it is easy to think, that because there are different laws, rules and practices in different places — those different standards are acceptable.
It is true – and more or less obvious, that we cannot expect or impose "Norwegian standards" in every country. However, we should at least expect and impose international standards. And even that task is enormous.
Therefore, we work hard — throughout the large Equinor family, to raise attention and awareness. To "humanise" humans and "demystify" human rights. That means, for instance, that we do not accept comments or practices like:
"This is how it's done in this country", "they are used to working conditions like that". "They aren't used to having such beds at home", or even worse "we have to keep their passports, otherwise they will run away". And we have heard them all.
Therefore, the universal declaration of human rights, is just that: Universal rights. They apply to us all. Wherever. Whenever. And whoever. And they do not come with a disclaimer.
In Equinor we have around 22,000 employees, representing more than 100 nationalities — operating across 36 countries around the world.
Each one of us has rights, and each one of us is in various ways, also affecting the rights of others. For instance, the oil, gas, wind and solar installations we operate or invest in, are often placed in connection with rural or fishing communities. And people who have lived in these communities for generations, are often vulnerable and uncertain about how our activities will affect them.
But to us, it is even more complicated, as many of our international investments are operated by our joint venture partners. And some of our joint venture partners are also controlled by governments — often in countries where the general human rights context is somewhat challenging. And just to complicate the picture even further: in one year, we typically purchase goods and services — from almost 10,000 suppliers, which in turn engage a vast number of sub-suppliers, with additional sub-suppliers.
So, this is Equinor's human rights universe. And our commitment is the following: To make our best efforts, so that human rights are respected — within this whole universe, including: our employees, the people affected by our operations and partnerships, as well as throughout our supply chains.
And in these efforts, and in this universe, we quite often also face root-causes of human rights violations far beyond our scope of control, for example:
A globalized labour market provides an over- 'supply' of vulnerable workers and a business 'demand' for their labour, driven by the pressure to reduce cost and delivery times, and further threatened by digitalisation. Local communities too often see their environment and livelihood damaged; or are left without their fair share of generated revenues.
And corruption seems to exist more or less in all countries, irrespective of the economic or political system and level of development, and it also disproportionally harms disadvantaged groups. When you add to this the speed by which our world is changing, it becomes evident that our human rights efforts — are not an easy task, or a quick fix:
We therefore need to work systematically — to integrate human rights, into the normal way we conduct or business.
So, let me share two examples of how we continuously must adapt to new realities: First, in 2015, thousands of Rohingya refugees were fleeing Myanmar by boat. Their boats came right into the area where we were undertaking seismic surveys. So, we had to ensure that the seismic operator would rescue the refugees in accordance with international standards.
Secondly, as we continue to grow our renewables business, we need to mature how we address potential impacts to local communities. – whether it is related to offshore wind projects close to Long Island in New York or Norfolk in the UK, or to a solar plant in Argentina or Brazil – to name a few.
These examples also tell us something else: that the human rights situation in certain countries, is not something we could – or even should, change or address on our own.
Sometimes we are also asked how we can even stay in a country — where the human rights context is so challenging.
And for sure, there are certainly dilemmas to consider in this regard, between indirectly and potentially contributing to legitimize a questionable leadership, and achieving real progress for real people.
Our response in these cases, is that if we believe we can uphold our commitments, by demonstrating good practices of a socially responsible company – we can stay.
But at the same time, we cannot take on the responsibility of others.
That is not our responsibility as a company. Not by law. Nor under the UN Guiding Principles.
It is — and must remain, the states' primary responsibility — to protect human rights.
But: when we do decide to enter a country – or to stay in a country, it is not only because we want to pursue good business opportunities.
We also want to contribute positively, to the development of people, communities and society at large – and always with respect for human rights.
So, how do we then engage – in more practical terms, with human rights?
Well, for us, human rights work is about acknowledging, understanding and mitigating our risk.
And then, you might think that I am talking about risks to Equinor: that human rights are about mitigating our corporate and reputational risk? But that is not our starting point.
In Equinor, we define human rights risk in accordance with the UN guiding principles — as risk to people.
In our corporate risk process, we have therefore integrated a particular risk category defined as "human rights risks to people". …where we evaluate the level of risk according to the severity criteria in the UN Guiding Principles, including the gravity of the risk, how many are affected, and to what extent it can be mitigated.
And then we have experienced, that this work also has an interesting side effect. Because we have learnt that looking closely after risks to people, has made us better at identifying risk to our company, as well.
We are therefore implicitly also making our business more robust.
So, let me give you some examples: Looking at security from a company perspective means identifying needs to protect our own people and assets.
But when applying the people's lens – we must also recognize the all too common risk that security providers may harass women in the local community. Or use violence against human rights defenders. In fact, claims relating to the conduct of security providers, are one of the most common sources of civil liability claims against companies in our sector.
Sometimes we also experience that people working for suppliers, or sub-suppliers – in our joint ventures, stage various types of protests. And it would be easy to regard this — as a short-term productivity loss, from a business perspective.
But when you ask people why they are protesting, you may find rather severe instances of worker exploitation — which also could become a really harmful case for companies. So, from our perspective, risks to people and company go hand in hand, and are best identified when we take the people perspective.
We have also experienced that the impact of this approach – focusing on people, has been particularly evident in our supply chain. When listening more to the individual voices and focusing less on the policies, processes and declarations of our suppliers — we see so much more.
Because human rights violations are in fact quite easy to hide in corporate manuals, policies and procedures. They cannot, however, be hidden in meetings with real people.
And as stated in our latest UK Modern Slavery statement, we have found abusive recruitment practices, poor working conditions and lack of freedom of association. And we have mainly found them within the construction, logistics, and facility services sectors; from the Far East, all the way to Europe and the US.
The whole purpose of engaging with people – directly, beyond identifying issues, is of course also to understand how we can mitigate such issues, which starts with basic knowledge.
For instance, we need to understand how unconscious biases manifests themselves in unequal treatment of people. We need to identify signs of potential modern slavery, in workplaces dominated by migrant workers.
And we must recognise how women in local communities are disfavoured — when new jobs and revenues are distributed. We have therefore in the last couple of years, significantly increased our training efforts.
That includes training of my executive team, of our engineers and operators in the fields. And not the least: Training of all our leaders.
However. As in many other areas of life; Doing is often the most effective way of learning. Human rights work is often very practical, unglamorous stuff. It can be about changing dormitory mattresses — filled with bugs. It can be providing WiFi free of charge, so that workers can speak with their families. Or it can be to end supplier practices of naming and shaming individual workers for safety breaches.
In general, we also experience that the dialogue is much easier, when we get practical about it. Because however small, they can make tangible improvements in people's lives.
And it also makes us both proud and inspired, when we see that we can contribute to making people's lives better. So, in order to deliver on the increasing expectations to ourselves, partners and suppliers, we choose the strategy that we know best: engaging rather than walking away.
Which again, takes me back to the subject and importance of culture.
Embedding a rights-respecting culture, requires that we apply the full depth of our four values.
Open, Collaborative, Courageous and Caring.
They are at the core of our legacy, and our culture. And they guide us — both in our daily work and when we make tough business decisions.
Therefore, we measure and reward our leaders and employees — based on how they live by these values.
And our commitment to respect human rights is also embedded in all of them.
In fact, our first value, being open — is a prerequisite for building trust and making good decisions and sound judgements – in this regard. Without openness and sometimes brutal honesty, — we will not even know where to focus our resources.
Which is obviously also highlighting a major challenge, because human rights are definitely not issues, characterized by openness – to put it mildly. And then, to get the results we want to see, our second value — collaboration is key.
We have a "zero mindset" — when it comes to safety. But we will not succeed, without working closely with our partners, our suppliers. In fact, around 70% of all work-hours for Equinor are done by suppliers.
Collaborating with them is therefore essential, both when planning and executing activities in the safety dimension, as well as when it comes to human rights.
And then. Our third value — caring, is obviously at the very heart of human rights. Valuing every person as equally important — is the responsibility of everyone in Equinor. But it is not only about responsibility and expectations.
We also need to recognize — that human rights work is hard, systematic and sometimes very practical. It takes time, it requires investments. And it is also sometimes very difficult, to find obvious answers — to some of the challenges we face, recognizing that there are so many dilemmas, grey zones — as well as blind spots, like:
Should we avoid suppliers, coming from countries where there are known challenges? How do we ensure and verify that we actually contribute positively? And what does it mean – in practice, to take responsibility? How far down does that go?
Which takes me to our fourth value — courageous. And then, I would like to dwell on one point — that is very important to me: We need to dare to ask the tough questions, that might have answers that are uncomfortable. As a company we simply cannot afford to not ask questions out of convenience. We need to be prepared for the truth. And even more so — for an inconvenient truth.
And we need to create a culture where inconvenient truths are not just accepted. They are "welcomed".  As is creating a culture where one dares to speak up. It is the responsibility of my leaders — to welcome the truth. And I know, we can also handle the truth!
Let me then try to summarise.
Respecting human rights, is fundamental to Equinor. It is essential for our "license to operate", and the principles are embedded — both in Equinor's corporate values, as well as in our Code of Conduct and our human rights policy. For us, respecting human rights — is not only the right thing to do.
It is also a prerequisite for being an attractive employer, a desired investment proposition, and a profitable business. We are facing many challenges and dilemmas across our operations and projects, and maybe even more so in the future. But by working systematically and consistently — with no end-date, we believe we are able to conduct our business — in a rights-respecting way.
As a large global company, we would like to lead the way – in many dimensions. And our human rights efforts is definitely an area where we strive to continuously improve.But we are also humble to the challenge and we know realistically — that there are limits to what we can achieve alone.
And if we believe we are good at it, we must think again.
I am very proud of the work we have done, but at the same time, I am not satisfied. And I believe that is the only way to avoid becoming complacent.
When I studied here, I must admit that I did not always comprehend what Mr Rafto was talking about.
First when I became a CEO — I truly valued it.
 So, thank you, Thorolf. And thank you, for your attention.