Low carbon hat-trick in the UK
March 17, 2021 08:00

CET
| Last modified March 17, 2021 10:20 CET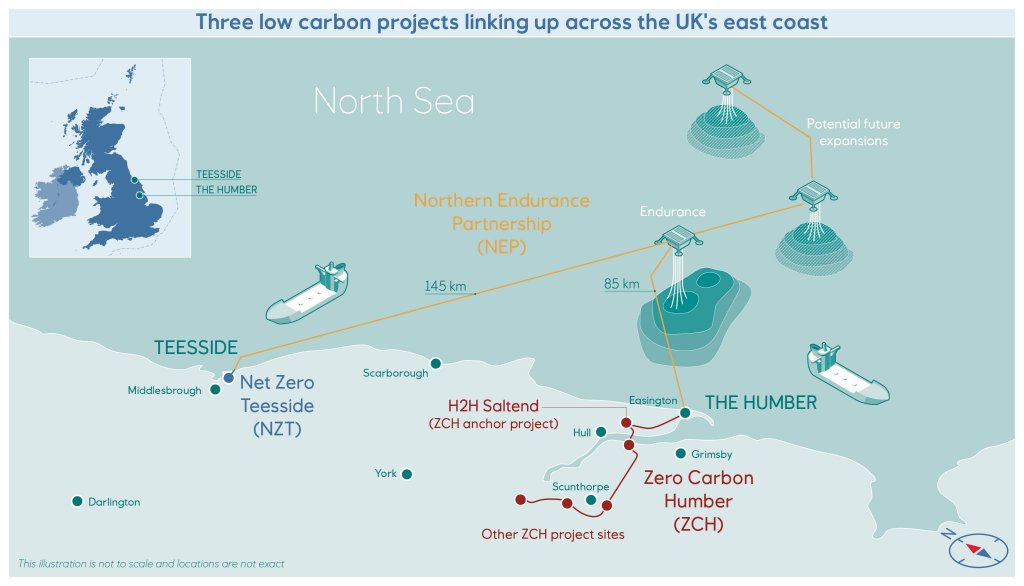 All three of Equinor's projects to deliver deep cuts in emissions from industries and support clean growth on the UK's east coast have received public funding from UK authorities. With a combination of private and public funding, Equinor and its partners will now progress these projects in order to create the world's first net zero industrial cluster by 2040.
On 17 March 2021 the UK Government announced the funding awards under the UK's Industrial Strategy Challenge Fund (ISCF) to three project consortia in which Equinor is directly involved:
Zero Carbon Humber (ZCH), a twelve-company partnership to turn the UK's largest industrial cluster net zero through the step-wise deployment of low carbon hydrogen, carbon capture and negative emissions being delivered at sites across the Humber estuary. The first project is the Equinor-led H2H Saltend low carbon hydrogen facility and a hydrogen and carbon dioxide (CO2) pipeline network across Humber industrial sites developed by National Grid Ventures.
Net Zero Teesside (NZT), a five-company partnership to decarbonise the Teesside industrial cluster with carbon capture and build a new gas-fired power station with state-of-the art carbon capture technology.
Northern Endurance Partnership (NEP), a six-company partnership (with ENI, National Grid, Shell, Total and operator bp) to develop offshore carbon dioxide transport and storage infrastructure in the UK North Sea that will serve both ZCH and NZT.
The three successful bids amount to GBP 229 million in private and public funding, with Equinor and its partners contributing more than two-thirds of the total.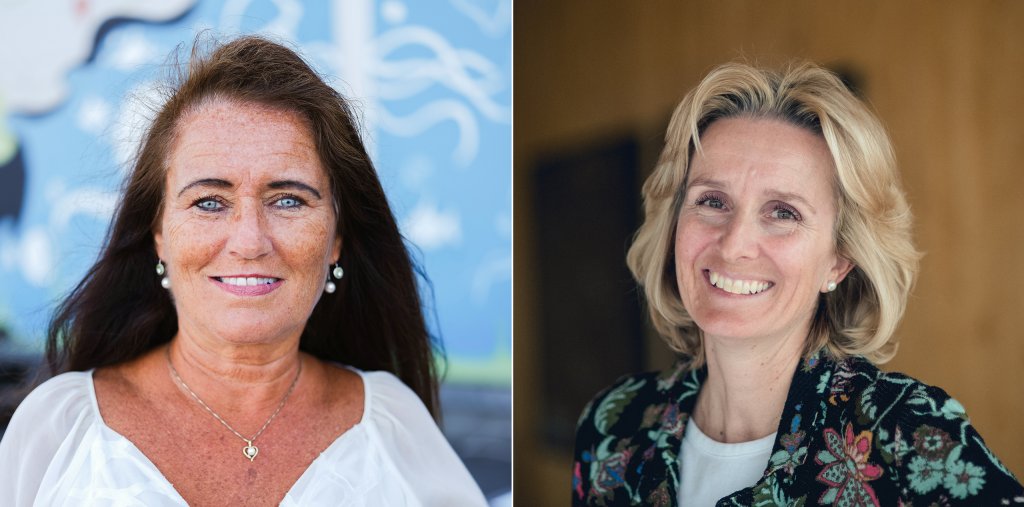 "The shared challenge of climate change requires governments, industries and societies to come together. This funding award from the UK authorities shows this working in practice and we are delighted that these three pioneering projects have been successful. Working with our partners and stakeholders, Equinor will continue to apply our capabilities to deliver these projects, so together we can demonstrate the significant value that carbon capture & storage and hydrogen offer to communities and countries in a net zero future," says Irene Rummelhoff, executive vice president for Marketing, Midstream & Processing in Equinor.
The funding awards from UK Research & Innovation and the funding from Equinor and its partners will be used in each project to move through the detailed engineering and design stages and progress to the point where, subject to the development in parallel of supportive UK policy, a final investment decision (FID) on each can be taken.
"The awards are great news for the UK and for Equinor. The Humber and Teesside make up nearly half of the UK's industrial emissions so, to reach net zero, there is enormous value in tackling emissions at both clusters together. Rolling out carbon capture use & storage and hydrogen across the UK's industrial clusters supports the Government's aims for a green recovery and to level up by safeguarding and creating many high-skilled jobs, and will establish the UK as a world leader in hydrogen and low carbon technologies. As the UK's leading energy provider, we will continue to work with our partners to progress our projects to final investment decision, engaging locally and nationally to make this happen," says Grete Tveit, senior vice president for Low Carbon Solutions in Equinor.
In Norway, Equinor and its partners started construction work in January 2021 on Northern Lights, Europe's first full-scale carbon transportation & storage project, following the Norwegian Parliament's vote to approve funding in December. Construction is expected to be completed by late 2023 with the first phase operational during 2024.
For more information contact:
Eskil Eriksen
eseri@equinor.com
+47 95882534
Related pages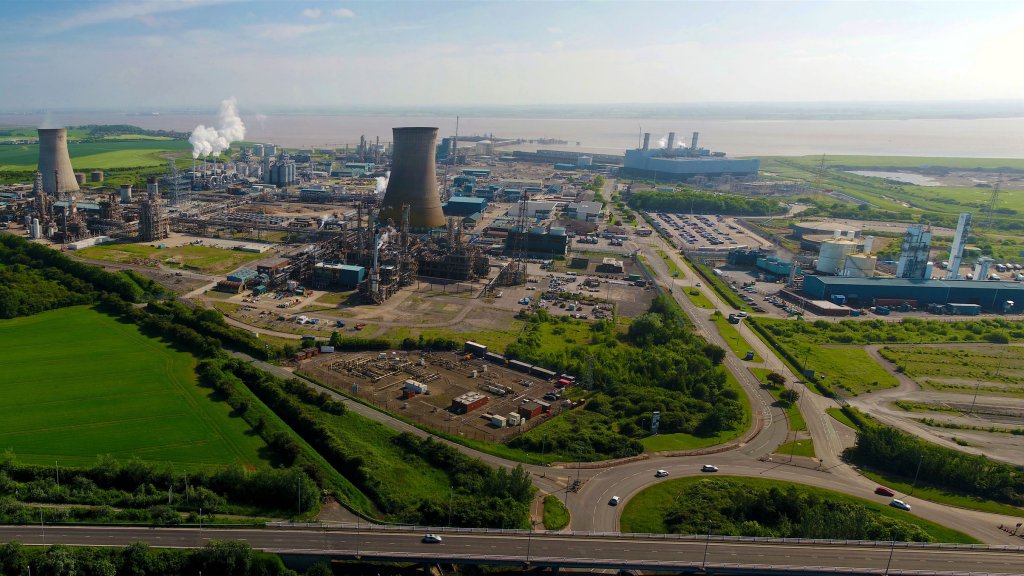 About Zero Carbon Humber
The Zero Carbon Humber (ZCH) Partnership aims to decarbonise the UK's largest and most carbon-intensive cluster, supporting the UK net zero target. With its first project aiming to start up in 2026, ZCH will establish critical infrastructure to capture at least 17 million tonnes of CO2 emissions per year and supply up to 10 gigawatts of hydrogen in industry and power projects across the Humber by the mid-2030s. ZCH will contribute significantly to UK ambitions for 10 million tonnes of CO2 capture and 5GW of low carbon hydrogen production by 2030, and provide carbon negative power from biomass with carbon capture technology (BECCS). The ZCH Partnership includes Associated British Ports, British Steel, Centrica Storage Ltd, Drax Group, Equinor, Mitsubishi Power, National Grid Ventures, px Group, SSE Thermal, Saltend Cogeneration Company Limited, Uniper, and the University of Sheffield Advanced Manufacturing Research Centre (AMRC). To learn more, please visit www.zerocarbonhumber.co.uk
About Net Zero Teesside
Net Zero Teesside (NZT) is a Carbon Capture, Utilisation and Storage (CCUS) project, based in Teesside in the North East of England. It aims to start up in 2026 and fully decarbonise a cluster of carbon-intensive businesses by as early as 2030. The NZT consortium comprises bp, Eni, Equinor, Shell and Total, with bp leading as operator. The project plans to capture up to 10 million tonnes of CO2 emissions each year, equivalent to the emissions associated with the annual energy use of up to 3 million homes in the UK. To learn more about Net Zero Teesside, please visit www.netzeroteesside.co.uk
About Northern Endurance Partnership
bp, Equinor, Eni, National Grid, Shell and Total form the Northern Endurance Partnership (NEP), a partnership announced in October 2020 to develop offshore carbon dioxide (CO2) transport and storage infrastructure in the UK North Sea, with bp as operator. The infrastructure will serve the proposed NZT and ZCH projects, which aim to establish decarbonised industrial clusters in Teesside and Humber. If both projects fulfil their potential, NEP can enable the decarbonisation of nearly 50% of the UK's industrial emissions.
About Equinor in the UK
Equinor has been operating in the UK for over 35 years. Headquartered in Norway, the company employs 21,000 people globally, and over 650 in the UK. As a broad energy company, Equinor is committed to long term value creation in a low carbon future and aims to reach net zero emissions globally by 2050.
Equinor is the UK's leading energy provider and supports the UK economy by investing billions in crucial energy infrastructure, working with over 700 suppliers across the country. Its energy supplies from Norway meet more than one quarter of the UK's demand for natural gas and around one fifth of its demand for oil, both produced with one of the lowest carbon footprints in the industry. It operates the Mariner oil field, one of the largest and most digitally advanced offshore investments in the UK over the last decade, and is progressing Rosebank, the largest undeveloped field in the UK. Both projects support hundreds of jobs and economic activity in Scotland.
In the UK, Equinor currently powers around 750,000 homes through its three wind farms; Sheringham Shoal, Dudgeon, and the world's first floating wind farm, Hywind Scotland which is partnered with Batwind, the world's first battery for offshore wind. In partnership with SSE Renewables, Equinor is building the largest offshore wind farm in the world, Dogger Bank, off the North East coast of England, and developing plans to extend both the Dudgeon and Sheringham Shoal wind farms. It is also a leader in both carbon capture utilisation and storage (CCUS) and hydrogen, developing the H2H Saltend hydrogen production plant at the heart of the Zero Carbon Humber alliance, and partnering in the Net Zero Teesside project and the Northern Endurance Partnership.