Statoil CEO's message to CERAWeek: "The test lies not in the crisis, but in the recovery"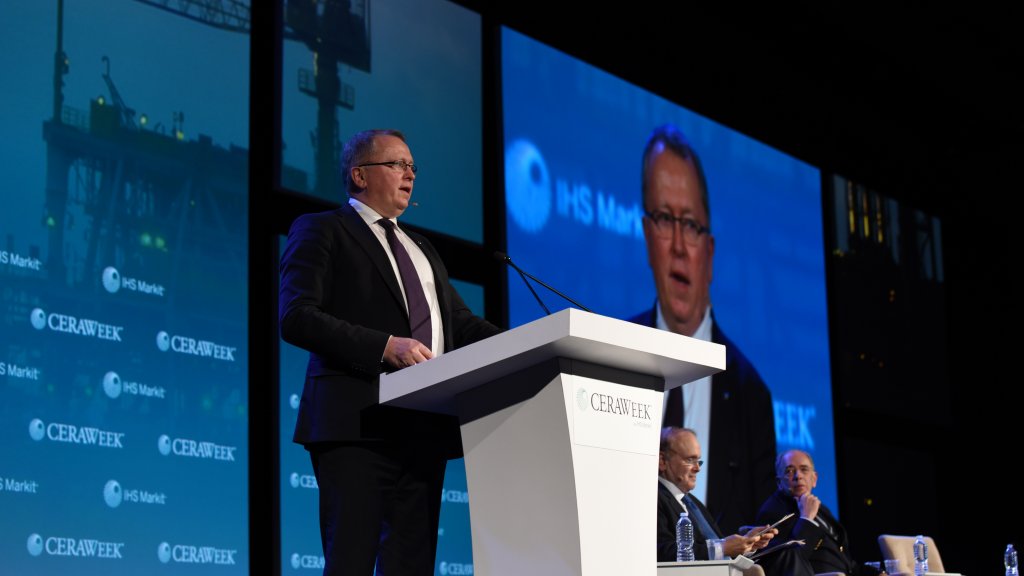 "Our industry has to face a brutal fact: We had, once again, allowed ourselves to forget the fundamental nature of our industry. Oil is a commodity, and it is cyclical," Statoil CEO Eldar Saetre told energy leaders today at CERAWeek. 
The message was delivered during Saetre's opening remarks of a panel discussion with Pedro Parente, president of Petrobras and Daniel Yergin, vice chairman of IHS. 

In his remarks the CEO acknowledged the challenges of the past two years, but focused on the journey ahead. In addition to discussing some of the lessons learned during the downturn, Saetre talked about the opportunities that could arise from a low carbon future and how Statoil is preparing. He also discussed how crucial global industry collaboration is to remaining competitive in a rapidly changing industry and world. 
Read the transcript of his opening message below ---
Thank you Dan, 
It's really good to be back here at CERAweek, and it is a particular pleasure to share the stage with my good friend, and business partner, Mr. Pedro Parente. 
Ladies and gentlemen, I want to address three topics in my introduction: 
First: The downturn has been long and painful. But it has also presented us with a unique opportunity to strengthen the long term competitiveness of our industry. 
Secondly: The low carbon future will reshape the energy space. Some see this as a threat to our industry, but we should rather look for, and act on the opportunities it offers. 
And thirdly: Global collaboration and integration is key to enable investments, cost efficiency, value creation and ripple effects in our industry. 
(---) 
Starting with the first: 
I took on the CEO-position in mid-October, 2014. The oil price was 90 dollars per barrel, and most people thought it would quickly return to "the new normal", of around 100 dollars. 
Then the oil-market collapsed. Our industry had to face a brutal fact: We had, once again, allowed ourselves, to forget the fundamental nature of our industry. Oil is a commodity, and it is cyclical. 
Yes, it has been a challenging couple of years. But, as they say, you should never waste a good crisis. This downturn has offered a rather unique opportunity, to fundamentally transform and reset our cost base. 
In Statoil, we have reworked solutions and increased efficiency, all the way from the reservoir to market. And we have brought the break-even price of what we call our "Next generation portfolio" - more than 3 bn new barrels - down from around 70 USD to well below 30 USD/barrel. 
So, it turns out, that we are capable, of both thinking - and acting - low cost. 
However, to me, the ultimate test of our ability to learn, lies not in the crisis, but in the recovery. Now is not the time to relax, and repeat our own mistakes from the past. Now is the time to fundamentally change how we run this industry. 
Learning from others, introducing the lean methodology, and making simplification, standardization and industrialization words the oil and gas industry can be recognized for. 
In short: Seizing the opportunity to strengthen the long term competitiveness of oil and gas in an increasingly complex energy space. 
(…) 
Which brings me to my second topic: The low carbon future. 
The ongoing energy transition is reshaping the energy industry. 
We all know that oil and gas will continue to be a significant part of the energy mix for decades to come. However, we have to respond more forcefully to the challenge of climate change – reducing CO2 and methane emissions. 
In Statoil, we believe that such emissions should – and gradually will – come with a price tag. Carbon efficiency will therefore increasingly be a competitive advantage. So how we run our industry matters, and will do so more and more. 
At the same time, technology and innovation are rapidly reducing the cost of new renewable energy. Renewables are already the fastest growing source of new power generation capacity. And will increasingly become cost competitive without subsidies. 
In Statoil, we think of ourselves as an energy company, with renewables as an integrated part of our business. And we expect to allocate 15-20% of our investments to this area by 2030, provided that we can access and mature sufficiently attractive opportunities. 
(…) 
My third and final point is about international collaboration and economic integration. 
The oil and gas industry is by nature global. Geology rules geography. We sell commodities to global markets. And we depend on talent, innovation, suppliers and partners from around the world. This makes us a better industry, and our products more affordable. 
50 years ago, US companies were the pioneers who helped build the Norwegian oil and gas industry. Today, Statoil has invested 30 billion dollars and is creating thousands of jobs here in the US. 
Global collaboration and integrated markets has been, and will remain key to make our industry prosper. 
Global collaboration is also essential if we want to tackle the climate challenge. CO2 emissions do not recognize national borders. 
Working together is therefore more important than ever before. 
As a long term industry, we are heavily invested in the communities where we operate. 
So when turning natural resources into energy for people, and progress for society, doing it in a sustainable way is also in our own interest. 
Thank you very much for your attention.
Related page