Drilling of Snøhvit well completed
July 23, 2007, 09:30 CEST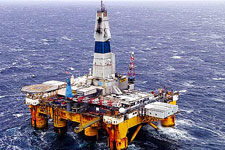 The Polar Pioneer drill rig has performed all its drilling in the Barents Sea without any hazardous discharges to the sea. (Photo: Sverre Kojedal)
The appraisal well 7120/6-2 in production licence 097 was drilled to a depth of 3,120 metres below the seabed and finished in late Triassic rocks. Water depth in the area is 321 metres.
The Polar Pioneer drilling rig has performed yet another successful operation in the Barents Sea. The appraisal well was drilled without any incidents or accidental discharges to the sea.
The goal of the drilling was to gain further information about the thickness of the gas and oil column in the western part of Snøhvit and to find out whether the oil column is situated in a zone with reservoir properties that are sufficiently good for oil recovery.
A comprehensive data compilation has been done in the well. The data will now be analysed and the result will be ready during September.
The well has been temporarily plugged and will possibly be used later for injection of formation water or carbon dioxide.
Statoil is operator for the development and operation of Snøhvit with a 33.53% share. The other licensees are Petoro (30.00%), Total E&P Norge (18.40%), Gaz de France (12.00%), Amerada Hess Norge (3.26%) and RWE Dea Norge (2.81%)