The oil slick is moving towards the north-east
December 13, 2007, 08:42 CET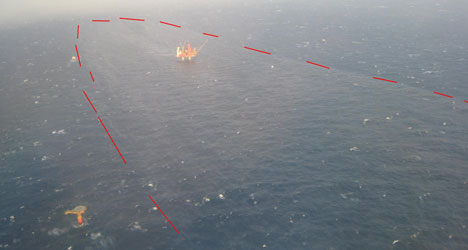 Two vessels have been observing the oil slick during the night. The observations confirm that the slick is moving towards the north-east. An airplane from the Norwegian Coastal Administration will pass over the area some 20 kilometres north-east of the Statfjord field in the morning of Thursday, 13 December.
The last observations from airplanes and vessels in the area Wednesday afternoon showed that the size of the oil slick was 23 square kilometres.
StatoilHydro's calculations suggest that the oil slick is dissolving and will not reach the coast. Our experts have therefore decided not to apply chemical dispersants to the oil slick.
The action management sticks to the primary goal of monitoring the area continuously and implementing mechanical clean-up measures once the weather permits.
Unchanged weather
During the night the weather conditions have remained unchanged in the North Sea. There are near gale conditions in the area, the wave height being between four and five metres.
A meteorologist from Storm Weather Center is monitoring the weather conditions on a continuous basis from StatoilHydro's emergency organisation in Bergen. The last weather forecasts suggest that an improvement of the conditions can be expected during the night of Friday at the earliest.
Under the prevailing weather conditions, however, the likelihood of the slick reaching the coast is now considerably reduced.
Vessels in place
The rescue and recovery vessels "Havila Troll" and "Havila Runde" are monitoring the situation and will keep track of the oil slick movements. Two other vessels, "Stril Pioner" and "Far Star", are expected to arrive to the relevant area in the North Sea in the morning. In addition four tugboats are mobilised for towing of oil booms.
Around 12, noon, today 13 December the vessel "Edda Fonn" will arrive on the field with a remote-operated vehicle (ROV) on board. Once the weather permits, the ROV will be used for examinations of the loading buoy and oil hose used during the loading of oil to the tanker "Navion Britannia".
All vessels that take part in the action will make observations related to the environment and bird-life. Experts from SINTEF will start bird-life observations Thursday morning.