More leases in the Gulf of Mexico
March 19, 2008, 20:12 CET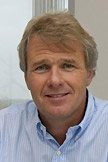 Øivind Reinertsen (Photo: Kjell Hugvik)
"These leases will add to our already extensive deepwater portfolio," says Øivind Reinertsen, head of StatoilHydro's North American business.

"The next milestone will be the start-up of our self-operated drilling program and we are preparing for intensive drilling activity in the years to come," he adds.
Through farm-ins, acquisitions and lease sales StatoilHydro has become one of the largest lease holders in deepwater Gulf of Mexico.

The company participates in 15 interesting discoveries including Julia, Jack, Caesar, Tonga and St. Malo and in two developments, Tahiti and Thunder Hawk, both due to come on stream next year.
Lease Sale 206 is part of the current schedule of Minerals Management Service (MMS) in New Orleans.

StatoilHydro's winning bids are subject to review and final approval by the MMS which can take up to 90 days.

Contacts:
Media
Kjersti T. Morstøl, public affairs manager, Oslo
phone +47 917 82 814

Kjersti H. Torgersen, public affairs manager, Houston
phone +1 832 866 0031
Investor relations
Morten Sven Johannesen, investor relations officer
phone +47 909 34 184

Geir Bjørnstad, vice president investor relations USA
phone +1 203 978 6950