Compressor testing kicks off
April 21, 2008, 16:44 CEST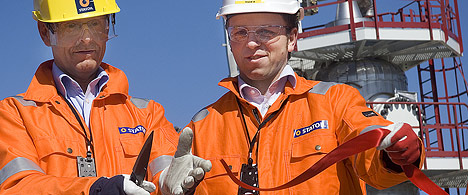 Project manager Rolv Herfjord (left) and K-lab manager Trond Austrheim cut the ribbon on Monday. (Photo: Kim Laland/Bitmap)
"This is a unique technology testing endeavour crucial for assessing subsea compression as a possible solution for offshore fields like Åsgard and Mikkel," says Rolv Herfjord, StatoilHydro Åsgard Minimum Flow Project manager.
Subsea compression can be the future solution for gas boosting of subsea completed gas wells.
"Åsgard is in many ways tailor made as a front runner for qualification of subsea compression as the compressor unit on the sea bed will serve a number of wells and thus distribute the cost for qualification on a large gas volume. In addition, the motor drive (frequency converter) can be located on the Åsgard B platform, and the installation of the subsea compressor station would be in a familiar depth," explains Herfjord.
"If the testing is successful, we can assess using subsea installations instead of offshore platforms."
World-class test site
"K-lab is a world-class facility that can analyse, test and qualify various types of gas processing equipment - including subsea compressors and pumps, high-pressure separation units, multi-phase meters, valves and pipeline pigs – all in full scale," says K-lab manager Trond Austrheim, StatoilHydro Technology & New Energy.
K-lab is particularly well suited to carry out full-scale testing and qualifying of subsea compressors in realistic conditions. More than NOK 250 million was invested to upgrade the lab's subsea compression testing facilities.
The upgrade has been financed by the Åsgard Minimum Flow Project which is evaluating subsea gas compression as a possible solution to boost the gas production from the Midgard and Mikkel area for the Åsgard/Mikkel License Partners (StatoilHydro, ExxonMobil, Total, ENI and Petoro).
Two compressor prototypes – a MAN Turbo and Siemens unit – will be tested at K-lab over a two-year period. The MAN Turbo unit was installed this past winter and the Siemens compressor will be ready for trials in 2009.
K-lab is 100% owned by StatoilHydro, but also does projects for equipment suppliers.
Subsea future
StatoilHydro has a number of fields that could utilise subsea compression. Subsea compression is another step towards the reality of someday performing all facets of hydrocarbon production, separation, transport and maybe even final processing from the sea floor.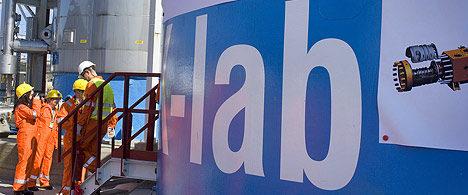 More than 50 guests, including journalists, supplier companies and license partner representatives turned out for the start of the full-scale subsea compression test at K-lab. (Photo: Kim Laland/Bitmap)