Access to energy resources
August 27, 2008, 11:57 CEST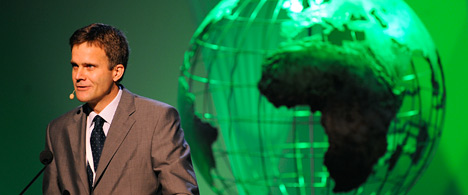 "This year we will spend NOK 9 billion on exploration on the NCS, drilling some 35 wells" says Helge Lund. (Photo: Harald Pettersen)
In a world where large parts of the remaining hydrocarbons are concentrated in some of the worlds most complex corners, the chief executive started off by talking about collaboration and partnerships.

He asked if our industry now finds itself at a crossroads facing a new game. Lund says that in order to work, the industry must align interests in ways that create a win-win partnership, and that the business models looking forward will be more collaborative.
Growth on The Norwegian Continental Shelf (NCS)
Talking about the situation offshore in Norway, Lund finds that the NCS still has a lot to offer.
"This year we will spend NOK 9 billion on exploration on the NCS, drilling some 35 wells."
Lund underlines that the NCS offers excellent infrastructure close to attractive markets:

"We are blessed with an experienced workforce, and a predictable political and regulatory framework. That is scarce in today's global industry environment!"
Environmental challenges
But as fossil fuels drive economic development, it also impacts our climate.
At present the world is struggling to strike the right balance between development and climate change. Helge Lund says he believes that any constructive climate discussion has to recognise this dilemma:
"Some claim that it is lack of will that hinders renewable energy from "taking over". I think such view underestimates the huge task it is to substitute oil and gas."
Climate change will increasingly affect the way oil-and gas companies do their business, and Lund believes the world will look to this industry for solutions.
Proactive attitude
"We have the people, the capital and the technological skills to make a difference. I would argue that a proactive attitude on this matter is good for the environment, but also good for business," Lund says.
The chief executive underlines that we to a large extent have the main technical tools to reduce carbon dioxide emissions. He says that what we lack is a firm and predictable regulatory and economical framework:
"If carbon dioxide has a sufficiently high price we know what to do to reduce emissions. But agreeing on such a framework is perhaps the political challenge of our time."
Lund finishes his speech with what he calls a paradox:
"We are targeted on climate and environmental issues, but often get little credit for providing the world with energy and for the effort we are doing to find technological and industrial solutions to these issues. We have a joint task in demonstrating our positive contributions to society."