Early production start on Yttergryta
January 6, 2009, 16:00 CET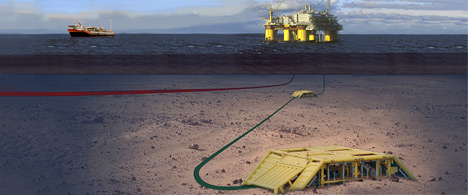 The field has been developed from find to production in around 18 months and the first part of the subsea production facility was already in place before exploration drilling was started.

Svein Hatlem
"We will start production as soon as possible to help maintain the production flow from the Åsgard field, says Svein Hatlem," vice president for Åsgard operations.
The fast realisation from find to production has been possible because we have good knowledge about the subsurface in the area, and the subsea production facility could be tied back to the existing infrastructure on the Åsgard field.
"We have started production four months ahead of schedule thanks to efficient project execution," says Mr Hatlem.

Containing very little carbon dioxide (CO2), the gas from Yttergryta will be mixed with the export gas from Åsgard. Production from the field will be regulated by the demand on the Åsgard field.
Yttergryta is the first field that StatoilHydro as a joint company has developed from PDO to production start.
The recoverable reserves in the field are around 11 million barrels of oil equivalent.
Yttergryta:


Gas field located around 33 kilometres east of Åsgard B in the Norwegian Sea
Developed with a subsea template and one production well of about 2,400 metres
The exploration well on Yttergryta was drilled in June 2007. The plan for development and operation (PDO) was submitted to the authorities January 2008 and was approved May 2008
Recoverable reserves are 1.75 billion Sm3 of gas with very low carbon dioxide content, some condensate in addition
Licensees: StatoilHydro (operator) 45.75%, ENI 9.80%, Total 24.50%, Petoro 19.95%Developed with a subsea template and one production well of about 2,400 metres