Man dies after work accident on Oseberg B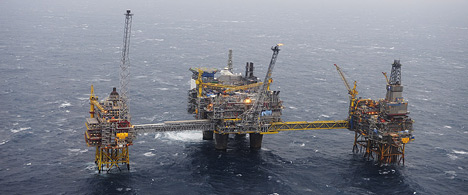 Oseberg field centre
This incident occurred around 09.00, and the victim received medical attention on the spot before being flown to the Haukeland University Hospital by the search and rescue helicopter stationed at the Oseberg field centre.
The accident happened in connection with the removal of scaffolding from the drilling area on the B platform. This had been used for maintenance of light fittings by KCA Deutag, which is responsible for drilling on field.
The victim was an employee of STS, the contractor carrying out the scaffolding work.
"We are all affected by the death of a young person during work on one of our platforms," says Øystein Michelsen, executive vice president for Exploration & Production Norway.
"I would express the sympathy and concern felt both by StatoilHydro and by me personally for the family which has lost one of its members.
"We in StatoilHydro will do our utmost to clarify the causes of the accident and to use this information in our efforts to ensure that such an incident cannot occur again."
The accident has been reported to the Norwegian authorities. Investigations have been launched by the police and the Petroleum Safety Authority Norway (PSA). StatoilHydro will conduct its own inquiry into the incident.
The next of kin of the victim have been informed.