Making Kårstø more robust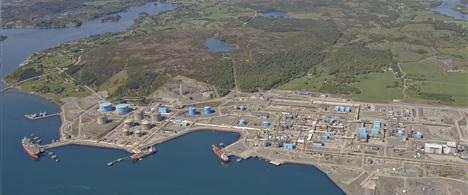 Kårstø processing plant north of Stavanger has a key role in transporting and processing gas and condensate (light oil) from major areas of the Norwegian continental shelf. StatoilHydro is the technical service provider for Kårstø.
Kårstø upgrading
Kårstø expansion project 2010 (KEP2010) is a collective term that includes several projects involved in upgrading Kårstø to meet future safety and reliability requirements. It is the oldest parts of the plant that are now being prepared for new decades.
The instrument and utility system upgrading constitutes the main elements of KEP2010.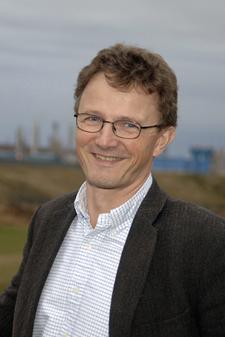 Kjetil Ohm, head of processing and transport in Natural Gas, aims to cut costs through optimisation of the projects in KEP2010.
(Photo: Harald Pettersen)
"This is a very important project that will help make the plant more robust. Kårstø is a key component of Norway's gas machine and helps make the StatoilHydro group a stable and reliable gas supplier every day, all year," says Kjetil Ohm, senior vice president for processing and transportat in Natural Gas.
High activity levels
Construction manpower levels are peaking right now. Some 300 employees are directly involved in the plant construction. They must interact safely and effectively with some 400 employees involved in operations, maintenance and modifications.
A total of 1,000,000 direct man-hours have been spent on the project so far. The estimate for the entire project is 1,850,000 direct man-hours.
"With the current high activity levels we of course focus heavily on HSE. This includes using a new risk management tool that calculates the risk of all planned work," Mr Ohm says.
Coordination of projects
Also two new sub-projects will become part of KEP2010 from 1 August 2009. Four metering stations for product loading from tanks into carriers will be replaced and equipment for mixing gas between the Statpipe and Åsgard pipelines will be installed to ensure the right CO2 level in the export gas.
Thanks to this coordination the use of personnel and resources may be optimised across the project. This will also result in considerable cost reductions.
In 2010 the oldest Kårstø facilities will celebrate their 25th anniversary. Investments totalling about NOK 8 billion have been made in KEP2010, including the new sub-projects, optimizing operation and extending the life of Europe's largest gas plant of its kind.
Kårstø processing plant:
Gassco is the operator of the Kårstø facilities, whereas StatoilHydro is technical service provider. The Kårstø facilities are owned by the Gassled partnership where StatoilHydro has some 32 percent interest.

The key suppliers for KEP2010 are:
MW Kellogg Limited
Aibel AS
ABB AS
Fabricom AS
Veidekke AS
Hima Sella Limited
Moss Varmeteknikk AS
BIS Indistrier AS