Interesting North Sea find
November 16, 2009, 08:51 CET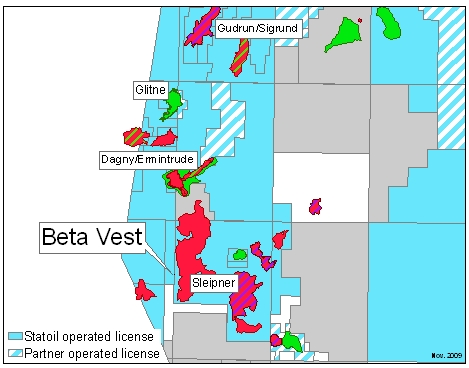 Resources in the find, which lies four kilometres west of Sleipner B, are currently estimated at 37-63 million recoverable barrels of oil equivalent (six to 10 million standard cubic metres oe).
"This discovery strengthens our prospects for finding more resources in the immediate vicinity of Sleipner West," says Tom Dreyer, head of infrastructure-led exploration in the North Sea.
Edvin B Ytredal, Statoil's operations vice president for the Sleipner area, is very satisfied both with the discovery and with the opportunities it represents for Sleipner West.
"Production from this field is coming of plateau, but the newly discovered resources mean that its future prospects are substantially brighter," he says.
Located in 108 metres of water, the well was drilled from the West Epsilon rig to a vertical depth of 3,760 metres beneath sea level.
Hydrocarbons were encountered in a sandstone unit belonging to the Hugin formation.
Facts

Well 15/9-B-1 was drilled by West Epsilon, which is currently connected to the Sleipner B wellhead platform.
The well is currently being readied for production.
The licensees intend to produce the Beta West discovery through a tie-back to Sleipner West.