Lars Laumann wins Statoil art award 2009
December 9, 2009, 22:05 CET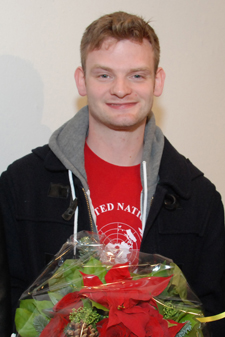 The winner of Statoil's art award 2009 is Lars Laumann. (Photo: David Burke)
"I'm very happy and honoured to win this award," says a modest Laumann.
"All of the nominees are excellent artists and we're all of equal merit, so it's humbling and little strange to prevail in this juried exhibition."
Laumann received the prestigious award during a gala event Wednesday night at Kunstnerforbundet's Gallery for Contemporary Art in Oslo, Norway.
The four finalists nominated for the 2009 prize were Ida Ekblad (29), Marius Engh (35), Anawana Haloba (31) and Laumann (34). The artists were selected from 25 candidates by an independent jury and invited to exhibit their work at the current Statoil art award 2009 nomination exhibition in Kunstnerforbundet's gallery.
Jury criteria
"Laumann's control over the video medium and his story telling abilities are very convincing. The artist has a good eye for telling unexpected stories, often with a political dimension and a healthy dose of humour. We especially emphasise Laumann's surprising use and combination of existing image materials," comments chair of the jury Olav Christopher Jenssen, an internationally recognised artist and professor.
"The jury wishes the prize winner infinite good luck and fortune in his future artistic endeavours."
Prize premise

The basic premise behind the biennial Statoil art award is to recognise achievements, stimulate young talents and help them develop their artistic potential. The NOK 500,000 (EUR 59,000) cash prize is the largest of its kind in Norway.
"We enthusiastically congratulate Lars Laumann as winner of this year's award. He is a significant talent," says Jens R Jenssen, Statoil senior vice president of human resources and leader of the Statoil art programme.
Additional jury members are Solveig Øvstebø (director at Bergen Kunsthall), Øystein Ustvedt (curator at Norway's National Museum of Art, Architecture and Design), Caroline M Ugelstad (head curator at Henie-Onstad Art Centre in Oslo) and Göran Christenson (director at the Malmø Art Museum in Sweden).
Tomorrow's heroes
The art award is part of Statoil's "Heroes of tomorrow" programme, which also awards prizes and scholarships to talents within education, classical music, rock and sports.
The first Statoil art award went to the young, Norwegian artist Camilla Løw in 2007.
About the winner:
Lars Laumann (born 1975 in Brønnøysund, Norway) is an artist working with video. He is educated at the Nordland Art and Film School in the Lofoten Islands in northern Norway, and the Oslo National Academy of the Arts. He currently lives in New York City.