Lukoil and Statoil with winning bid on the West Qurna 2 field in Iraq
December 12, 2009, 10:28 CET
A total of four bids were delivered for the West Qurna 2 field in the southern part of Iraq. Lukoil and Statoil, with Lukoil as lead bidder, proved to be the most competitive consortia. 10 oil fields were included in this licensing round.

Based on thorough analysis and an optimised development plan for the field, Lukoil and Statoil were able to bid a production plateau of 1.8 million barrels per day and a remuneration fee of 1.15 dollars per barrel.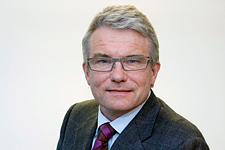 Torgeir Kydland
"We are proud to win together with Lukoil in this strong competition and look forward to work with Iraq to increase their production, to the benefit of both the Iraqi people and the companies. We have worked with Iraqi authorities for more than five years, doing joint field studies and training of Iraqi personnel, and consider this an important milestone. Our focus now is to establish the organisation needed to develop this project in a responsible and safe manner," says Torgeir Kydland, senior vice president for Eurasia, Middle East and Asia in Statoil.
The security situation in Iraq is still demanding. There has been improvement over the last couple of years, but an increased number of incidents in the run up to the Iraqi election in March 2010 should be expected.

Security for personnel will always be main priority. The security situation has been evaluated thoroughly and adequate security measures to be able to handle the situation are prepared.
Lukoil and Statoil are bidding on West Qurna 2 with shares of 85 % and 15 % respectively. The consortium will be joined by an Iraqi state partner with 25 % interest, bringing Lukoil and Statoil shares to 63.75 % and 11.25 % respectively.