Chirag Oil Project - the 6th production platform on the ACG field
The Chirag Oil Project will be the sixth production platform on the giant Azeri-Chirag-Gunashli oil field offshore Azerbaijan in the Caspian Sea. (Illustration: Statoil)
The official signing of the Chirag Oil Project sanction resolution took place in Azerbaijan's capital city Baku.
Profitable production

"This sanctioning is an important step in realising our overall strategy of bringing Statoil's significant resource base into profitable production," says Peter Mellbye, executive vice president of International Exploration & Production (INT),
Statoil holds an 8.6% share in ACG, Operator BP has a 34.1% stake, followed by Chevron at 10.2%, Azeri state owned SOCAR with 10%, INPEX with 10%, ExxonMobil at 8%, TPAO at 6.8%, Devon with 5.6%, ITOCHU at 3.6% and Hess with 2.7%.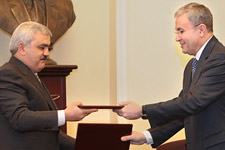 The Chirag Oil Project sanction was signed in Baku on Tuesday by SOCAR president Rovnaq Abdullayev, left, and BP Azerbaijan President Rashid Javanshir.

ACG is presently developed with five full-scale offshore production platforms and the onshore Sangachal terminal. The SOCAR-developed Shallow Water Gunashli (SWG), on the north-western tip of the field, is also tied into ACG's infrastructure. Despite extensive development and output exceeding a million barrels of oil equivalents, growth opportunities still abound on ACG.
New beginning
"The Chirag Oil Project is a breakthrough project with a new long-term growth vision for the Azeri- Chirag -Gunashli reservoir that enables its further recovery and resource management," says Statoil's asset manager in the ACG team Rune Hansen. "This project is expected to deliver another 360 million barrels oil total to the partnership. "
New wells

Chirag Oil Project will install new wells primarily targeting the currently producing Fasila reservoirs and Balakhany reservoir units, which are not yet exploited. It will also optimise the main Pereriv reservoir. Chirag Oil Project will give healthy returns on investments by Statoil and the consortium's other partners, and to the state of Azerbaijan.
Chirag Oil Project will comprise an installation located in the Chirag-Deep Water Gunashli (DWG) area of the ACG field, at a sea depth of approximately 170 metres. The facility will be a single production, drilling and living quarters (PDQ) platform with capacity to produce 185 000 barrels of oil per day (gross).

The new platform will be partially integrated with the existing DWG facility via marine pipelines that import reservoir injection water and export produced water for disposal. Oil and gas produced by the new platform will be processed at Sangachal Terminal.
Design philosophy

The main design philosophy is to standardise platform design, building each new platform as identical to the previous installation as possible. This reduces engineering costs and enables platform operators to circulate easily between the field's various installations.
First Chirag Oil Project oil is expected in 2013.
Several phases

The ACG production sharing agreement was signed in 1994 and covers the development of the Azeri-Chirag-Gunashli contract area. The field has been developed in several phases and currently produces some 850 000 barrels of oil equivalents daily.
Chirag Oil Project will boost AGC's total output to about 1 million barrels per day. Potential recovery from ACG is estimated at some 5 billion barrels of oil. About 1.4 billion barrels have so far been produced.