Building on what we know
March 16, 2010, 15:21 CET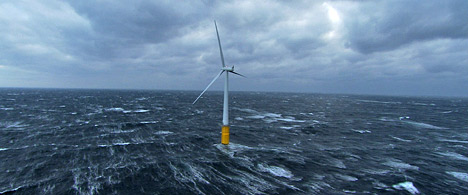 Hywind, off Karmøy near Stavanger, is the world's first full-scale, floating wind turbine. (Photo: Octaga/Statoil)
Statoil's executive vice president for Technology & New Energy held a presentation at the company's energy seminar today, 16 March.
"It is characteristic of Statoil that we use our experience and innovative ability to solve new challenges," said Øvrum and mentioned the company's history as a pioneer in developing, testing and adopting new technology.
Statoil's offshore expertise forms the foundation for the company's commitment to offshore wind energy.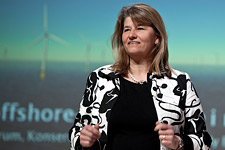 Margareth Øvrum, executive vice president for Technology & New Energy
(Photo: Helge Hansen)
"As a company we have considerable expertise which can also be used in the offshore wind sector," said Øvrum. "This applies to everything from challenges associated with turbines, anchoring and modelling to seabed surveys."
Tough weather conditions require a focus on health, safety and the environment during the installation, operation and maintenance of offshore wind farms.
Statoil has a lot of experience of building facilities and running marine operations in rough weather, and of engineering and developing complex projects. The company has knowledge and experience of how wind and weather can affect structures. It is also experienced in remotely controlled operations.
"In addition we have experience of energy trading which makes it possible for us to realise the value of the wind power we generate," said Øvrum at the conference.
Winds of change
By 2020, 20% of the energy in the European Union will be renewable and wind power is expected to account for half of this growth. Offshore wind power is expected to grow by 20% annually.
The UK stands out as the most attractive market by far. The country has 40% of Europe's wind resources and advantageous water depths. It also faces a big challenge when it comes to energy supplies and to meeting its commitments to renewables in the energy market. The UK has therefore established good and predictable frame conditions for offshore wind power.
Statoil is now gradually building up a wind energy portfolio.
"This will give us the opportunity to learn and develop the appropriate expertise, just like we have done in the field of oil and gas," adds Øvrum.
Prices must fall
Wind energy entails a different type of risk management than hydrocarbons but health, safety and the environment are naturally in the spotlight. And wind energy is to a greater degree characterised by standard solutions and mass production. But to ensure profitability without subsidies, the technologies have to be optimised and improved and the costs need to be reduced.
Eighty per cent of the costs in generating wind energy are associated with investments and that is why Statoil has a particular focus on development costs.
"It's particularly important to make lighter and larger turbines which are specially adapted to offshore wind," Øvrum said.
Such turbines will provide greater regularity. Lower weight also makes both the turbine and the installation less expensive.
Øvrum is also pleased to affirm that there will be increased competition among the turbine suppliers and she hopes to see more suppliers. Not only because this will strengthen competitiveness but also because it is important that there is sufficient capacity in the market. Many large wind energy projects are being assessed at present.
"If the big ambitions are to be fulfilled, the industry is dependent on a reduction in costs," said Øvrum.
Sheringham Shoal
Wind farm with 88 turbines being built by Statoil and Statkraft off the UK east coast
Construction started offshore on 9 March. The Nordnes vessel began placing rocks at locations on the field, in preparation for the installation of the structures next month. Work on land began last year
Start-up is planned for late 2011
Dogger Bank
When fully developed it can be the world's largest wind power development and cover about 10% of the UK's total electricity demand
Lies in deeper water and further from shore than existing wind parks: 125-195 kilometres from land, at depths of 18-63 metres
Surveys and planning required for the approval process are getting under way. The first investment decisions can be taken in 2014 at the earliest
Statoil has been awarded wind licences together with Statkraft, Scottish and Southern Energy (SSE) and RWE npower
Hywind
The world's first full-scale, floating wind turbine
The Hywind pilot started gathering data off Karmøy near Stavanger last autumn and is now producing at full capacity. One million kilowatt-hours of electricity have already been generated
Hywind has attracted a lot of attention both in Norway and internationally. We have signed a letter of intent with the governor of Maine, USA, to examine the possibility for a medium-sized wind park there. We also have a dialogue with the Scottish authorities about the opportunities for floating wind power in Scotland