Kristin and Tyrihans shut down
December 15, 2010, 13:10 CET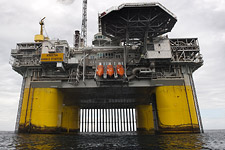 The Kristin platform in the Norwegian Sea. (Photo: Marit Hommedal)
The temperature was higher than considered acceptable and a decision was taken to stop production during Sunday 12 December.
Work is under way to rectify matters. It is expected that production can be resumed by the end of December.
The Kristin platform lies in the south-western area of the Halten Bank and produces gas and oil/condensate from the Kristin and Tyrihans fields.
The shut-down will entail a deferment in production of daily volumes corresponding to a total of 100,000 barrels of oil equivalent (boe) from the two fields.