Increasing our stake in the Gudrun area
December 16, 2010, 14:03 CET
Øystein Michelsen, Statoil's executive vice president for Exploration & Production Norway (left) signing the agreement together with Thomas Mitchell Little, managing director, Marathon Petroleum Norway. (Photo: Ivar Langvik)
Statoil increases its holding from 55% to 75% in production licences 025 and 187 in the North Sea. The licences cover the Gudrun field currently under development and the Sigrun and Brynhild discoveries. Statoil is also acquiring a 12.5% interest in the Eirin discovery in production licence 048E.
Major development
Statoil has great expectations for the Gudrun project and anticipates considerable value creation from the field. The plan for development and operation was approved in May this year. Gudrun will be one of Statoil's major field developments on the Norwegian continental shelf in the near future.
The acquisition of the shares will further strengthen Statoil's position in the Gudrun project.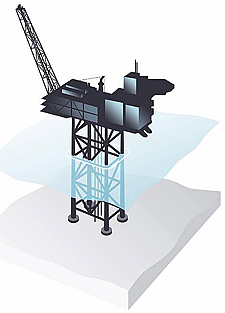 Gudrun platform illustration.
"We look forward to maturing the project up to production start together with our partner GDF Suez," says Øystein Michelsen, executive vice president for Exploration & Production Norway (EPN).
Priority area
The area surrounding the Sleipner fields in the North Sea is important to Statoil.
"Greater Sleipner is an exciting and prospective area to us," says Michelsen. "We will drill several exploration wells in the area, for example in production licence 303, which could add further resources in the axis between Gudrun and Sleipner."
"We understand Marathon's global priorities, but we regret that a constructive partner chooses to leave the Gudrun project," says Michelsen. "At the same time it gives Statoil an opportunity to increase its share in a value-creating project which also secures future production."
The purchase agreement will be subject to ordinary processing by the Ministry of Petroleum and Energy.