Winners of Statoil's natural science award declared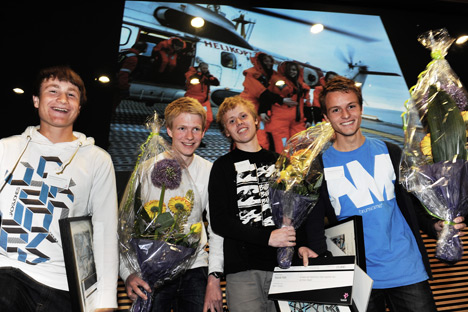 Delighted prize winners: (from left) Kristian Lans Syvertsen, Ottar Sandvik Aas and Einar Johan Ruud from Mandal videregående skole and Christopher Storm Larsen from Kristiansand katedralskole Gimle. (Photo: Helge Hansen)
"The world needs young people's ability to solve major challenges, not least within the energy field. Energy is a fundamentally important issue today for people throughout the world. We need technology that will help give us purer energy and reduce global warming. If you are young today and want to make a difference in the world, then a scientific education is one of the most important assets you can obtain," says Jannicke Nilsson, head of North Sea Operations West and Statoil's area manager for Bergen.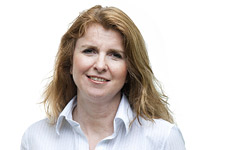 Jannicke Nilsson, direktør for Drift Nordsjøen Vest og Statoils plassjef i Bergen
Final in Bergen

Statoil's natural science award ceremony was held on 23 May in Bergen, where 18 students from eight senior high schools throughout the country were gathered for the grand final. The competition is a joint arrangement between Statoil and four regional scientific centres in Norway: VilVite Bergen Science Centre, the Norwegian Museum of Science and Technology in Oslo, Vitensenteret (knowledge centre) in Trondheim and the Science Centre of Northern Norway in Tromsø.
"The aims of Statoil's natural science award coincide with VilVite's. As project manager for the competition we wish to help achieve our target of increasing recruitment to natural science and technology subjects," says Svein Anders Dahl, head of VilVite and the Association of Norwegian Knowledge Centres.
Solving future energy problems

In the competition students, either alone or in groups of up to three, tackle chemistry or physics tasks. This year's theme is energy solutions, with a special focus on bioenergy and hydrogen as fuels.
The goal is to stimulate young people's interest in science subjects and the competition forms part of Statoil's Heroes of Tomorrow programme (www.morgendagenshelter.no).
The 18 students in the final are competing for more than honour and glory. The two best entries will be awarded a grant of NOK 15,000 and a helicopter trip to one of Statoil's installations in the North Sea.
This year it was Kristian Lans Syvertsen, Ottar Sandvik Aas and Einar Johan Ruud fra Mandal videregående skole and Christopher Storm Larsen fra Kristiansand Katedralskole Gimle who were declared winners of Statoil's natural science award.
"We're really looking forward to the platform trip, which we value even more than the prize money," claim the three winners from Mandal. They can all envisage great opportunities and interesting jobs in the future as engineers, possibly in the energy sector.
Christopher Storm Larsen believes the tasks inspired him to a make a substantial effort:
"I stared late, I have to admit, and had to make an all-out effort towards the end. But as long as I'm writing about a topic which I feel very committed, I can quickly produce several pages," says Storm Larsen, who had chosen to study medicine, but is now ready to consider other possible careers.
Strong answers

It was no easy task for the jury to decide on the two winning entrants. In their citation for the three winners from Mandal, the jury point to their balanced presentation and assured discussion of the tasks.
"It is very thorough and raises many interesting points, with an ambitious design and layout. The illustrations are also very good."
As for Christopher Storm Larsen, the jury states that he has struck a fine balance between presenting acquired knowledge and his own opinions.
"His answer shows his deep commitment in fully embracing the subject and providing precise answers and sound reflections. The candidate expresses himself in an interesting manner, whetting one's appetite to continue reading," states the jury.
Regional winners from northern, mid-, western and eastern Norway were named previously, and these all met for the Bergen grand final. Below is a list of all the students who made it through to the final:
Here are the 2011 finalists:

Vera F. Wilhelmsen and Sofia Lindqvist.
School: Trondheim katedralskole.
Helga Sirum Skavhaug, Mari Alida Solberg and Elin Moe Omland.
School: Levanger videregående skole.
Henrikke Rokkan Iversen, Ines Draskovic and Dan-Robin Stemland.
School: Aust-Lofoten videregående, Svolvær.
Christopher Storm Larsen.
School: Kristiansand Katedralskole, Vest-Agder.
Oda Habberstad Dregelid and Anine Semmen.
School: Frogn videregående skole, Akershus.
Sveinung Nersten and Kristian Sandaker.
School: Nadderud videregående skole, Akershus.
Kristian Lars Syvertsen, Ottar Sandvik Aas and Einar J. Ruud.
School: Mandal videregående skole.
Kristin Haugland and Bård Haga Bringeland.
School: Danielsen videregående skole.
Statoil's natural science award

The competition is organised jointly by Statoil and four regional science centres in Norway: VilVite ("want to know") in Bergen, the Norwegian museum of science and technology in Oslo, Vitensenteret (knowledge centre) in Trondheim and Nordnorsk vitensenter in Tromsø. The competition is for senior high school students nationwide.
Knowledge of natural science and technology enables one to obtain an exciting career. The idea behind Statoil's natural science award is to motivate young people to boost their knowledge and be inspired to educate themselves in this area.
Statoil's natural science award forms part of the Heroes of Tomorrow programme.
The entries are judged by a specialist jury and the students compete for two prizes – a NOK 15 000 grant and an invitation to visit a platform in the North Sea.