Development approval for Visund South fast track
June 10, 2011, 14:50 CEST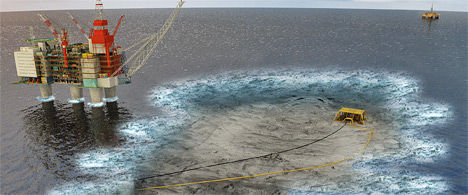 Visund South is located between the Visund and Gullfaks (left) fields.
Visund South, which is located 10 kilometres from both the Gullfaks C and Visund A platforms in the North Sea, is a subsea development consisting of a template with four slots, from which three wells will be drilled and tied to Gullfaks C for processing.
"With the approval of the ministry, this first project in a series of fast-track developments is well underway, just four months after the PDO was submitted in January. This also means we're one step closer to our goal of halving the time taken from discovery to production," says Statoil senior vice president of Norwegian continental shelf field development Ivar Aasheim.
In the course of June everything will set for the installation of the seabed template, so that the project can commence drilling in August.
The template is the first one built that has its basis in a standard catalogue for subsea equipment, which was compiled in collaboration with the suppler industry. This catalogue will be used for the forthcoming fast-track developments.
Visund South will be installed on the field in conjunction with the Marulk development, which Statoil is carrying out now on behalf of operator Eni.


Facts about Visund South:
Location: In the North Sea between the Visund and Gullfaks fields
Reservoir: Two structures, Pan and Pandora, with approximately 340 bar reservoir pressure
Volumes: 67 million barrels oil equivalents (1/3 oil and 2/3 gas)
Estimated lifetime: More than 15 years
Partners: Statoil (operator – 53.2%), Total (7.7%), Petoro (30.0%) and ConocoPhillips (9.1%)