Good progress on Skrugard
December 27, 2011, 12:40 CET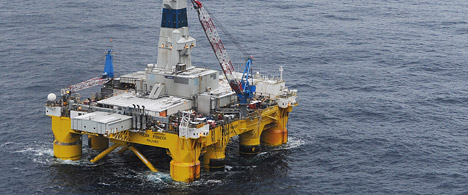 The Polar Pioneer drilling rig at Skrugard in the Barents Sea.
(Photo: Harald Pettersen)
A feasibility study has identified a technical and commercial solution for the Skrugard field in the Barents Sea. The solution involving a floating production unit will result in the rapid and cost-efficient development of the discovery.
The production unit will have separate oil storage and offshore loading capability with a production capacity of 95,000 barrels of oil per day. The feasibility study means that the field will be developed with 14 oil producers on the seabed and pressure support provided via injection wells for water and gas.
The discovery was made in April 2011, and volumes are estimated to be around 250 million barrels of recoverable oil equivalents, with a considerable upside potential.
However, there are several prospects in the near vicinity and Statoil will now look into the possibility of including possible discoveries in a total development solution.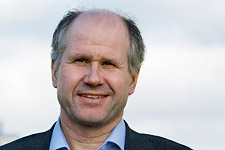 Erik Strand Tellefsen, vice president for operations on the Skrugard development

"We are now entering a phase where we will set up the team that will continue working on Skrugard. We will improve our understanding of the resource basis, study several alternative development solutions and decide on the concept, as well as plan for operations with high health, safety and environmental standards," says vice president for operations on the Skrugard development, Erik Strand Tellefsen.

"We are drawing upon our own and our partners' experience and the lessons learned on Goliat and on our fast-track developments. Skrugard will mainly be based on familiar technology, while making allowances for harsh weather regions. The project team will be located in Harstad, apart from the construction site section, which has been placed in Oslo."

Data collection

A series of data relating to weather, waves and the soil mechanics in the area is being collected.

The project will be matured in parallel with Aker Barents' drilling of an exploration well on Havis – a prospect located roughly five kilometres from the Skrugard discovery, but within the same licence. Following drilling on Havis, the rig will drill an appraisal well on Skrugard. Based on the results from these two wells further exploration drilling will be considered.

The partners' plan for an efficient development process and further studies for accelerated start-up will be based on incoming well results

Possibility of new field centre

Skrugard is situated outside the established infrastructure in what is considered to be a prospective area. With Skrugard, therefore, a new centre is being established in an important region in the northernmost region on the Norwegian continental shelf (NCS).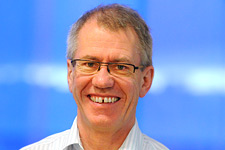 Jon Arnt Jacobsen, head of procurement in Statoil.
"A possible solution is a field centre with processing and transport capacity, with the flexibility to phase in the prospects in the area. This is in line with Statoil's ambition to develop the Barents Sea as a core area on the NCS," explains Tellefsen.
Significance for supplier industry

Skrugard represents a breakthrough in unexplored regions where we will co-exist together with the fisheries industry. At the same time it is a development that will produce ripple effects and have an impact on technology and competence building in the supplier industry – especially in the north.
Statoil wishes to develop its close relationship to the supplier industry and plans to hold meetings with suppliers and the supplier network so that they can create competitive alliances and position themselves for delivering to Skrugard.
"For us it's important to contribute to the openness and predictability that enable the supplier industry to invest in competence, capacity, technology and a local presence," says Statoil procurement head Jon Arnt Jacobsen.