2012 The international year of sustainable energy for all
January 17, 2012, 07:52 CET
The Sustainable Energy for All initiative was launched by UN Secretary-General Ban Ki-moon at the opening day of the World Future Energy Summit in Abu Dhabi.
The global initiative begins 12 months of high-level meetings, public awareness-building and a global movement to catalyze progress to meet the pressing global need of reducing poverty through energy access.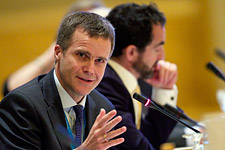 Statoil CEO Helge Lund at the meeting in Abu Dhabi. (Photo: Paul Macleod)
Statoil CEO Helge Lund is part of the High Level Group on Sustainable Energy for All that met Sunday 15 January, convening distinguished leaders in business, finance, governments, and civil society to mobilize for action.
The agenda of the meeting was to agree on a framework for action and a process to trigger real commitments by both private and public sector.
In the High Level Meeting Helge Lund pointed to the importance of good country governance to facilitate the private sector investments needed to reach these goals.
Specifically to achieve the energy efficiency and renewable goals, an enabling framework would include making the right sustainable energy choices profitable. Norwegian experience illustrates the effectiveness of putting a price on emissions.
On behalf of industry, Helge Lund called for a global effort to reduce gas flaring in oil production, as one example of a win-win measure to increase energy efficiency, reducing CO2 emissions, and with the potential of increasing energy access for more people.
"I would like to highlight the work being done to utilize stranded and associated gas that today is flared. This gas can be used and should not be wasted. Today the energy of gas that is flared in Africa could provide 50 % of the continents total energy use," Lund said.
Only 20 % of Africa's population has direct access to electricity. In some rural areas, as many as four out of five are people completely without power.
The goal of the Sustainable Energy for All initiative is to meet three objectives by 2030:
Ensuring universal access to modern energy services
Doubling the rate of improvement in energy efficiency
Doubling the share of renewable energy in the global energy mix
The High Level Group is co-chaired by Kandeh Yumkella, Director-General of UNIDO, and Charles Holliday, Chairman of Bank of America. Among the group's 32 members are STEVEN Chu, United States Secretary of Energy, Andris Piebalgs, European Commissioner for Development and Peter Loescher, President and CEO of Siemens AG.