Statoil completes divestment of Statoil Fuel & Retail – further strengthens upstream focus
June 19, 2012, 09:57 CEST
The proceeds for Statoil's shares are NOK 8.3 billion (USD 1.4 billion) after adjustments for dividend. Net income from the sale is in the range of NOK 5.5-6.0 billion (USD 0.9-1.0 billion).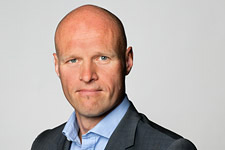 Torgrim Reitan, Statoil chief financial officer
Statoil chief financial officer Torgrim Reitan says: "We are pleased to successfully complete this transaction at an attractive price. This frees up capital for investments in our core business as we forcefully pursue our strategy to streamline Statoil as a technology focused upstream energy company," says Reitan.
As a result of the transaction, Statoil Fuel & Retail will no longer be consolidated in Statoil ASA's accounts.
"In addition to delivering an attractive price, it is important for Statoil that Couche-Tard is a strong industrial buyer that will enable Statoil Fuel & Retail to pursue its strategy under new and long term industrial ownership. This transaction provides a good outcome for Statoil, for Couche-Tard and for Statoil Fuel & Retail and its customers, management and employees," says Reitan.
Statoil Fuel & Retail holds a non-exclusive right to use the Statoil name until 30 September 2019, in line with the agreement entered into at the time of the IPO. Statoil Fuel & Retail is also the beneficial owner of the droplet logo.
As part of a range of transitional services being provided, Statoil will continue to provide operational support services for a specified period of time. Key commercial agreements, including sale of refined oil products, will also continue.
For more information, please contact:
Investor relations:
Hilde Merete Nafstad, senior vice president investor relations,
Tel: +47 95 78 39 11
Press:
Jannik Lindbæk Jr, vice president for media relations,
Tel: +47 97 75 56 22