Closing in on a solution for amine emissions
June 27, 2012, 11:08 CEST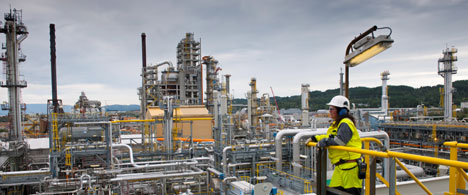 Through the full-scale CO2 capture project at Mongstad (CCM), Statoil and Gassnova have developed a set of methods for conducting adequate risk assessment as regards emissions from amine technologies. This will make it possible to test whether emissions from amine technologies will be under the limit values set by the Norwegian Climate and Pollution Agency (Klif).
"We are very pleased that we have developed a toolbox that enables us to analyse emissions from open amine facilities for capture of CO2, including assessing the degree to which humans and the environment are exposed to hazardous components from such facilities," says Arne Myhrvold, head of HSE in Statoil's CCM project.
The work on the toolbox has been an important part of the CCM technology qualification process, which started in the autumn of 2011.
The toolbox includes sampling, treatment and analysis of emissions from amine facilities to both air and water. The methods include extensive variables linked to formation, degradation and spread in the atmosphere, as well as exposure to potential hazardous substances from amine emissions.
"Until now, the methods for calculating these emissions have not been good enough, and this has been one of the most significant uncertainty factors in relation to health risk linked with amine-based CO2 capture facilities. The methods developed through this work is a confirmation that the decision to carry out a technology qualification process was sensible," says Myhrvold.
Extensive research activity initiated and carried out by Statoil, Gassnova and their partners has considerably enhanced knowledge about emissions from amine facilities.
"Now we have the methods that enable us to measure these emissions, and the resulting exposure. Together with Klif's emission limits, we have what we need to test various amine technologies in a manner that is prudent and comparable," says Myhrvold.
Statoil and Gassnova started a technology qualification programme for CCM in the autumn of 2011. The programme is now entering a phase in which technologies supplied by Mitsubishi Heavy Industries LTD, ALSTOM Carbon Capture GmbH, Siemens AG, Aker Clean Carbon and Huaneng-Ceri Powerspan Joint Venture will be tested in separate test facilities.
"The CCM project will now start extensive testing of various technologies to investigate whether they are able to comply with the emission criteria set by Klif," says Myrvold.
Statoil and Gassnova have cooperated with a number of leading international research institutions to develop this toolbox, including NILU, NIVA, Yale, Sintef, TELTEK, the University of Oslo, DNV, CERC, CSIRO Rambøll and the University of Illinois.
"We want to share these methods with others, and our goal is for them to become the industry standard for open amine facilities. The work we have done through the CCM project has been pioneering, and the results are a very important milestone; not just for the CCM project at Mongstad, but for the entire industry in its work to develop CO2 capture technology", says Myhrvold.