Statoil lodges complaint against NRK story with Norwegian Press Complaints Commission (PCC)
August 21, 2012, 15:30 CEST
Statoil is not involved in opencast mining operations, and the company has therefore lodged a complaint with PCC against the Norwegian Broadcasting Corporation (NRK) for violation of good media practices.
The Statoil-operated Leismer project in Canada. (Photo: Helge Hansen)
Statoil started production from its oil sand project in Canada in 2011. These resources are recovered through wells, and by injecting steam to facilitate production.
Oil sand can also be recovered using opencast mining, which entails quite different environmental issues. Statoil is not involved in such practices. On a number of occasions, NRK and other Norwegian media players have used the wrong images in reports involving Statoil. NRK has earlier apologised wrong use of images, and other media have published corrections after similar use of such images.
The images used by NRK on 14 May are, in Statoil's opinion, particularly serious because images of open mining were edited together with images of Statoil's facilities and logo, thus leaving viewers with the impression that opencast mining is part of Statoil's operations.
The use of these images could therefore give an erroneous negative impression of Statoil's activities.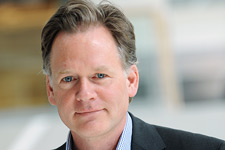 Jannik Lindbæk Jr, vice president for media relations in Statoil.
In our opinion, it is obviously negligent of NRK to use images that have no connection with Statoil's activities in Canada, in a story exclusively devoted to Statoil.
This, along with the fact that NRK earlier has apologised for incorrect use of images in relation to Statoil, has led to the company's decision to lodge a complaint with PCC for breach of good media practices.
"Statoil obviously acknowledges the media's right and obligation to exercise criticism through journalism. As Norway's largest company, we must accept the spotlight of media attention, and public debate regarding our activities. We have no desire to stop any such debate. On the contrary, we hope that our complaint to PCC can contribute to a discussion based on a correct presentation of our activities", says Jannik Lindbæk Jr, vice president for media relations in Statoil.