New Fram field yields 10 million barrels
October 18, 2012, 15:49 CEST
The seabed template is connected to the A2 template on Fram West, which transports production on to the Troll C platform. Fram H North is the tenth fast-track project in Statoil's portfolio.
"This project, which is one of the smallest fast-track developments on the Norwegian continental shelf, was made possible by means of standard solutions and fast-track principles to reduce time and costs," says Halfdan Knudsen, project manager for field development in Statoil.
"The development of this field may be a door opener for new developments in the area as the licence partners have approved the installation of a 4-slot standard template to be used for additional targets or for tying back prospects in the event of discoveries. We're excited about our continuing progress and optimistic with regard to what we'll get out of this," adds Knudsen.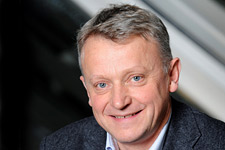 Halfdan Knudsen, project manager for field development in Statoil.
Provisional estimates indicate that the field contains recoverable reserves of roughly 10 million barrels of oil equivalent. The installation of all the seabed equipment and laying of pipelines and control cables is planned for the summer of 2013. Drilling, which is due to start in the fourth quarter of 2013, will involve a well with two branches for the optimal draining of the proven reservoir.
The project has been important for Fram operations in maintaining a high temperature in the flowline to the host platform, Troll C.
In this way we avoid using scale wax inhibitors in the pipelines between Fram and Troll C. It also secures the production of oil and gas from acreage where there are considerable supplementary resources.

Fram H North is planned to come on stream in the third quarter 2014.
Facts about Fram H North – PL090 and PL248
Location: North of Fram West in the Troll area
Licensees: Statoil has a 45% stake in PL090 and 60% in PL248. The remaining licensees in PL090 are ExxonMobil (25%), Gdf Suez (15%) and Idemitsu (15%), while Petoro owns 40% in PL248. The partners have negotiated a new coordinated solution for the field as it stretches over two licenses. This solution requires the final approval of the Norwegian Ministry of Petroleum and Energy
Discovered in 2007
Included in Statoil's fast-track portfolio in September 2011
Development solution: Standard seabed template for four wells. Connected by means of flexible pipeline to the existing template on Fram West A2
The contract for the construction of subsea production equipment has been awarded to FMC, while the contract for pipeline laying and installation was awarded to EMAS AMC earlier this year