Production resumed at Hammerfest LNG
November 28, 2012, 14:02 CET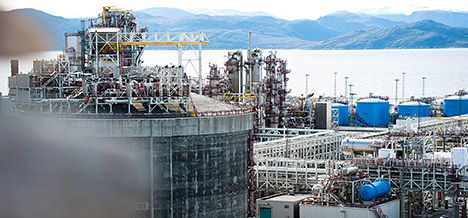 Statoil's LNG plant in Hammerfest. (Photo: Ole Jørgen Bratland)
Interference to the power system, which arose during maintenance work on the plant's battery-based reserve power supply, led to the plant's own power and that from the grid being switched off.
Statoil's share of Snøhvit's production amounts to around 50,000 barrels of oil equivalents per day.
Snøhvit, which is the first petroleum development in the Barents Sea, is without any installations on the surface of the sea. Large volumes of natural gas are piped ashore and then chilled at Hammerfest LNG on Melkøya, the world's most northerly, and Europe's first LNG export facility.