In Amenas update — 19.45 on 19 January
January 19, 2013, 21:02 CET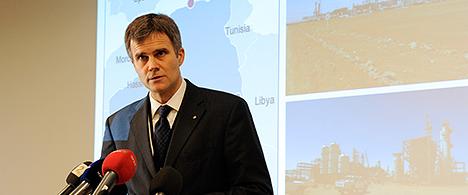 Statoil CEO Helge Lund
The Norwegian Ministry of Foreign Affairs has confirmed that the military operations and the hostage crisis at In Amenas have ended.
Statoil can confirm that one further employee is now safe. This person is the same man shown by Norwegian media this evening.
Twelve of the 17 individuals who were at In Amenas when the attack started are now confirmed as being safe.
The situation remains unresolved for five Statoil employees, and neither the Norwegian Ministry of Foreign Affairs nor Statoil have confirmed information regarding their whereabouts.
"We feel a deep and growing concern for our five colleagues. We are working hard to provide information and convey assistance. We will, and we must, keep hoping for more positive news from Algeria. However, we must be prepared to deal with bad news in the next few days," says Helge Lund.
"What has happened in Algeria is brutal, international terrorism of the worst kind. Despicable acts by ruthless terrorists have created an international tragedy.
"This affects innocent people from a variety of nations: Algeria, Japan, England, the US, Canada, Ireland and Norway, and more. Innocent victims from Statoil, BP, Sonatrach and other companies have been subjected to senseless violence," says Lund.
Today Helge Lund met the first of the employees who returned from Amenas.
"They describe experiences so extreme that it is inconceivable to understand how anyone can commit them. Those I have met are naturally glad to be alive and reunited with their loved ones, but they carry with them experiences that will affect them and their families for life.
"I personally feel a great responsibility to support everyone affected and their relatives," says Lund.
Statoil's emergency preparedness organization in Algeria and in Norway is still working closely with Norwegian and international authorities, partners and other companies.
Statoil, Norwegian and British authorities are now searching hospitals in Algiers and other cities. The number of casualties is large, and the situation is complex in the entire country.
Extensive work is also taking place on the ground at In Amenas to establish an overview and clarity in what has happened.
"Many families are now in a situation in which they are waiting for answers. We still have five colleagues for whom we are very concerned. We must prepare ourselves for the fact that it may take time before we get a response. We are facing difficult hours and days," says Helge Lund.