Statoil and Rosneft move forward with exploration cooperation
June 21, 2013, 14:06 CEST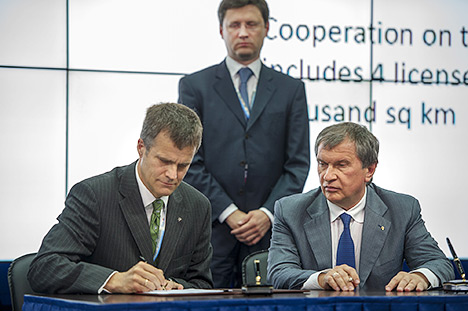 Rosneft chairman and president Igor Sechin (right) and Statoil CEO Helge Lund. In the background: Russian Minister of Energy, Alexander Novak. (Photo: Rosneft)
The companies have also concluded a Heads of Agreement to explore opportunities in the Samara region.
The agreements were signed by Statoil CEO Helge Lund and Rosneft Chairman and President Igor Sechin in St. Petersburg during the International Economic Forum, and Statoil and Rosneft have made another significant step forward in the partnership entered into on 5 May 2012 between the two companies.
"The joint offshore exploration ventures are the cornerstone in the broader partnership between Statoil and Rosneft. The joint capabilities of the two companies will allow future exploration in underexplored areas and we look forward to working together on these projects. These opportunities are in line with Statoil's strategy for high impact exploration through early access at scale in new basins, " says Statoil CEO Helge Lund.
Statoil will have an equity share of 33.33% and Rosneft 66.67% in each of the operating companies established to explore the offshore licenses.
The Kashevarovsky, Lisyansky and Magadan-1 licenses are in the Sea of Okhotsk north of the Sakhalin Island, and the Perseevsky licence is in the Central Barents Sea.
The license requirements include drilling of 6 exploration wells in the period from 2016 to 2021. Statoil will carry the expenses of exploration activities required to determine commercial value of the licenses.
Rosneft will reimburse its share of exploration cost from production from commercial discoveries.
Petroleum operations will take place within the context of the Declaration on the Russian Arctic Shelf Environment Protection signed by the two companies in November last year.
Igor Sechin, chairman of the Management Board and president at Rosneft, says:
"We are glad to mark the progress in our cooperation with Statoil in Russian offshore projects covering an acreage of 102,000 square kilometres. It is our strong conviction that signing today's agreement for tight oil will allow us and our partner to efficiently develop the promising hard to recover reserves in the Samara region".
Statoil and Rosneft are progressing with their joint effort to explore development opportunities for oil resources in Russia.
The companies will under the Heads of Agreement execute a pilot exploration program on the Domanik limestone formation at 12 license blocks in the Samara region. Rosneft stake in the project will be 51%, while Statoil will hold 49%.
In accordance with the agreement, Statoil will provide carry-based funding of up to $60 mln to perform the pilot survey program, and contribute state-of-the-art technologies and professionals for hard to recover reserves.
On 12 June, the two companies were also awarded interests in the license PL713 in the Norwegian Barents Sea and will start joint exploration on the Norwegian Continental Shelf.
The license area covers 1,213 square kilometeres and is located near the recently discovered Johan Castberg field.