20-year-old viola player gets million kroner grant
November 17, 2014, 20:35 CET
The grant is part of Statoil's talent program "Heroes of Tomorrow", where the company supports young talents in education, sports and culture. The classical music scholarship comprises one million Norwegian kroner.
Eivind Holtsmark Ringstad is 20 years old and is studying at the Norwegian Barratt Due Music Institute. He started to play the violin when he was 5 years old, but switched to viola when he was 14 years old.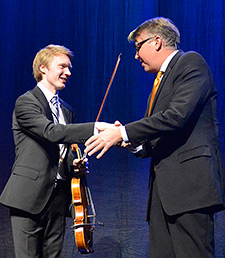 Eivind Holtsmark Ringstad was awarded the scholarship by Reidar Gjærum, Statoil senior vice president corporate communication.
(Photo: Harald Pettersen)
Eivind has played as a soloist with several of the nation's professional orchestras, among them the Norwegian Broadcasting Orchestra, Stavanger Symphony Orchestra and the Norwegian Chamber Orchestra.
His real breakthrough came in 2012 when he first won the Norwegian soloist competition "Virtuoso", and then the Eurovision Young Musicians, where he – as the first Norwegian musician – went straight to the top.
"A gripping nerve in his performance"
The jury is very pleased to award this year's Statoil talent scholarship to this year's winner and chairman Leif Ove Andsnes has the following praise for the young musician:
"Eivind Holtsmark Ringstad is a musician with strong authority and personal expression and a gripping nerve in his performance. Instrumentally, he is already at a high international level and his musical personality has significantly evolved in recent years. Although the viola is not the most widely used instrument for soloists, we strongly believe that Holtsmark Ringstad can reach far as soloist and as a chamber musician on the international music scene."
Studies in Germany and a new instrument
Eivind Holtsmark Ringstad has plans for how the grant can help him further in his career.
"It is a great honor for me to receive this award and I am very grateful to all those who have helped me along the way. The grant makes it possible to travel and study more in order to develop my skills and to invest in my own viola, which has been a dream," says the winner, who dreams about studying at Kronberg Academy in Germany within the next few years.
Cheering for classical talents
Statoil's talent program "Heroes of Tomorrow" is about lifting people with the ability and willingness to think differently, together with expertise and perseverance to work hard to achieve outstanding results.
"Statoil will foster talent development in education, sports and culture. Through this grant, we want to show that we are cheering for our classical talents. We wish Eivind good luck with the prize," says Marius Rosenberg Amundsen, sponsorship manager for Statoil.
The winner has been selected by an independent jury, consisting of Leif Ove Andsnes (jury chairman), Solveig Kringelbotn, Peter Herresthal, Ole Kristian Ruud, Ingrid Røynesdal and Marianne Thorsen.
Past recipients of classical scholarship include Ole Edvard Antonsen, Mari Eriksmoen, Eldbjørg Hemsing, Christian Ihle Hadland, Vilde Frang Bjærke and Leif Ove Andsnes. Last year Guro Kleven Hagen was awarded the grant.
For more information, please contact:
Jannik Lindbæk jr.
+47 977 55 622
jljr@statoil.com