GE and Statoil collaboration announces winners of inaugural open innovation challenge
July 21, 2015, 17:00 CEST
Five Winning Technologies Address Alternatives for Sand in Shale Development: Sand plays a critical role in shale development and the hydraulic fracturing process.

The proppant is mixed with water and injected into a formation to "stimulate" or "prop open" the tiny fractures, enabling oil and natural gas to flow freely.

Well stimulation requires hundreds of truck trips to transport materials, which increases road wear and traffic as well as noise, dust and emissions.
By focusing on sand, the crowdsourcing Challenge looked for solutions that have the potential to reduce the environmental impacts on local communities, lessen emissions and make energy production more efficient.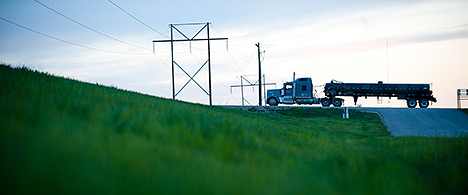 The objective of the Sand Challenge was to reduce truck trips.
(Photo: Ole Jørgen Bratland)
"Proppant and water are the most trucked materials in hydraulic fracturing," said Lars Høier, Senior Vice President, Research, Development & Innovation, Statoil ASA.
"Therefore the overarching objective of the Sand Challenge was to reduce truck trips by addressing the use and composition of proppants. We were seeking both a lighter or more compact replacement for currently used proppants and/or new types of fluid or fluid additives that better suspend the proppant and are more efficient. The end game is to develop a diverse portfolio of technologies that help reduce the environmental footprint, while enhancing operational efficiencies."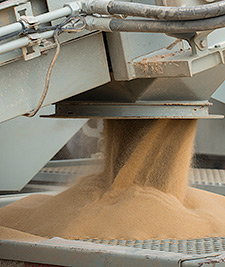 Sand conveyor
(Photo: Tom Payne, AP/Statoil)
The Powering Collaboration judge panel, consisting of both technical experts and management from both companies, evaluated more than 100 submissions from applicants from over 30 countries.
"It is exciting and gratifying to note the quality and quantity of responses, and that many were from industries not related to energy," stated Eric Gebhardt, Chief Technology Officer, GE Oil and Gas.
"The positive response and excellence of the winning submissions underscore the value of open innovation and the significance of industry collaboration to bring great ideas not only to the table, but to reality. We are eager to explore these collaborative solutions more as we move toward future testing, development and potential commercialization."
The winners will each be awarded an initial cash prize of $25,000 USD, and will be eligible to receive additional funding from an available discretionary prize pool of $375,000 USD for potential development or commercialization upon meeting certain additional conditions.
More information about the winners can be found at poweringcollaboration.com.
Brief summaries of each winner are listed in alphabetical order below:
Bioastra Technologies, Montréal, Quebec
Solution: Lightweight, Expandable Polymer Proppant. Composite particles that swell up to ten times their initial size in liquid. They are also pliable and able to conform to small cracks in the formation. Similar to material used for artificial cartilage and occlusion agents for surgery.
Biopolynet, Fredericton, New Brunswick
Solution: Coiled Biopolymer Fluid Additive. Makes fluid more viscous, better suspending proppants and enables proppants to adhere to the surface of fissures in the formation.
Hoowaki, Pendleton, South Carolina
Solution: Alumina Ceramic Proppant in the Shape of an "X". Developed with Shell, the unique X shape creates a drag, reducing settling by up to 50 percent and wedges itself into fractures helping them stay open and prevent the proppant from flowing back.
Semplastics, Oviedo, Florida
Solution: Lightweight Polymer Proppant. Polymer-Derived Ceramic-based proppant is half the density of sand, resilient to corrosion, as well as extreme heat and crush resistant.
University of North Dakota Energy & Environmental Research Center, Grand Forks, North Dakota
Solution: Lightweight, Locally Sourced Ceramic Proppant. Made from local widely available non-premium ore is approximately 40 percent less dense than current ceramic proppants.
The second Open Innovation Challenge – focusing on water in unconventional energy development – was just announced and remains open for submissions until September 24, 2015.
That challenge seeks to find innovative solutions for reducing water usage in the development of onshore unconventional oil and gas reservoirs. Through crowdsourcing, the Challenge seeks to find innovative solutions for both reducing fresh water usage and treating and reusing water from development activities—while maintaining or improving productivity.
For more information on both Challenges please visit poweringcollaboration.com for updates, submission forms, and winner profiles. Both Challenges are subject to Official Rules (SandOfficial Rules) (WaterOfficial Rules).
Contacts:

Statoil
Kirsten Henriksen
Communication manager – US Onshore
Tlf: +1 713 269 8927

E-post: khen@statoil.com
GE Oil & Gas
Stephanie Cathcart
Head of External Affairs
Tlf: +1 202 637 4108

E-post: Stephanie.cathcart@ge.com
About GE
GE (NYSE: GE) imagines things others don't, builds things others can't and delivers outcomes that make the world work better. GE brings together the physical and digital worlds in ways no other company can. In its labs and factories and on the ground with customers, GE is inventing the next industrial era to move, power, build and cure the world. www.ge.com
About GE Oil & Gas
GE Oil & Gas is inventing the next industrial era in the oil and gas sector. In our labs and factories, and in the field, we constantly push the boundaries of technology to solve today's toughest operational & commercial challenges. We have the skills, knowledge and technical expertise to bring together the physical and digital worlds to fuel the future. www.geoilandgas.com Follow GE Oil & Gas on Twitter @GE_OilandGas.
About Statoil
Statoil is an international energy company with operations in 37 countries. Building on more than 40 years of experience from oil and gas production on the Norwegian continental shelf, we are committed to accommodating the world's energy needs in a responsible manner, applying technology and creating innovative business solutions. Statoil's headquarter is in Stavanger, Norway with approximately 23,000 employees worldwide, and the company is listed on the New York and Oslo stock exchanges.