Statoil successful bid for new licences offshore East Coast Canada
November 12, 2015, 21:20 CET
The licences offshore Newfoundland total 1,466,918 hectares (14,670 km2), and are located in an area in proximity to the Statoil-operated Bay du Nord discovery. Statoil will operate five licences, and participate in one licence as a partner. The offshore Newfoundland licences awarded are as follows:
NL15-01-02: Chevron 35% (operator); Statoil 35%; BG 30% (274,732 hectares)



NL15-01-05: Statoil: 40%; Exxon Mobil 35%; BG 25% (267,403 hectares)



NL15-01-06 Statoil 34%; Exxon Mobil 33%; BP 33% (262,230 hectares)



NL15-01-07: Statoil 34%; Exxon Mobil 33%; BP 33% (254,321 hectares)



NL15-01-08: Statoil 50%; BP 50% (268,755 hectares)



NL15-01-09: Statoil 100% (139,477 hectares)
The licences offshore Nova Scotia (NS15-1 Parcels 1 and 2) cover an area totalling 650,000 hectares (6,500 square kilometres), and are located approximately 250 kilometres from Halifax, Nova Scotia. The growth of Statoil's portfolio offshore Newfoundland and new entry offshore Nova Scotia strengthens the company's long-term position in the Canadian offshore.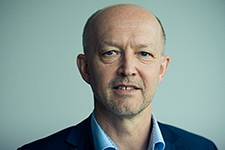 Tim Dodson, executive vice president for Exploration in Statoil. (Photo: Ole Jørgen Bratland)
"The successful bids in these frontier areas offshore Canada are in line with Statoil's strategy of deepening our position in prolific basins and securing access at scale, while also adding important optionality to our exploration portfolio," says Tim Dodson, executive vice president for Exploration in Statoil.
"The significant exploration investment offshore Newfoundland will provide Statoil an opportunity to further advance our established exploration position in this region through a step-wise approach, while in Nova Scotia, we are able to apply the exploration knowledge and experience we have gained globally and in the North Atlantic specifically," he said.
Statoil holds an extensive position in the Flemish Pass Basin, and the licences awarded support developing the company's exploration portfolio in an environment where Statoil is experienced. The licences awarded are located in an area nearby to Statoil's previous discoveries in the Flemish Pass Basin – the Mizzen discovery was made in 2009, and Harpoon and Bay du Nord were both discovered in 2013.
Starting in November 2014, Statoil has undertaken an 18-month exploration drilling program in the Flemish Pass. The program will appraise the Bay du Nord discovery and also test new prospects in the greater Basin area. Statoil is the operator of the Bay du Nord discovery with a 65% interest, and Husky Energy has a 35% interest.

* * * * * * * * *
About Statoil:
Statoil is an international energy company with operations in 37 countries. Building on more than 40 years of experience from oil and gas production on the Norwegian continental shelf, we are committed to accommodating the world's energy needs in a responsible manner, applying technology and creating innovative business solutions. We are headquartered in Stavanger, Norway with approximately 22,000 employees worldwide, and are listed on the New York and Oslo stock exchanges.
* * * * * * * * *

For further information:
Alex Collins
Communication lead
Statoil Canada, Offshore Newfoundland
709-738-8644

709-769-8967

acoll@statoil.com
Knut Rostad
Media relations
Statoil ASA
011-47-905-48-990
knuros@statoil.com