Ten companies selected for Techstars Energy Accelerator in partnership with Equinor
August 23, 2018 08:19

CEST
| Last modified August 23, 2018 09:51 CEST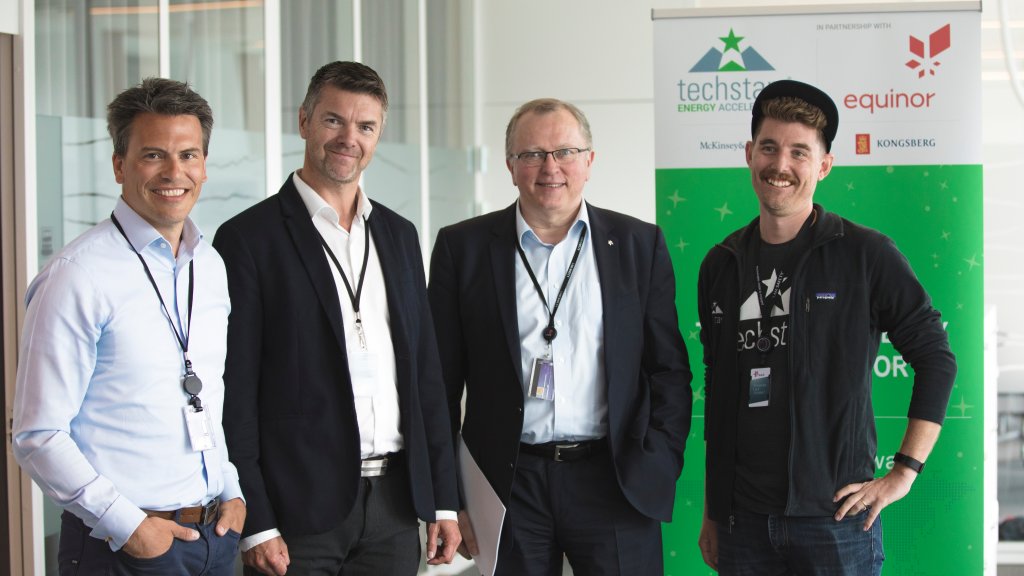 Equinor today announces the inaugural class of global start-up companies selected to participate in the Techstars Energy Accelerator.
The ten start-up companies have been selected from hundreds of applicants across 38 countries. They will seek to accelerate their development through an intensive 13-week program, tapping into a global network of experts from Equinor and Techstars as well as the partnering companies KONGSBERG and McKinsey & Company.
"We are excited and privileged to welcome these companies to the first Techstars Energy accelerator. We in Equinor are proud of our technology leadership in the energy sector. But we also recognize that the pace of innovation is speeding up. Energy sources and markets are transforming - becoming smarter, cheaper and cleaner. That is why we look forward to learning from the best, brightest and boldest to test new ideas and find new solutions to the world's energy needs," says Al Cook, Equinor's executive vice president for Global Strategy & Business Development.
The selected companies represent solutions within oil and gas, new business models, digitalisation and renewables. At the end of the program in December, they will present their solutions to Equinor, the partners and other potential investors at a Demo Day.
"Our Techstars partnership and the Techstars Energy Accelerator is a great match for KONGSBERG. The Accelerator's ambition to use knowledge sharing, innovation and digitalization as means to provide new and improved solutions to the energy sector matches ours. Our great advantage is that we are able to draw on a long history of technology innovations and experience with developing digital industrial solutions to the industry. We want the smartest start-ups in the sector to benefit from that advantage too. In this way, we will build great partnerships, more synergies and opportunities for everyone involved," says Christian Møller, CTO in Kongsberg Digital.
"This unique partnership between a leading energy company like Equinor and Techstars, together with partners KONGSBERG and McKinsey & Company, provides a great opportunity for companies that aspire to shape the future of energy. These ten start-ups now get the opportunity to gain traction through deep mentor engagement, rapid iteration cycles and fundraising preparation. We are excited to get started and help more entrepreneurs succeed," says Audun Abelsnes, Managing Director for Techstars Energy.
The accelerator is hosted at Equinor's Oslo offices with access to Norway's world-class energy-technology industry. Norway is the 8th largest exporter of oil, the 3rd largest exporter of gas in the world, and Norway itself is run on 97% renewable energy sources.
Ampaire, USA. Ampaire is making flying accessible to more people from more airports by building electric aircraft that are greener, quieter, and less costly to operate.
Crux OCM, Canada. Crux OCM utilizes AI and real-time optimization to enable semi-autonomous operation of pipelines, reducing the risk of operation and increasing volumetric throughput up to 4%.
DeepStream, UK. The tech enabled tendering and supplier pre-qualification platform for oil & gas businesses.
Interface Fluidics, Canada. Interface Fluidics' proprietary nanofluidic platform provides rapid lab testing that empowers the energy industry to understand how their chemicals perform, 100x faster and with more detail.
Opus 12, USA. Converting CO2 into fuel and valuable products, the technology will contain the CO2 converting power of 37.000 trees in the volume of a suitcase.
RatedPower, Spain. RatedPower provides pvDesign, a cloud-based software to design large-scale solar power plants worldwide, in just a few minutes.
SafeEx, Denmark. SafeEx's software digitizes inspection and maintenance and saves their customers 25-40% on manpower.
Sensytec, USA. Sensytec is developing a smart cement technology based on a proprietary additive to help companies enhance cement integrity by monitoring cement conditions near real-time.
Versor, Norway. Versor makes drone autonomy software for end-to-end infrastructure inspections, enabling AI-driven data capture and automatic fault detection across industrial applications.
Voyager, USA. Voyager is a cloud-based data hub helping the commodity shipping industry enhance decision making, automate processes and connect systems.

About Techstars Energy Accelerator in partnership with Equinor
Ten companies selected in every programme from hundreds of applicants globally
Successful applicants are typically teams from 2-20+; range from pre-product/pre-revenue to $millions in revenue; pre-seed, seed or series A+
Accepted companies receive up to USD 120,000, the full programme and access to the Techstars and partner networks
Teams aim to compress two years of work into 13 weeks
To learn more visit us at www.techstars.equinor.com
About KONGSBERG
KONGSBERG (OSE-ticker: KOG) is an international, knowledge-based group delivering high technology systems and solutions to clients within the oil and gas industry, merchant marine, defence and aerospace. KONGSBERG has 7 000 employees located in more than 25 countries and total revenues of NOK 14.5 billion in 2017. Follow on Twitter: @kongsbergasa and @kognifai.
About McKinsey & Company
McKinsey & Company is a global management consultancy firm that serves leading businesses, institutions, governments, and not-for-profits. McKinsey & Company help our clients make lasting improvements to their performance and realize their most important goals. Our 12,000 consultants and nearly 2,000 research and information professionals form a single global partnership focused on client impact.
About Techstars
Techstars helps entrepreneurs succeed. Through the Techstars Worldwide Entrepreneur Network, founders connect with other entrepreneurs, experts, mentors, alumni, investors, community leaders, and corporations to grow their companies. Techstars operates several divisions: Techstars Startup Programs, Techstars Mentorship-Driven Accelerator Programs and the Techstars Venture Capital Fund. Follow on Twitter: @techstars.
About Equinor
We're Equinor, an international energy company with a proud history. Formerly Statoil, we are 20,000 committed colleagues developing oil, gas, wind and solar energy in more than 30 countries worldwide. We're the largest operator in Norway, among the world's largest offshore operators, and a growing force in renewables.