The Annual General Meeting (AGM) is the company's supreme body. All shareholders who are registered in the Norwegian Central Securities Depository (VPS) will receive an invitation to the general meeting. They are entitled to submit proposals and vote, directly or by proxy. Shareholders may also cast their vote electronically in a period before the general meeting. 
Equinor's Articles of Association and the Norwegian Public Limited Liability Companies Act stipulate the General Meeting's role and mandate. Pursuant to the company's Articles of Association, an Annual General Meeting must be held by the end of June each year. All our previous Annual General Meetings are documented in the table further down the page.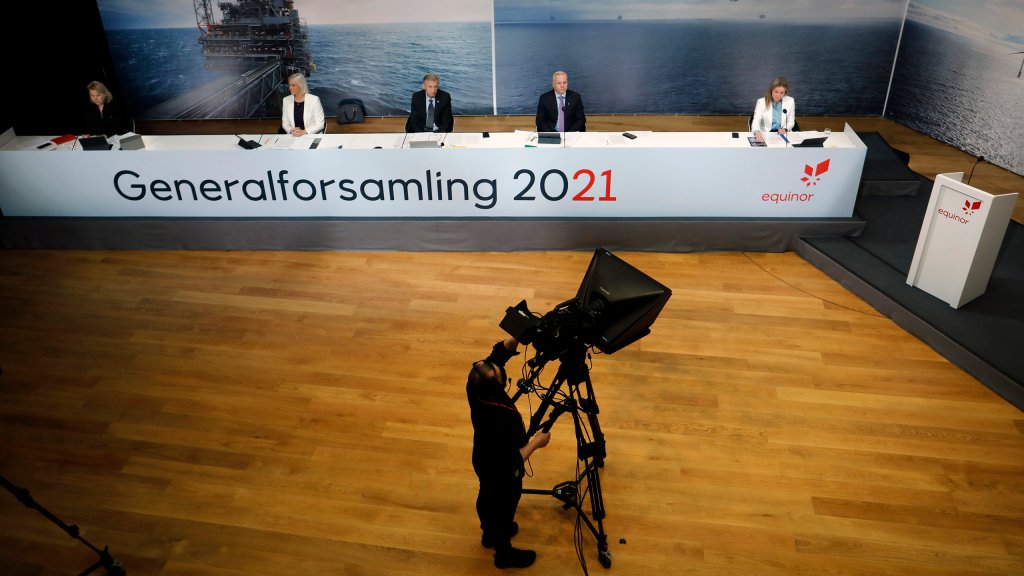 The 2021 Annual General Meeting took place  
Tuesday 11 May.
Archive of previous Annual General Meetings
How to receive electronic notice of the AGM
Equinor encourages all shareholders to register for electronic reception of the notice of the general meeting. This can be done through "Investor services", either through your internet bank or www.vps.no.
Electronic registration will reduce the environmental effects as well as the company's costs, and it will be a simplification for the shareholders. 

A simple procedure for ordering electronic reception of notice of the general meeting:
Enter "Investor services", either through your internet bank or www.vps.no.
On "Investor services" find the drop-down menu next to your name in the upper right-hand side of the page and choose "Account information".
Choose "Edit".
Under "Notification settings" choose "By e-mail".
Choose "Update".