The king opens Ormen Lange
October 7, 2007, 18:47 CEST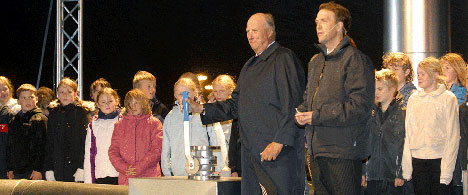 The king pulls the lever symbolising the start of gas production from Ormen Lange. (Photo: Thomas Skaug, Skanpix).
Whilst people flooded in to the Aker Stadium in Molde for the evening's opening celebration show, the royal couple were reminiscing the last time the visited the area.
Twilight was already setting in when the royal couple arrived at Gossen in the afternoon. The Major of Aukra, Aud Mork, welcomed the royals when they arrived from Molde on their way to Nyhamna, where the gas from the Ormen Lange field will be processed.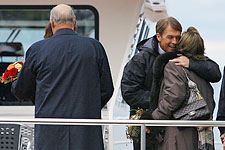 Hydro's President and Chief Executive Officer Eivind Reiten welcomes King Harald and Queen Sonja on board the fast boat which will take them to Nyhamna (Photo: Gisle Nomme)
"Nice to see you again", said the king to the mayor with a big smile.

In 2003 the royal couple were on an inspection tour in the area where the Ormen Lange plant was to be situated.

Then there was nothing to indicate the enormous change which was to come.

On Saturday the royals got to see the finished gas processing plant at Nyhamna which will take in all the gas from the Ormen Lange field in the Norwegian Sea.
At Nyhamna the royal couple was received by Hydro's Executive Vice President Eivind Reiten and his wife Frøydis Odden.

The royals were then entertained by school children from Easington, England and Aukra who danced and sung for them.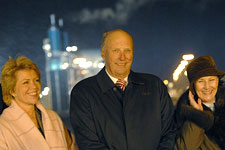 King Harald, Queen Sonja and the Minister of Oil & Energy, Åslaug Haga (left).
Easington is the town on the east England coast where the processed gas from Nyhamna enters the United Kingdom.

The 13 school children who had made the trip from England had even learnt to sing in Norwegian!
Besides the royal couple, many distinguished guests had congregated at Nyhamna as the time approached for the grand opening at 8pm.

President and Chief Executive Officer of the newly formed StatoilHydro, Helge Lund was present, as were the representatives of all the partners of the field and the Minister of Oil & Energy Åslaug Haga.
Helge Lund sat besides the head of Shell, Jeroen Van Der Veer. While the evening slowly turned dark and the audience at the Aker Stadium in Molde watched the opening via a 360 degree multi-media live broadcast.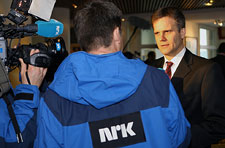 StatoilHydro's Chief Executive Helge Lund being interviewed by Norwegian national television (NRK). (Photo: Gisle Nomme)
Suddenly a strong gust of wind took hold of the tarpaulin which covered the improvised grandstand just as king was invited up to the scene by Eivind Reiten to turn on a handle symbolising the flow of gas from the Ormen Lange field.
"With this royal deed I declare Ormen Lange officially open" said Eivind Reiten. And the party went on at Aker stadium.
The strong winds at Nyhamna made their way over to the party at Aker stadium in Molde, where they blew a final goodnight wish from the Nyhamna plant as the festivities drew to a close.