First gas from Njord
December 10, 2007, 12:53 CET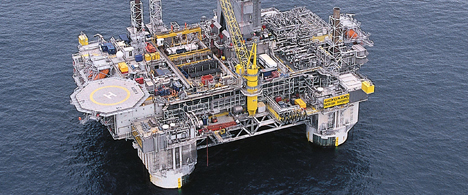 Gas from the Njord field is now flowing to European markets.
(Foto: Atle Kårstad)
Njord is now a gas exporter in addition to being an oil producer. An investment of NOK 1.2 billion makes extensive gas production feasible up to 2020.
In the initial phase of the Njord field's lifetime the oil was recovered through 11 production wells while four injection wells sent the gas back into the reservoir as pressure support. In phase two production is maintained with the help of several new production wells and by phasing in additional resources near the existing infrastructure.
The field produces about 20,000 barrels of oil per day while gas exports will amount to roughly six million cubic metres per day.
Gas from Njord is exported through a new 40-kilometre pipeline tied in to the Åsgard Transport line which in turn connects the field with the Kårstø processing complex, north of Stavanger, and the trunklines to continental Europe.
Both the process facility and the pipeline were ready for start-up on 1 October. However, start-up was slightly delayed owing to a weld which was not done in accordance with procedures. Repairs which were carried out on board the Far Saga vessel have taken a long time due to bad weather.
The new process facility which has been in operation since 1 October is functioning very well. Regularity was as high as 99.7% for the first month.