Four collection vessels heading for Statfjord
December 12, 2007, 18:42 CET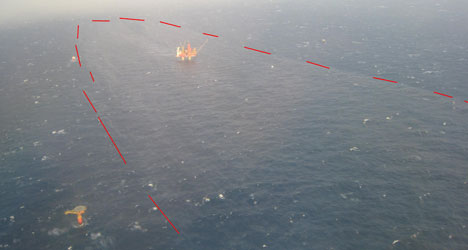 The spill site around Statfjord A. Photo: Kystverket.
This mobilisation follows the discharge of about 25,000 barrels (4,000 standard cubic metres) of crude to the sea while oil was being loaded during the morning.

Two additional oil spill collection vessels are scheduled to arrive on the StatoilHydro-operated field tomorrow morning.

For the time being, these four vessels – Havila Troll, Havila Runde, Stril Pioner and Far Star – will have to wait for the weather to improve.

Mechanical oil collection equipment cannot be deployed in current conditions, with winds of about 45 knots and waves up to seven metres high.
All the vessels are outfitted with mechanical systems provided by the Norwegian Clean Seas Association for Operating Companies (Nofo), which comprise booms and skimmers.

Havila Troll and Havila Runde are also fitted with dispersant equipment, and using this to help break down the oil is under consideration. Any use of chemicals will be agreed with the Norwegian Pollution Control Authority.
Observations from aircraft and helicopters indicate that the oil slick is currently about eight kilometres long by one wide. The oil is being driven by the wind towards the north, while the Norwegian coast is about 200 kilometres east of Statfjord.

The spill near the Statfjord A platform occurred while the Navion Britannia shuttle tanker was taking on oil from a loading buoy.
Information on this incident will be published continuously on www.statoilhydro.com.

Contact phone: +47 51 99 00 00.